With strong winds a factor overnight, power outages could be affected into Monday, however, if the rain lets up, streets should reopen for the morning commute.
In Fairfield County, Connecticut, about 9,000 people were reported without power. 
Stormy Weather Leads to Flooded NYC Streets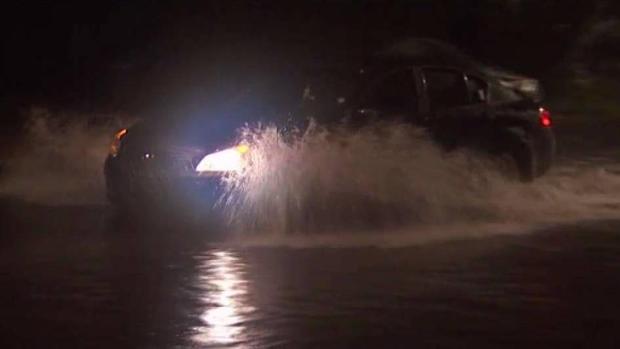 An areal flood warning was issued in New York City Sunday night, with as much as 3 inches of rain falling by evening and 1-2 inches expected in the hours thereafter. 
The entire tri-state is under a flash flood watch 6 a.m. until Monday. (See the full list of weather watches and warnings below.)
Streets Impassable in NJ as Storm Drops Inches of Rain
The storm dropped at least 2-3 inches of rain across the region, with some areas seeing more than that. 
By Sunday night, rain was falling at a rate of 1 inch per hour in parts of New Jersey. More than 3 inches of rain had fallen in Newark, and in parts of Suffolk County nearly 3.5 inches had fallen. Islip alone saw nearly four inches of rain. Central Park saw nearly 3 inches of rain, as did LaGuardia. Bridgeport, Connecticut saw just under 3 inches. 
Parts of Long Island were expected to get the brunt of a storm that led to flood and wind advisories across the tri-state. Greg Cergol reports.
Gov. Andrew Cuomo said he had directed state agencies to take precautionary measures for the storm, and utility company PSE&G mobilized its employees and contractors to respond to any damage the rain and high winds might cause. 
A high wind warning and flash flood watch were in effect for all five boroughs Sunday. Ida Siegal reports.
The strongest winds are likely until noon Monday. The windiest areas are expected to be on Long Island, but that gusts of more than 40 mph are likely in the city and Hudson Valley even after showers have passed early Monday morning. 
It will be gusty and cool on Monday as rains taper off into the afternoon. The weather then improves for Halloween, with partly to mostly sunny skies forecast and highs in the upper 50s, Storm Team 4 says.
The rest of the work week is cloudy as temperatures hover around the low 60s during the day. A few passing showers are possible Thursday, but it's dry and mild to end the week.