Details

Category: Local News - NYC/NJ/CT
Wednesday, 03 January 2018 05:46
Written by Hal Turner
Write a comment
The first widespread snowfall of 2018 is looming for the NYC/NJ/CT  tri-state area, with snow starting late Wednesday night into the start of the Thursday morning rush -- prompting winter storms warnings for parts of the tri-state along with potential blizzard conditions for parts of Long Island and Connecticut, according to the National Weather Service. 
The track of the storm remains highly uncertain, with less or heavier snow predicted for the tri-state area depending on how the system moves. But the latest forecast Wednesday morning shows the bulk of the storm staying offshore, which means lighter amounts of snow for the city and suburbs, and the coastal area could still see the heaviest snow. 
It will then be very cold and blustery into the upcoming weekend. Here's what you need to know right now: 
4-Day Outlook: Light snow will begin by 9 p.m. Wednesday along the coastline, and then spread inland into the overnight and early morning hours Thursday -- again with the heaviest amounts of snow still along the coast -- and then taper off by 5 p.m. Thursday. 
Currently, the forecast calls for 1 to 3 inches of snow in and around New York City. Areas north and west could see up to an inch, but the coastal areas -- Long Island, Jersey Shore and coastal Connecticut -- will still see the heaviest amounts of snow, about 3 to 6 inches and up to 7 inches for far eastern Long Island. 
The storm track remains highly changeable, however.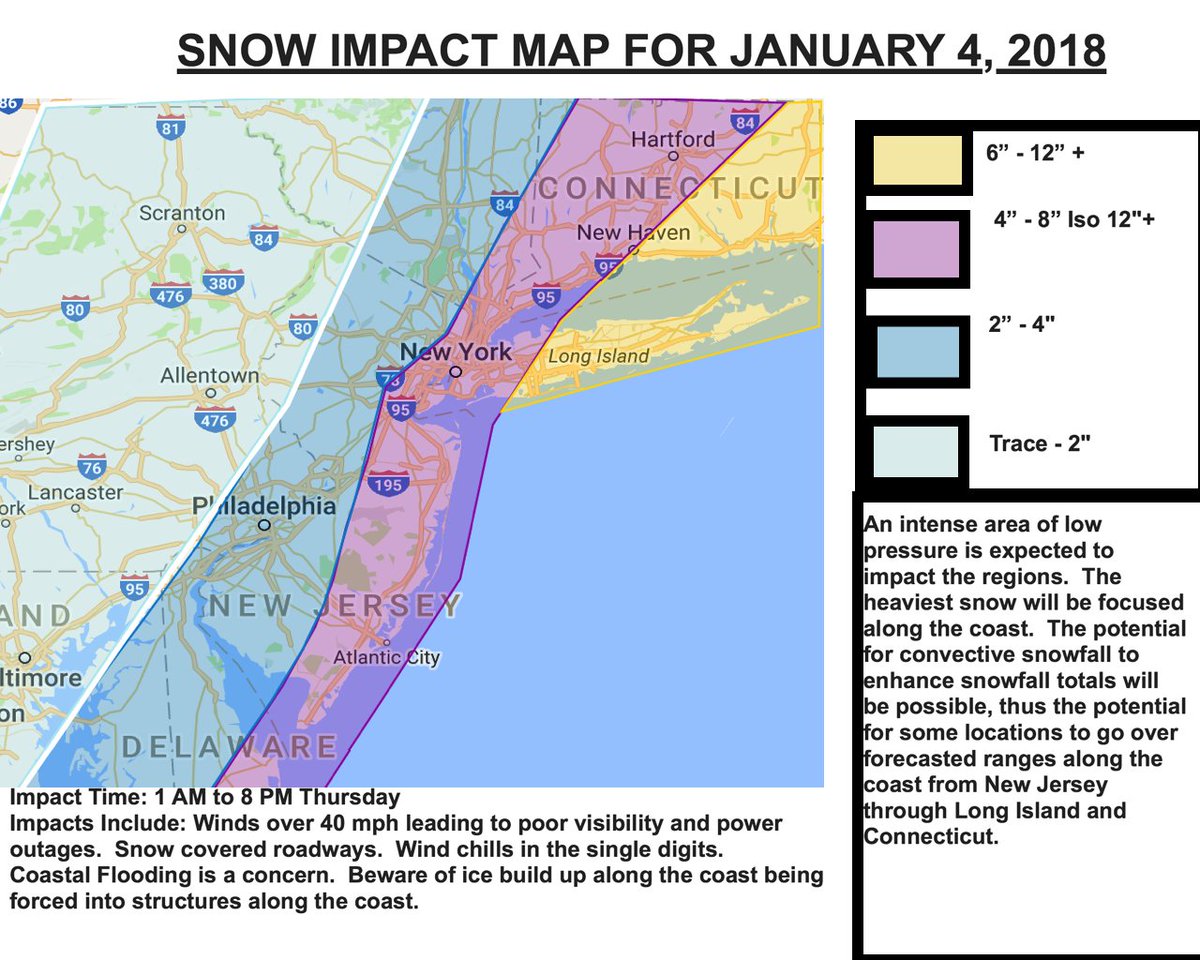 FOLLOW ME ON TWITTER & FACEBOOK
FOLLOW ME ON FACEBOOK