Details

Category: U.S. National News
Tuesday, 22 August 2017 18:24
Written by Hal Turner
Write a comment
Computer models tracking Tropical Storm Harvey entering the Gulf of Mexico are predicting an initial landfall in southern Texas, then re-entry to the Gulf of Mexico before a SECOND Landfall in southern Louisiana.  Rainfall projections are being called "CATASTROPHIC" at forty-three inches (43") [1100mm].
Making forecasts even worse: Risk also of a tornado outbreak if the trajectory and slow displacement of the storm is confirmed.
The European Model of weather forecasts has been incredibly reliable for storms such as this in the past, and according to various readings, Harvey (called Invest 09L) could develop into a Category 1 or 2 Hurricane within the next 24 hours! 
This projection shows the unprecedented rainfall possible from this storm:
Surface Water Temperatures in the Gulf of Mexico are strongly conducive to severe hurricane development.  Hurricanes can form when water is 82 degrees; as shown below, the water temperatures in the Gulf are 88 and higher!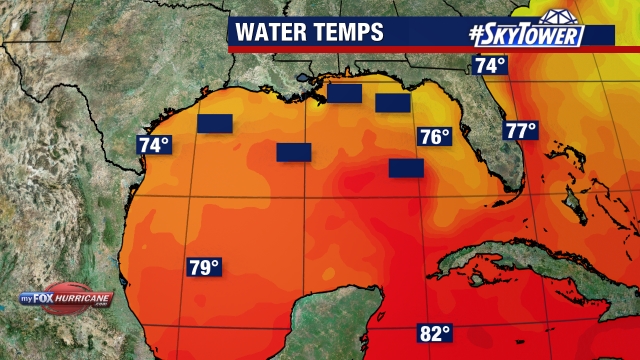 AccuWeather is showing this projected path:
The Euro model has Harvey going into Texas and then curving back into the Gulf before hitting Louisiana. Crazy path
Everyone needs to keep eyes open on Harvey. Depends upon whether Harvey's eye goes North or to the East where the circulation is. The latter is what a weak storm tends to do but anything is possible. The way it looks right now, Harvey won't stay weak in any case and TX and LA will get lots of rain.
Be sure you have water stored, food that does not need cooked, rain gear/boots and a GOOD FIRST AID KIT that you know how to use. Bring inside anything that might get airborne and crash into someone or windows---flowerpots, yard furniture, etc.

Stay sober --- falling down drunks who break bones, get cuts---no ambulance or EMTs will be coming for you until roads are safe and passable.

BE PREPARED for possible lengthly power outages. During Tropical Storm Allison, houses in Spring (north Houston area) were among the last to have electricity restored; they were without power for 19 days. 

One resident of Spring, TX who remembers the storm told me
I was ready to choke the living shit out of a few of our 'house guests' who showed up with nothing and expected to be waited on for several weeks. If you go to somebody else's place for an emergency like this, at least bring all your paper products, food from your freezer, pillows, towels, fresh batteries and more. Or else you will be considered a fucking REFUGEE, not a 'guest'.