Details

Category: U.S. National News
Thursday, 24 August 2017 21:00
Write a comment
Persons along the Gulf Coast of LOUISIANA are now advised they will be much more severely affected by Hurricane Harvey than first thought. New Computer Models are coalescing around a STALL over Texas for two to three days, then a U-Turn back into the Gulf of Mexico, with an easterly track to Louisiana!!!  
Persons in New Orleans are reminded the city's sump pumps are not working and if the storm moves farther east than projected, New Orleans would be COMPLETELY FLOODED.  
Worse, within the next 5 days, the United States of America will lose 17% of its daily oil productions and 80% of its oil REFINING capacity; causing gasoline and diesel fuel shortages NATIONWIDE as our Gulf of Mexico oil industry is utterly wiped out.
Not only will this new track take the Hurricane back out to the Gulf, it looks as though it will SMASH upwards of 2/3rds of ALL the offshore oil wells, crippling daily production.   The Gulf area accounts for a total of 17% of US Daily Oil Production.
Worse, more than 1500 Refineries around Houston and Galveston will be shuttered by the storm, many suffering wind damage and FLOODING, which could keep them offline for weeks.
This one-two-punch of Oil RIgs being pummeled, and refineries being flooded, will result in FUEL SHORTAGES throughout the United States.
Motorists in the ENTIRE COUNTRY are urged to gas-up your cars and trucks right now, and have one or two gas cans of extra fuel to tie-you over if shortages or outages hit your area.  In fact, Highway Emergency Signs are already telling US Motorists to "Fill Your Gas Tanks" because both Industry and Government already realize how devastating this storm is going to be for the entire country.
CAMERON PARISH, La. -

The Cameron Parish Office of Emergency Preparedness has issued a mandatory order of evacuation for all areas south of the Intracoastal Water Way as of 6:00 a.m. Friday, August 25, 2017.
Astronauts aboard the International Space Station have captured pictures of Hurricane Harvey from space: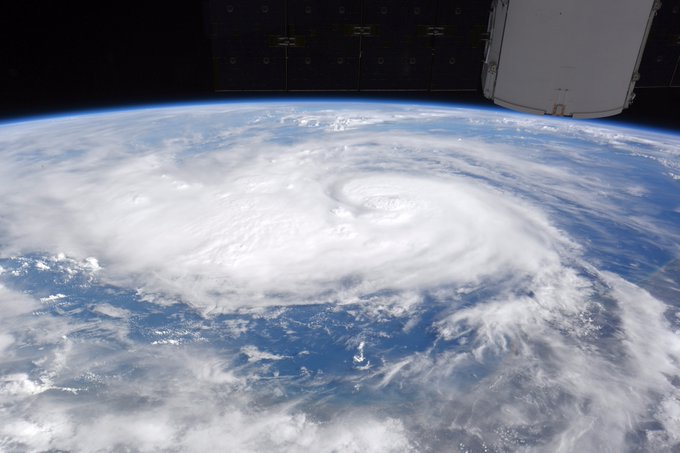 Here's what Corpus Christi, TX looked like this afternoon as the Hurricane approached: