Details

Category: U.S. National News
Monday, 04 December 2017 23:50
Written by Hal Turner
Write a comment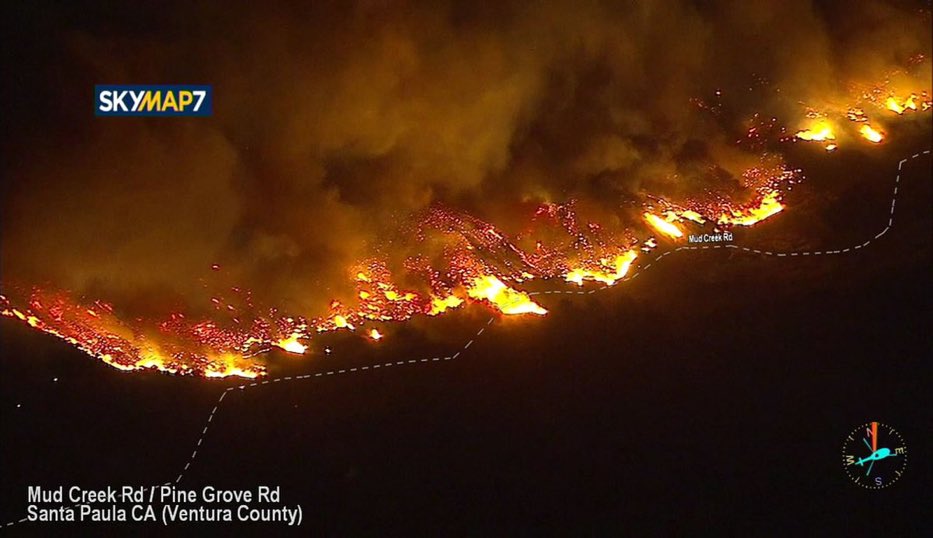 A small brush fire has absolutely EXPLODED out of control in Ventura County California, now threatening at least 500 homes, and forcing evacuations near Santa Paula. UPDATE 11:56 PM EST -- Fire in northern Santa Paula is moving on an average of 40 acres a minute, threatening hundreds of homes. 
UPDATED 2:19 AM EST -- Evacuate City of Ventura, CA.  Wind gusting 44 - 60mph....stronger as morning comes!!  10,000+ acres now burning.
The fire is being driven by high winds and almost limitless amounts of dry brush.  Embers from the fire are hopping across roads, starting new fires in many locations.
Two water-drop helicopters have already been called-in, but this fire is now officially "out of control" and could be far worse than other such fires in California's recent past.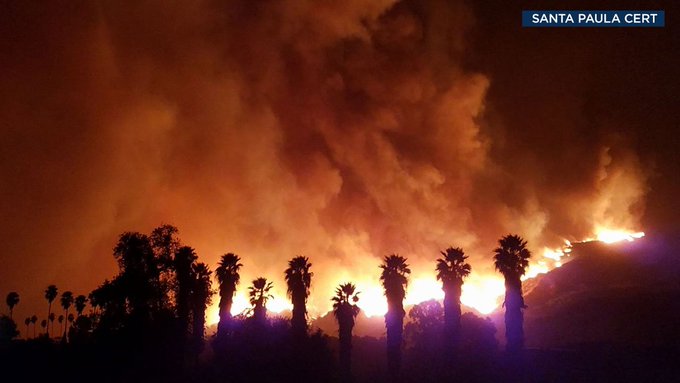 Firefighters battled a fast-moving brush fire threatening homes along the Santa Paula-Ojai border Monday night.

Initial reports indicated the blaze, which has been dubbed the Thomas Fire, was about 50 acres and moving at a fast rate of speed as winds as strong as 20 mph whipped through the area. The fire quickly charred through 2,500 acres by the evening hours.

It was reported in the Steckel Park area near State Route 150 and Thomas Aquinas College. Several structures were threatened, according to fire officials. The winds were moving the fire west, toward the main part of the city, fire officials said.
SR-150 is closed at Stongate Road in Northern Santa Paula due to the  fire. Evacuations underway for residents.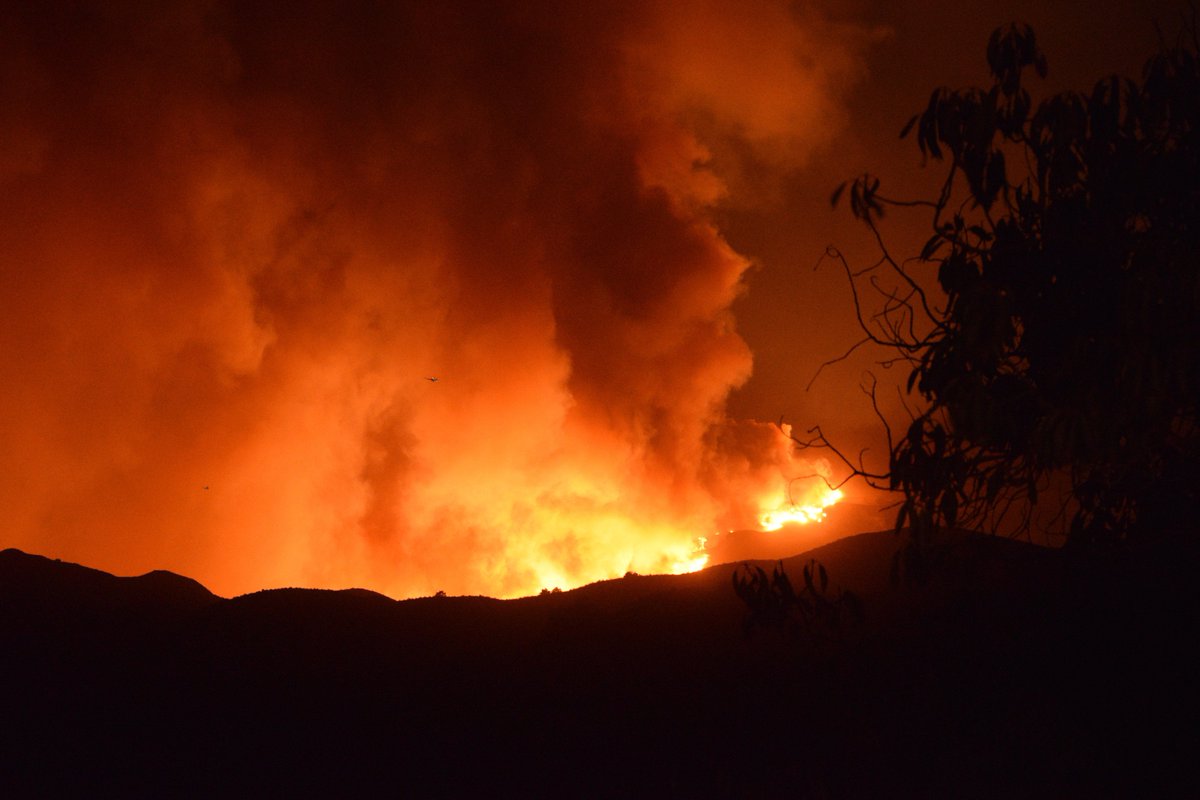 ThomasFire now 3000 acres per IC, multiple structures to be impacted soon.
Road closures in effect (link:  on.ktla.com/RSPg5
Soft Road Closures:
-Wheeler Canyon Rd at Foothill Rd
-Hwy 150 at Reeves Rd
-Hwy 150 at Santa Barbara St
-Hard Road Closures:
-Hwy 150 at Sisar Rd 
-Hwy 150 at Stonegate Rd
LIVE VIDEO
 Wheeler Canyon mobile homes on fire.
AMONG CITIES WITH POWER OUTAGES:
-Santa Paula
-Santa Barbara
-Ojai
- Oxnard, 
- Port Hueneme
- Ventura
- Carpinteria
Now mandatory evacuations in the City of Ventura, CA
 From the Ventura County Sheriff's Department:
INCIDENT SUMMARY
THOMAS FIRE
12/4/17 @ 10:30 PM
There is a fast moving active brush fire North of Santa Paula along Highway 150 and Bridge Road. The fire is currently estimated at 5000 acres is being pushed by an East wind toward the Cities of Santa Paula and Ventura.
---
MANDATORY EVACUATION
Mandatory evacuations have been ordered for the following areas:
· 436 homes east of Dickenson Road, north of Monte Vista Drive along Highway 150 and South of Thomas Aquinas College to the area of Bridge Road.
· 154 homes west of Dickenson Road to Atmore Road, north of Foothill Road and west to Wheeler Canyon Road
· 213 homes north of Highway 150 from Koenigstein Road west to the Dennison Grade, north to Reeves Road, east to McAndrew Road and north to Grand Avenue.
---
EVACUATION SHELTERS
Ventura County Fairgrounds at Miners Building (Includes an Animal Shelter for all types of animals.)  – 10 W Harbor Blvd, Ventura, CA 93001 
Nordhoff High School -1401 Maricopa Hwy, Ojai, CA 93023
---
ROAD CLOSURES
Soft Road Closures (Residents will need to provide proper identification to access their homes.):
Wheeler Canyon Road at Foothill Road
Highway 150 at Reeves Road
Highway 150 at Santa Barbara St
Hard Road Closures (Only public safety personnel will have access.):
Highway 150 at Sisar Road
Highway 150 at Stonegate Road
Wells Road at Foothill Road
Peck Road at Foothill Road
As of 2:02 AM EST -- 10,000 ACRES, 500 FIREFIGHTERS, 160,000 WITHOUT POWER....OUT OF CONTROL....
Wind gusting 44 - 60 mph....stronger as morning comes!!
3:12AM EST -- Hospital being evacuated on the top of Seneca. 70 patients.
Hearing news that the fire has entered Ventura and is burning dozens of structures at this time. I can't find a live video anywhere.
4:31 AM EST -- Several houses burning in Buena Vista. People in the neighborhood are standing on the corner taking pics with their cell phones rather than getting the heck out of there.
4:48 AM EST -- at least fifty structures on fire near lincoln drive in Ventura.
Firefighting helicopters can't fly to the fire because the winds are too strong.
4:30 AM EST -- NOW 26,000 ACRES.  FIRE "UNSTOPPABLE" SAY OFFICIALS
Burning 26,100 acres, destroying homes and forcing residents of nearly 7,800 homes to evacuate.
Multiple structures — including at least one large apartment complex — were consumed by flames, and many more were threatened as the fire crept about a quarter mile away from City Hall. Hundreds of firefighters working through the night tried to prevent the blaze from spreading, block by block, as they were confronted by wind gusts of up to 50 mph. One firefighter was injured, though it's unclear how.
"Due to the intensity of the fire, crews are having trouble making access, but there are multiple reports of structures on fire," authorities said in a bulletin Tuesday morning.
Fire officials said the intensity of the fire, coupled with the wind, made it pretty much unstoppable.
6:45 AM EST --
ThomasFire is currently 31,000 acres with 150 structures destroyed. 1 firefighter injury. 27,000 people evacuated. 1 DEAD
FOLLOW ME ON TWITTER & FACEBOOK
FOLLOW ME ON FACEBOOK
Developing fast.  Check back for updates.