Details

Category: U.S. National News
Tuesday, 03 April 2018 17:47
Written by Hal Turner
Write a comment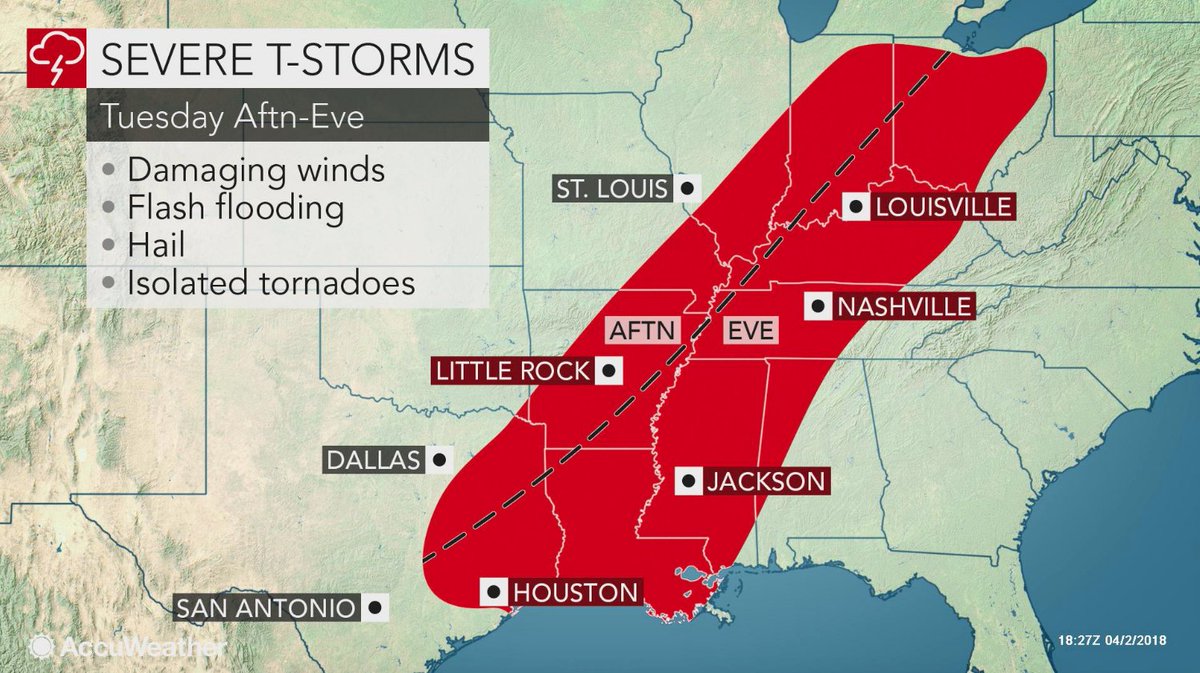 People across the southern and midwestern United States should not get used to tranquil weather early this week as the risk of severe weather is set to increase on Tuesday.
"Early spring can bring wild weather swings over the course of a two-day period, and some people in the central United States will experience snow on Sundayand thunderstorms just 48 hours later," AccuWeather Senior Meteorologist Michael Doll said.
Some of the locations that may be impacted by these abrupt changes include St. Louis; Indianapolis; and Springfield, Illinois.
Before the thunderstorms roll through, a brief but dramatic warmup will grace the South with May-like temperatures.
High temperatures should approach or exceed the 80-degree mark in Atlanta; Birmingham and Montgomery, Alabama; Jackson, Mississippi; and New Orleans on Tuesday. Temperatures will surge into the lower 70s as far north as Indiana and Ohio.
Just as residents in the South and the Ohio Valley might be thinking that the warmth is here to stay, thunderstorms will whisk away the pleasant weather in a west-to-east fashion from the southern Plains to the Southeast Tuesday into Wednesday.
"Powerful thunderstorms that could contain damaging winds, hail and flooding downpours could impact some communities from southeastern Missouri to northeastern Texas, starting around the time students leave school Tuesday afternoon," Doll said.
Thunderstorms with damaging winds are also likely to erupt as far north as northern Indiana and western Ohio.
While a tornado outbreak is not expected, a couple of tornadoes cannot be ruled out, especially in the mid-Mississippi and Ohio River Valleys.
Residents in the path of these potentially destructive storms should keep a close eye on the sky and monitor the latest severe weather warnings.
Roof and property damage from gusty winds, as well as damage to vehicles and sensitive vegetation from large hail, will all be possible in areas struck by the strongest storms.
"These thunderstorms will remain strong Tuesday evening and Tuesday night as they reach San Antonio and Houston; Shreveport, Louisiana; Memphis; Jackson, Mississippi; Cincinnati, Ohio; Louisville, Kentucky; and Nashville," Doll added.