Details

Category: U.S. National News
Tuesday, 15 May 2018 21:23
Written by Hal Turner
Write a comment
The United States Geological Survey (USGS) has upgraded the Warning Level for the ongoing Kilauea Volcano from ORANGE to RED. 
Ash emissions from the volcano are increasing dramatically.  The ask is now posing a hazard to aviation and COULD be a sign of a large eruption coming.
HVO/USGS Volcanic Activity Notice 

Volcano: Kilauea (VNUM #332010)

Current Volcano Alert Level: WARNING

Current Aviation Color Code: RED 
Previous Aviation Color Code: ORANGE

Issued: Tuesday, May 15, 2018, 1:23 PM HST
Source: Hawaiian Volcano Observatory
Notice Number: 
Location: N 19 deg 25 min W 155 deg 17 min
Elevation: 4091 ft (1247 m) 
Area: Hawaii 

Volcanic Activity Summary: As of early this morning, eruption of ash from the Overlook vent within Halemaumau crater at Kilauea Volcano's summit has generally increased in intensity. Ash has been rising nearly continuously from the vent and drifting downwind to the southwest. Ashfall and vog (volcanic air pollution) has been reported in Pahala, about 18 miles downwind. NWS radar and pilot reports indicate the top of the ash cloud is as high as 10,000 to 12,000 feet above sea level, but this may be expected to vary depending on the vigor of activity and wind conditions. 
Photo from 5:00 PM Eastern US time, Tuesday, May 15, 2018: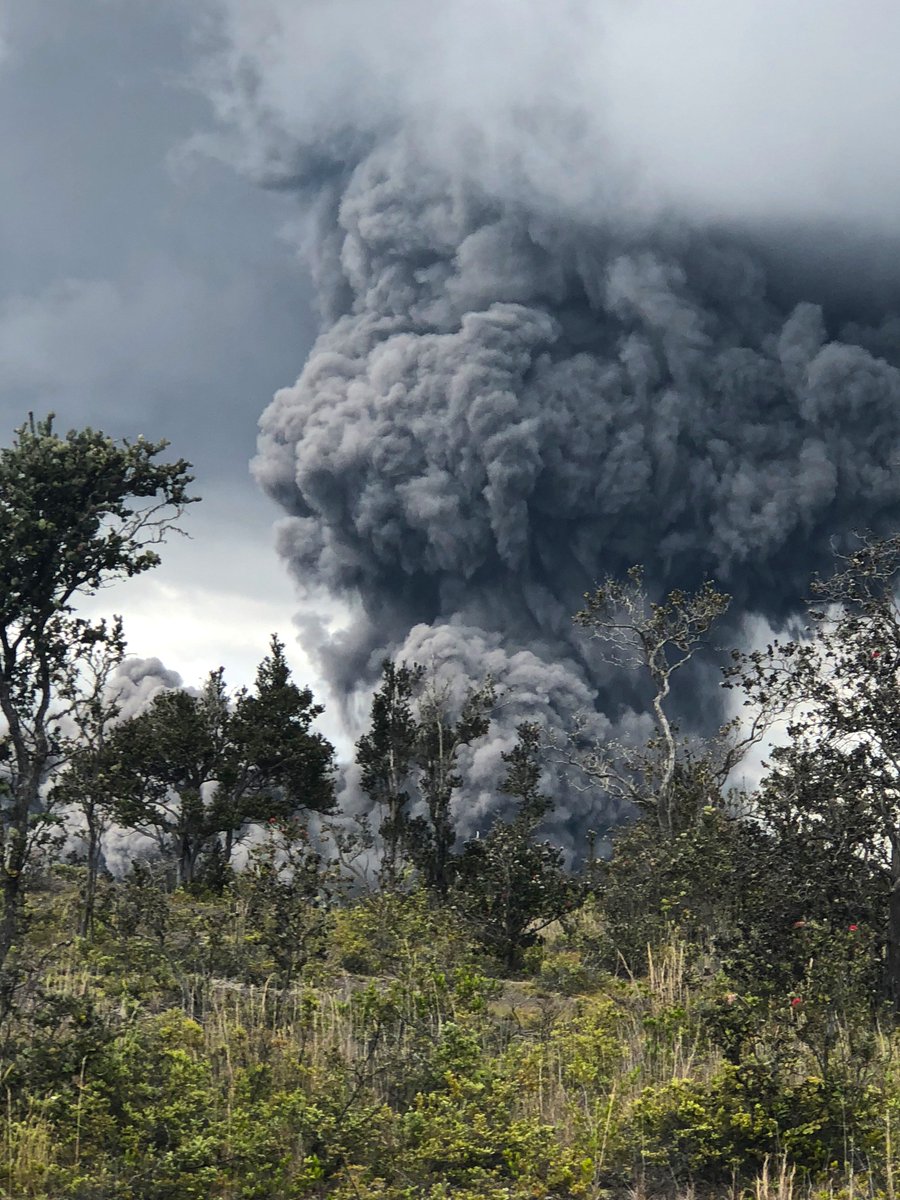 Ash emission from the Kilauea summit vent will likely be variable with periods of increased and decreased intensity depending on the occurrence of rockfalls into the vent and other changes within the vent. 

At any time, activity may become more explosive, increasing the intensity of ash production and producing ballistic projectiles near the vent. 

Resource on volcanic ash hazards: https://volcanoes.usgs.gov/volcanic_ash/

Resource on vog: https://vog.ivhhn.org/


Recent Observations: 
[Volcanic cloud height] 10,000 - 12,000 feet 
[Other volcanic cloud information] Drifting generally southwest with tradewinds. 


Hazard Analysis: 
[Ash cloud] The ashcloud is drifting downwind primarily to the southwest with the Trade Winds. Wind conditions are expected to change in the next 24 hours and other areas around Kilauea's summit are likely to receive ashfall. 
[Ashfall] Ashfall has been reported in the community of Pahala, at locations along Highway 11 from Pahala to Volcano, and in the Ka'u Desert section of Hawaii Volcanoes National Park. 
[Other hazards] Ballistic projectiles may be produced should steam-driven explosions occur. Impacts will be limited to an area around Halemaumau. 
[Volcanic gas] Vog or volcanic air pollution produced by volcanic gas has been reported in Pahala. 

Remarks: Photos of this activity may be found here:

https://volcanoes.usgs.gov/volcanoes/kilauea/kilauea_multimedia_15.html


Contacts: This email address is being protected from spambots. You need JavaScript enabled to view it. 

Next Notice: Additional notices will be issued should activity change significantly. 
Consult the National Weather Service for specific Ashfall notifications:http://www.prh.noaa.gov/hnl/


The Hawaiian Volcano Observatory is one of five volcano observatories within the U.S. Geological Survey and is responsible for monitoring volcanoes and earthquakes in Hawai`i.
NOTE: Covering this ongoing volcanic activity on top of the regular news has put a TREMENDOUS strain on this web site. Thankfully, because it is "cloud-based," my primary server feeds 19 data centers worldwide to handle the load. But each time a reader gets one of my articles, I GET BILLED for the data transfer / Bandwidth to send the story to that reader. As such, I am now under significant financial pressure. This web site is only possible because people like YOU either Subscribe for $1 a week (Billed Quarterly @ $13 HERE or Monthly @ $5 HERE) or who make one-time DONATIONS via Paypal HERE This site CANNOT survive without YOUR help, so please step-up and help!
RELATED: