Details

Category: World News
Sunday, 27 August 2017 00:53
Write a comment
UPDATED 6:57 AM EDT, See Bottom ---  Houston is flooding so fast and so badly, the entire city may be lost!  
Water Level Gauges measuring the height of "Brays Bayou" a river running through south Houston, show water levels have risen TEN FEET between 8:31 and 9:21 PM Central Daylight Time as seemingly endless bands of heavy rain swirl into the city from Hurricane Harvey.  
Rain measurements explain what's taking place.  They show rainfall at 4.56 Inches PER HOUR!  
The stream elevation gauge in Brays Bayou shows the explosive rise in water level in just one hour: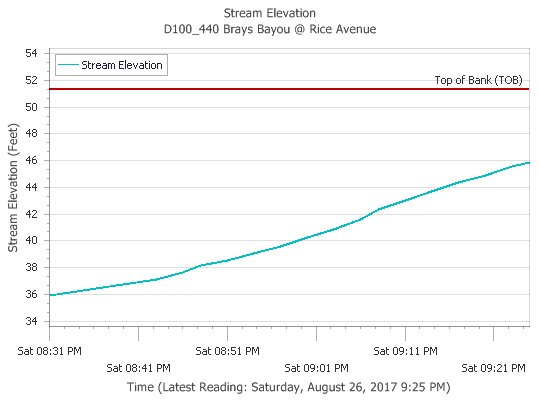 At least TWO Houston Police Precints have had to close and evacuate due to the flooding.  The Houston Fire Department has so many calls, they have no additional "Swift-Water-Rescue" teams to dispatch!
The situation in the city due to the torrential rains from Hurricane Harvey, is getting very bad, very fast.  
ALLIGATORS ARE IN THE STREETS!
UPDATE 1:20 AM EDT SUNDAY, AUGUST 27 --
The Brays Bayou River is now full according to sensors and is about to Overflow into Houston: (Click image to enlarge)
Here's a link to Google Maps so you can see the entire area of Brays Bayou River:
UPDATE 6:47 AM EDT - SUNDAY, AUG. 27 --
A mother and child have apparently died in flood waters on Interstate 10, bringing Houston's Harvey death toll to three.
Harris County Sheriff Ed Gonzalez tweeted at 2:41 a.m. about an unconfirmed report that a female and child were inside a submerged vehicle along Interstate 10 near Lathrop. 
A woman who allegedly tried to exit her flooded car near the Buffalo Bayou became the city's first fatality Saturday night, authorities said.
Emergency workers are overwhelmed with calls for water rescues, having responded to "hundreds" as of early Sunday. Houston police officials also evacuated two apartment complexes in Greenspoint, rescuing more than 50 children from rising flood waters overnight.
"It breaks your heart," Acevedo said via a livestream on Twitter, as he stood in waist-high water in north Houston. "But, it's Texas, we'll get through it."
BRAYS BAYOU RIVER OVERTOPPED!
As of 5:32 AM Central time - 6:32 AM Eastern time - Brays Bayou River, previously shown above, has OVER-TOPPED by 1.5 feet and is still rising despite being over its banks with nothing to contain it!!!  Flooding in Houston will now get dramatically worse. (Click image to enlarge)
UPDATE 7:15 AM EDT --
I-45 is now blocked by three feet of flood water.  It was the LAST highway out of Houston; all the other highways are blocked by flooding.  Now, there is no way OUT of Houston even if people WANTED to evacuate.  Loss of life in that city is likely to be horrific.
 The Houston Fire Department now confirms over 1,000 "High-Water Rescues" with five confirmed fatalities.
 UPDATE 4:30 PM EDT -- SUNDAY AUGUST 27-
This is Downtown Houston right now: Wall-to-Wall Water.