Details

Category: World News
Tuesday, 07 November 2017 22:25
Write a comment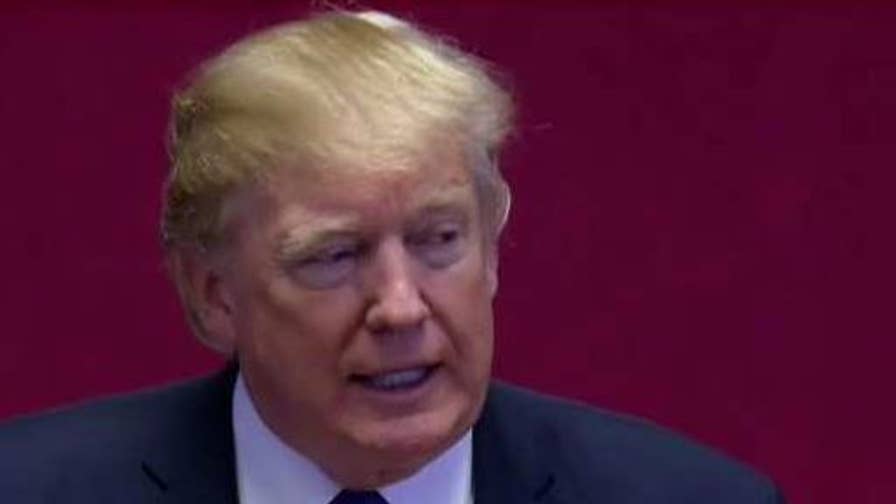 President Donald Trump issued a stark warning to North Korea during his address Wednesday to South Korea's National Assembly.
"Today, I hope I speak not only for our countries, but for all civilized nations, when I say to the North: Do not underestimate us. And do not try us," Trump said.
"We will not allow American cities to be threatened with destruction," Trump said in his address, the centerpiece foreign policy speech of his 13-day Asia tour.
"We will not be intimidated. And we will not let the worst atrocities in history be repeated here, on this ground we fought and died to secure."
Trump called the communist government in Pyongyang "a menace of a rogue regime" that is threatening "nuclear devastation."
"All responsible nations must join forces to isolate the brutal regime of North Korea to deny it any form of support, supply, or acceptance," he said.
Near the front line of the world's tensest standoff Trump formally articulated his views of a region on edge during an address at South Korea's National Assembly.
North Korea's provocations have provided the underpinning for Trump's intensive talks in Asia at the start of his marathon tour of the continent. He received support in Japan for his combative stance, but in Seoul -- positioned 35 miles from the highly fortified border with the North -- Trump's fiery rhetoric has been met with unease.
His mission inside the soaring assembly hall was to convince his audience of Korean lawmakers, plus the broader region, that he's committed to preventing the type of annihilation that many fear is possible if Trump's language is misconstrued.
His remarks put the current conflict into historical context, stressing the half-century alliance between the US and South Korea while encouraging other countries in the region -- namely, China and Russia -- to step up their efforts to isolate North Korea.
Meanwhile, Pyongyang was closely watching Trump's key speech, according to North Korean officials authorized to speak to CNN on behalf of the regime.
The officials told CNN's Will Ripley ahead of the address that North Korea is not interested in talks with the United States despite Trump's conciliatory tone in South Korea. 
US officials point out three American citizens are currently in North Korean custody, and any diplomacy would also need to involve discussions for their release.
According to officials in North Korea and the United States, diplomatic channels are still closed after Trump's fiery UN speech in September. However, North Korea won't rule out future talks, but still feels the need to prove their nuclear capabilities, which means more tests, the officials said.
At no other point on his 13-day tour of Asia will Trump have a similar opportunity to lay out at length his plan to help secure American allies while also pursuing aggressive trade policies he believes will put the United States on fairer footing.
Drafts of the speech were in the works for weeks, officials say, with input from Trump's top national security aides like Secretary of State Rex Tillerson and national security adviser H.R. McMaster. Trump's speechwriter Stephen Miller is accompanying the President in Asia.
FOLLOW ME ON TWITTER & FACEBOOK
FOLLOW ME ON FACEBOOK