Details

Category: World News
Tuesday, 23 January 2018 06:11
Write a comment
A staggeringly powerful Magnitude 8.2 earthquake has taken place off the southern coast of Alaska and, according to the US Geological Survey, it has generated a TSUNAMI which is heading toward both the West coast of Canada and the CONUS, and directly at the Hawaiian islands.  A TSUNAMI WARNING has been issued by the National Tsunami Warning Center.  UPDATE 6:50 AM EST -- COASTAL EVACUATIONS ORDERED IN PARTS OF ALASKA AND CANADA
UPDATE 7:15 AM EST -- RESIDENTS OF SAN FRANCISCO NOW BEING WARNED OF POSSIBLE EVACUATION OVER TSUNAMI
UPDATE 7:20 AM EST -- Quake was very very shallow 25KM DEPTH --lasted 3 minutes.  TSUNAMI is heading in every direction in the Pacific
UPDATE 7:28 AM EST -- National Weather Service Broadcasting TSUNAMI WATCH on TV in California coastal cities ! ! ! 
UPDATE 8:40 AM EST - From NBC News, Tsunami Warnings CANCELLED.
From the Tsunami Warning Center
000
WEHW40 PHEB 230943
TSUHWX
HIZ001>003-005>009-012>014-016>021-023>026-231143-
/O.NEW.PHEB.TS.A.0001.180123T0943Z-000000T0000Z/

BULLETIN
TSUNAMI MESSAGE NUMBER   1
NWS PACIFIC TSUNAMI WARNING CENTER EWA BEACH HI
1143 PM HST MON JAN 22 2018

TO - EMERGENCY MANAGEMENT IN THE STATE OF HAWAII

SUBJECT - TSUNAMI WATCH

A TSUNAMI WATCH IS ISSUED FOR THE STATE OF HAWAII EFFECTIVE AT
1143 PM HST.

AN EARTHQUAKE HAS OCCURRED WITH THESE PRELIMINARY PARAMETERS

   ORIGIN TIME - 1132 PM HST 22 JAN 2018
   COORDINATES - 56.0 NORTH  149.2 WEST
   LOCATION    - GULF OF ALASKA
   MAGNITUDE   - 8.0  MOMENT

EVALUATION

 BASED ON ALL AVAILABLE DATA A TSUNAMI MAY HAVE BEEN GENERATED BY
 THIS EARTHQUAKE THAT COULD BE DESTRUCTIVE ON COASTAL AREAS EVEN
 FAR FROM THE EPICENTER. AN INVESTIGATION IS UNDERWAY TO DETERMINE
 IF THERE IS A TSUNAMI THREAT TO HAWAII.

 IF TSUNAMI WAVES IMPACT HAWAII THE ESTIMATED EARLIEST ARRIVAL OF
 THE FIRST TSUNAMI WAVE IS

                     0426 AM HST TUE 23 JAN 2018

FURTHER MESSAGES WILL BE ISSUED HOURLY OR SOONER AS CONDITIONS
WARRANT UNTIL THE THREAT TO HAWAII HAS PASSED.

$$
 10 Meter Water Displacement (30 Foot Tall WAVE!)
According to the National Data Buoy Center, the earthquake caused a 10 Meter Water Displacement; the earth moved so much that it generated a 30 FOOT wave which is now heading toward Hawaii and the US/CANADA west Coasts.
Data Buoy #46410 off Alaska Coast
It's like the whole north part of the pacific plate shifted, that the top corner went up 10 meters, then down 10 meters, all over the course of 15 seconds. Amazing.

At the same about 40 miles southwest, the shift was only about 2 meters... but imagine along that 400 mile line, the displacement of that much water... That's gonna cause some waves that could travel all day.
 Tsunami Buoys throughout the north Pacific Ocean are ALERTING to the incoming wave! ! ! 
The 17 Second graphic below shows the magnitude of the earthquake and the ALERTING TSUNAMI BUOYS
 Here is the Official Tsunami Wave Arrival-time chart from the Pacific Tsunami Warning Center: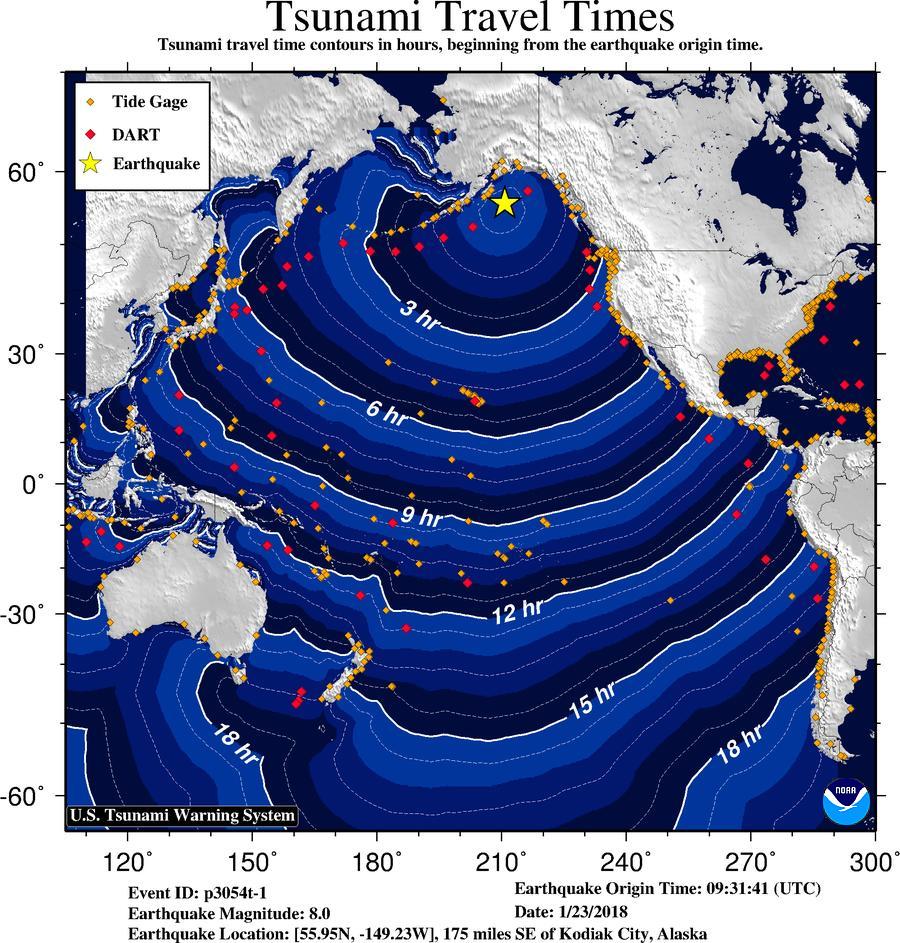 EVACUATIONS ORDERED IN ALASKA, PARTS OF CANADA
Environment Canada issued a tsunami warning on Tuesday morning that stretched all along B.C.'s coast, from Greater Victoria north to Haida Gwaii and beyond.
"If you are in a coastal area that is at risk, you should move to high ground now and heed further instruction from local authorities," the warning said.
The agency warned that a tsunami is a "series of waves," and that the "first wave may not be the largest."
Video as Alaskans Evacuate -
Tsunami Evacuation Sirens Sounding
VIDEO: KODIAK ISLAND RESIDENTS EVACUATING
SAN FRANCISCO WARNING: PREPARE FOR EVACUATIONS
Quake was very very shallow, 25KM DEPTH -- lasted 3 minutes
TSUNAMI is heading in every direction in the Pacific
 TSUNAMI WATCH BEING BROADCAST ON TV THROUGHOUT CALIFORNIA
TSUNAMI ARRIVAL TIMES FOR ALASKAN COASTAL AREAS
Incoming tsunami - 10 meter waves. If you're on the coast i'd get out now
[link to ntwc.arh.noaa.gov] 

FORECAST START OF TSUNAMI


* Alaska
Kodiak 0145 AKST Jan 23
Seward 0155 AKST Jan 23
Elfin Cove 0155 AKST Jan 23
Sitka 0200 AKST Jan 23
Yakutat 0205 AKST Jan 23
Valdez 0215 AKST Jan 23
Sand Point 0220 AKST Jan 23
Cordova 0225 AKST Jan 23
Unalaska 0240 AKST Jan 23
Homer 0255 AKST Jan 23
Craig 0300 AKST Jan 23
Cold Bay 0300 AKST Jan 23
Adak 0305 AKST Jan 23
Shemya 0350 AKST Jan 23
Saint Paul 0400 AKST Jan 23
 UPDATE 7:33 AM EST -- TSUNAMI ARRIVAL TIMES, U.S. WEST COAST
 UPDATED TSUNAMI WARNING FROM WARNING CENTER 7:43 AM EST --
WEAK51 PAAQ 231240
TSUAK1

BULLETIN
Public Tsunami Message Number 6
NWS National Tsunami Warning Center Palmer AK
340 AM AKST Tue Jan 23 2018

UPDATES
-------
 * Updated observations


...THE TSUNAMI ADVISORY REMAINS IN EFFECT...



Tsunami Advisory in Effect for;

 * SOUTH ALASKA AND THE ALASKA PENINSULA, Pacific coasts from
   Hinchinbrook Entrance, Alaska (90 miles E of Seward) to
   Chignik Bay, Alaska


For other US and Canadian Pacific coasts in North America, 
there is no tsunami threat.


FORECASTS OF TSUNAMI ACTIVITY
-----------------------------
 * A tsunami has been generated.  The first waves are forecasted to
   arrive at the following locations and specified times.

 * Forecast tsunami duration is the approximate length of time which
   the tsunami may produce dangerous currents and waves.

 * Forecast max tsunami height is the highest expected water level
   above the tide.

 * Forecasts are not provided for sites which have been impacted
   more than an hour prior to the time of this message.

                 FORECAST         FORECAST  FORECAST
                 START            TSUNAMI   MAX TSUNAMI
SITE             OF TSUNAMI       DURATION  HEIGHT
----             ----------       --------  -------------

 * Alaska
Homer            0250 AKST Jan 23           less than 1ft 


OBSERVATIONS OF TSUNAMI ACTIVITY - UPDATED
------------------------------------------
 * Observed max tsunami height is the highest recorded water level
   above the tide level up to the time of this message.

                                  TIME               OBSERVED MAX
 SITE                         OF MEASUREMENT         TSUNAMI HEIGHT
 ---------------------------- ----------------       --------------
 Kodiak  Alaska               0329  PST Jan 23           0.6ft
 Seward  Alaska               0331  PST Jan 23           0.4ft
 Old Harbor  Alaska           0338  PST Jan 23           0.7ft
 Sitka  Alaska                0318  PST Jan 23           0.4ft
 Yakutat  Alaska              0335  PST Jan 23           0.5ft
 Langara  BC                  0330  PST Jan 23           0.4ft


PRELIMINARY EARTHQUAKE PARAMETERS
---------------------------------
 * Magnitude      7.9
 * Origin Time    0032 AKST Jan 23 2018
                  0132  PST Jan 23 2018
                  0932  UTC Jan 23 2018
 * Coordinates    56.0 North 149.1 West
 * Depth          12 miles
 * Location       175 miles SE of Kodiak City, Alaska
                  360 miles S of Anchorage, Alaska


RECOMMENDED ACTIONS
-------------------
 * See message number 5 for recommended actions.


IMPACTS
-------
 * See message number 5 for possible impacts.


ADDITIONAL INFORMATION AND NEXT UPDATE
--------------------------------------
 * Refer to the internet site tsunami.gov for more information.

 * Pacific coastal residents outside California, Oregon,
   Washington, British Columbia and Alaska should refer to the
   Pacific Tsunami Warning Center messages at tsunami.gov.

 * This message will be updated within 30 minutes.

$$

 19 After-Shocks and Counting
 FROM ABC NEWS: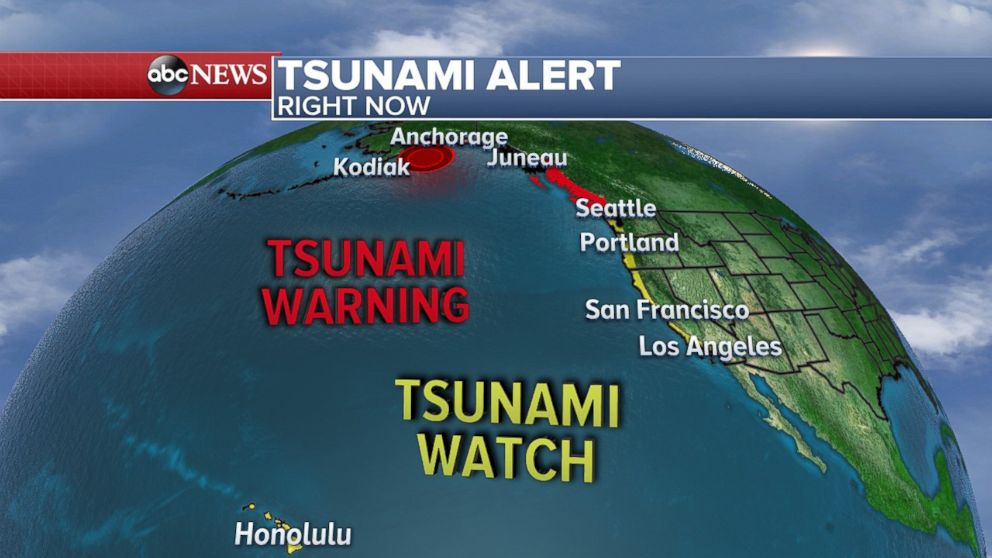 UPDATE 8:39 AM EST -- FROM NBC NEWS
A tsunami watch issued early Tuesday for coastal areas from Washington state to California was canceled nearly three hours after a magnitude 7.9 earthquake struck the Gulf of Alaska and prompted precautionary calls to evacuate.
Tsunami watches were also canceled for the Canadian province of British Columbia and Hawaii, although a tsunami advisory remained in effect for southern Alaska after 3 a.m. local time (7 a.m. ET), according to the National Weather Service's National Tsunami Warning Center.
There were no immediate reports of life-threatening waves or damage to property.
FOLLOW ME ON TWITTER & FACEBOOK
FOLLOW ME ON FACEBOOK