Details

Category: World News
Sunday, 08 April 2018 10:54
Write a comment
UPDATE 10:45 PM EDT -- ATTACK UPON SYRIA IN PROGRESS ! ! ! ! (SEE BOTTOM)
Thirteen and a half hours ago, at 9:07 PM eastern time on Saturday night, I warned my Subscribers that a Chlorine Gas attack had allegedly taken place in Syria, injuring over 1,000 and killing 161. I outlined why this appeared to be a FALSE FLAG attack designed to put blame on Syria President Bashar Assad, and justify a massive U.S. military attack directly against Syria.  I warned that people in the US government have been planning for a direct war with Russia and would use this alleged attack to induce/force a US military response DESPITE warnings from Russia that US missileS would be shot down and the ships launching them would be attacked. 
As of 10:42 AM Sunday, it appears President Trump has "taken the bait."  It appears that the US and its allies are speeding toward a massive military attack and that Russia is speeding toward a massive military response against the US.  Russian military assets are being hastily removed from Joint Bases in Syria - not because they might be targets or collateral damage -- but rather to be used for a COUNTER-ATTACK against the US.
Russian air defenses in Syria, AND IN THE WESTERN MILITARY DISTRICT OF RUSSIA ITSELF have been placed on high alert.  US Military analysts have been up all night at the Pentagon and President Trump confirms he has been in discussions throughout the night with his National Security people.  It looks like we are quickly moving toward actual war this morning, which is Orthodox Easter for Russia. 
Trump Threatens Putin, "Animal Assad" Over Syrian "Chemical Attack"; Russia Warns Of "Grave" Response If US Launches Strike
This false-flag chemical attack in #Syria on Orthodox Easter is not a coincidence, globalist elites (Satanists) desperately want a war with Russia. What's better than this festivity of Orthodox Easter to show their real intentions...
War Hawk Lindsey Graham Video
RUSSIAN ASSETS BEING MOVED OUT OF JOINT BASES IN SYRIA
They don't want them struck in a US attack. Makes sense considering that if the coalition strikes they're not likely to be targets but could be collateral.
The other side of things are that they may indeed be targeted if the coalition believe that Russia will use them, and that is something I doubt the war planners would be wanting to do from the offset, but they will want to send a message; not in terms of that area being attacked by the USA, but in terms of Russians prepping for response with those assets to US forces
Russia Intel Source tells me precautionary measures are being taken in Syria but worse, in the next hours there is also likely to be such preparation in the Russian western military district in light of Trump's provocative tweets.
UPDATE 10:54 AM EDT --
TRUMP IN CONSTANT COMMUNICATION WITH ONGOING NATIONAL SECURITY TEAM MEETINGS IN PROGRESS - SPOKESMAN FOR WH
 WE WILL NOT TAKE ANY RESPONSE OFF THE TABLE - WHITE HOUSE IN THE LAST FEW MINS
 URGENT PENTAGON MEETINGS UNDERWAY - DISCUSSIONS WITH ALLIES IN PROGRESS
 If President Obama had crossed his stated Red Line In The Sand, the Syrian disaster would have ended long ago! Animal Assad would have been history! -TRUMP
 (Editor's Note: But WHY WHY WHY would Assad use chemicals NOW when he knows that we will be out of Syria very soon? 

Surely President Trump is smart enough to ask this question and smart enough to know the answer, Assad wouldn't. Someone sure wants us to stay in Syria.)
UPDATE 11:15 AM EDT --
UK military in urgent meetings
Saudi Mohammed Bin Salman has landed in France to meet Macron. 

Literally every Israeli politician is ordering the US to strike Syria ASAP. I have never seen the Israelis like this before.

Something's cooking for sure.
It appears the American MSM is still awaiting instructions on how to report on this situation. Nothing yet. We have to watch how it gets reported to better understand what we should expect.
RUSSIA SAYS IT WILL RESPOND MILITARILY TO AN AMERICAN ATTACK

WARNS PRESIDENT TRUMP OF GRAVEST CONSEQUENCES OF AN ATTACK
The president's senior national security cabinet have been talking with him all throughout the evening and this morning - Homeland Security Adviser, Bossert
UPDATE 11:23 AM EDT --
Reports from my former Intelligence Community Colleagues inside several governments are telling me that if Trump goes ahead, the response will be much bigger than an airfield strike (LIKE LAST YEAR) and will aim to severely weaken the Assad regime, with shock and awe level strikes right across Assad's locations and range of assets.
I am being told by very credible military people that this is on the table.

Whether Trump attacks or attacks at that level remains to be seen. He may not attack or make a token response to save face given his statements. However, the military have been ordered to prep for something huge should the red button be pressed.

I am getting more and more worried as his tweets seemed belligerent this morning.
UPDATE 11:30 AM EDT --
There are changes now in alert status to some US and UK forces in the Middle East theater (US CENTCOM). Not going in to details for obvious reasons.
 If you do not yet have the "Preps" that I have been telling you FOR MONTHS to have, it is now too late for you.  Here's the list of suggested preps in case you have some chance to get some of them.
UPDATE 11:55 AM EDT --
Breaking: Multiple groups of Russian warplanes - fully armed -- now taking off from Khmeimin Air Base in Syria.
All Russian personnel in Syria and Russia's Western Military District on high alert.
S-400 anti-aircraft systems are ALL fully activated throughout ALL of Syria.
Russian air defenses are manned and ready across Syria for upcoming US attack.
UPDATE 12:15 PM EDT --
An urgent meeting is underway at the French presidential HQ to discuss the chemical weapons attack in Ghouta
European union: Assad is responsible for the chemical attack and it warrants an International response
Per the WH: Tomorrow President Trump is meeting with his cabinet and then will be having a meeting and dinner with senior military leadership.
UPDATE 12: 40 PM EDT --
U.S. military official confirms that the Pentagon could launch a potential regime attack against Syria. Trump will meet with his National Security Council today. 
(EDITOR'S NOTE: The fact this is taking place is astonishing.  In order to believe that Syria/Russia committed this chlorine gas attack, you'd have to believe that Russia and Syria are so stupid to have executed a false flag yesterday so that the US and our lackey states could destroy Syria.

This would be like believing Russia and Syria are so stupid that just before the crossed the goal line for a winning Touchdown they mooned the stadium to enrage the fans and have them rush the field and prevent the score.   This Chlorine attack has "FALSE FLAG" written all over it.  We are apparently going to go to war based upon a deliberate lie.  God help us all.
The scariest thing for me: We have a bunch of murderers running our Government who have no problem arming and supporting known terrorist organizations in Syria. I can't understand why our military continues to follow orders from these Neocon vermin, given that they are domestic enemies of the U.S. Constitution.
As soon as America and Russia are finished annihilating each other the islamic caliphate will sweep the globe.

They gotta know this right.. Americans and Russians. 

They gotta know this..)
SIGINT
Signals Intelligence (SiIGINT) indicates that Brigadier General Suheil al-Hassan of the Syrian Arab Army, personally transmitted the order to attack Ghouta with "all available weapons" in a radio transmission contained in the video below.  It is not known if the General received permission from President Assad to do this, but that no longer matters; the Intelligence Community says this is proof the Chlorine Gas attack was perpetrated by the Syrian Government.
AUDIO IN THE ORIGINAL VIDEO BELOW HAS BEEN ***DELETED*** AFTER I PUBLISHED IT . . . . PRESUMABLY BY YOUTUBE ! ! ! !   Shorter version still available at other video immediately beneath it!
Second audio source - if audio does not play, click the small SPEAKER icon in the bottom right to turn audio on:
Bio
Suheil as-Hassan, nicknamed The Tiger, is a Brigadier General  in the Syrian Army, currently serving as commander of its elite Tiger Forces.
He graduated from the Syrian Arab Air Force academy in 1991, and served in many units of the Syrian Arab Air Forces and Air Defense Command, completing several training courses. 
After serving in the Syrian Arab Air Force and Syrian Arab Air Defense units, he joined the Air Forces Intelligence Service, where he was responsible for the training of the elements of the Special Operations Section.
During the Syrian Civil War, Suheil al-Hassan has served and commanded his troops during several major engagements, including Operation Canopus Star and the battle for the Shaer gas field. He is part of the new generation of field Syrian army commanders who emerged during the civil war.
French newspaper Le Monde has claimed he could be a rival to Assad as leader of Syria.
UPDATE 1:05 PM EDT --
Sources in contact with the Pentagon tell me Target Selection for Syria is complete.  List transmitted to the President for decision.
***** BULLETIN ***** 1:23 PM EDT --
Russia is deploying seventy-seven thousand (77,000) regular army troops to the border of Ukraine along with almost one-thousand (1,000) tanks, 2,300 BMP armored personnel carriers and hundreds of pieces of self-propelled artillery.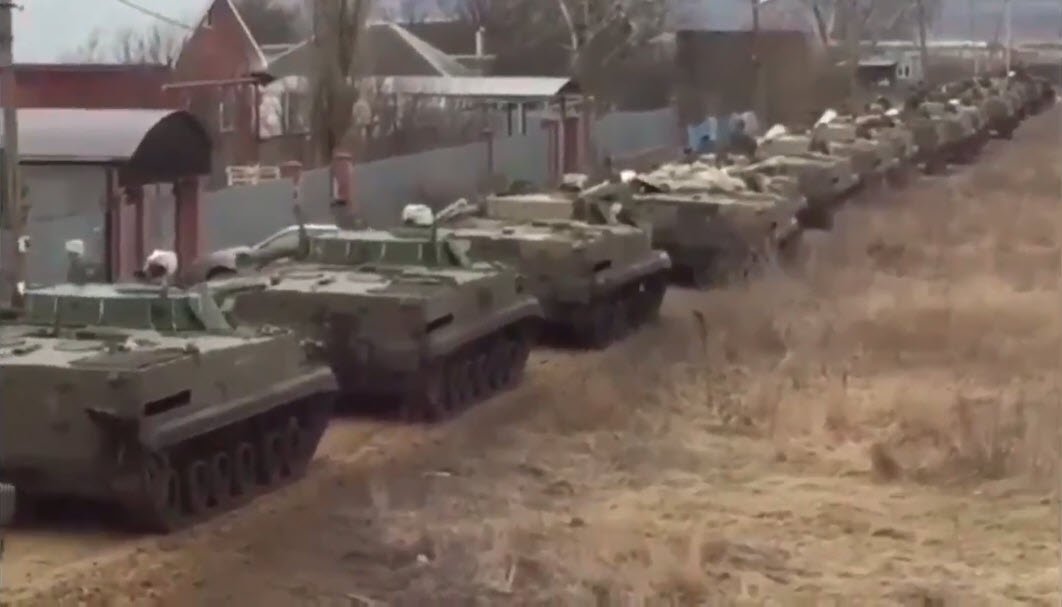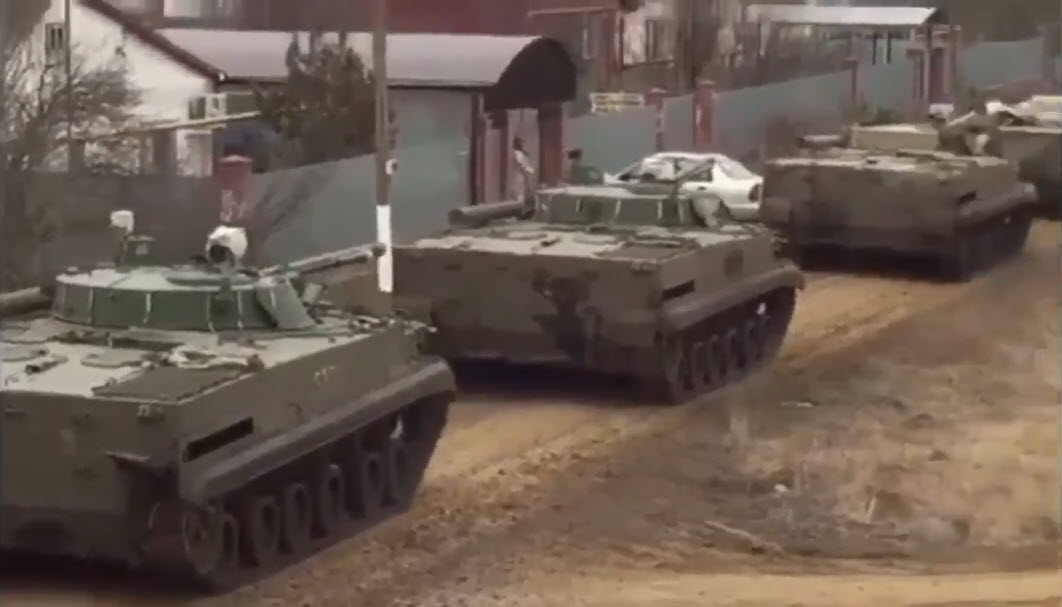 This armor is near the Ukraine border in Rostov.
Ukraine's Defense Minister considers it likely a full-fledged war by the Kremlin is imminent.
"At our border, it is concentrating 19 battalion tactical groups of the first and second echelons of more than 77,000 troops.
The deployment order includes about a thousand tanks, 2.3 thousand combat vehicles, more than 1.1 thousand artillery systems and about 400 systems of multiple launch rocket systems," – the minister noted.
The message seems clear: If the US attacks Syria, Russia can attack Europe.
 UPDATE 1:47 PM EDT --
UN SECURITY COUNCIL CALLS URGENT MEETING ON SYRIA FOR TOMORROW AT BEHEST OF UK AND 8 OTHER NATIONS
(EDITOR'S NOTE: That likely means no military action tonight, but I could be wrong)
Russia: Foreign military intervention under "far-fetched, fabricated pretexts" in areas in Syria where Russian servicemen are deployed "might lead to very severe consequences."
UPDATE 2:26 PM EDT --
ALL Russia Air Force Fighter Jets scrambled from Russian airbases in Syria and are patrolling air space along the entire Syria coast line.  Planes are heavily armed.
UPDATE 2:49 PM EDT --
Intelligence indicates major elements of the Syrian Arab Army have begun to evacuate major military bases.  Men and equipment SEEM to be on the move away from likely US missile targets.
UPDATE 2:56 PM EDT -- 
CHLORINE CANISTERS "MADE IN GERMANY" BY THE MERCK CORPORATION, FOUND IN TERRORIST HEADQUARTERS INSIDE GHOUTA, SYRIA AFTER "CHLORINE ATTACK."    THAT MEANS THE CHEMICAL USED TO KILL INNOCENT CIVILIANS IN SYRIA CAME FROM A "NATO" COUNTRY. . . NOT FROM THE SYRIAN GOVERNMENT.  PICS:
UPDATE 4:15 PM EDT --
RUSSIA CALLS FOR A SECOND EMERGENCY UN SECURITY COUNCIL MEETING CITING THREATS TO PEACE AND SECURITY FROM THE WEST
MCCAIN ISSUES STATEMENT CALLING FOR DECISIVE MILITARY ACTION
RUSSIAN EMBASSY IN USA WARNS THAT ANY MILITARY ACTION IN SYRIA WOULD BE UNACCEPTABLE AND TRIGGER "GRAVEST CONSEQUENCES"
TRUMP HAS JUST SPOKEN TO THE IRAQI PM ABOUT THE ATTACK
UPDATE 4:32 PM EDT --
RUSSIAN PM MEDVEDEV JUST NOW: 'UNITED STATES, WE ARE ON THE VERGE OF A CONFLICT, DO NOT ATTACK OUR ALLIES AGAIN'
from Turkish sources:
Russian defense officials quoted as saying Syria situation worse than Cuba crisis and Medvedev warning Russia at edge on war with the U.S
UPDATE 7:27 PM EDT --
Russian MOD: Russian Navy, Air Force and Air Defense Force are ready to employ extreme measures against US Navy in case of any other cruise missile attack against Syrian Military bases.
Reuters news agency: Russia has put all the air bases in Syria into a red alert. The moment the U.S. fighters enter the Syrian lands, they will be shot. 
 French Warplanes off the Syrian Coast at 2:24 am Syria time (Syria is 7 Hours AHEAD of U.S. East Coast)

They are there because the US wants to test the s-400 system manned by the Russians. Any French warplanes that challenge the Russians most probably will be fired upon.
(COVERT INTEL: My former colleagues in the intelligence Community told me moments ago (7:50 PM EDT) "Get cash out of an ATM as fast as you can."  When I asked why, the reply was "The US electrical grid is compromised by malware from a soon-to-be-hostile nation. If fighting erupts, the power grid will LIKELY be taken out very early in the conflict to cause civil unrest here in the US.  Credit, Debit and EBT cards won't be usable because there won't be electricity anywhere to process the transactions. Power could be out for weeks. Cash will rule.  No cash=no food.")
UPDATE 10:45 PM EDT --
Attack upon SYria IN PROGRESS NOW!  Click HERE for new story
NOTE: This web site is only possible because people like YOU either Subscribe for $1 a week (Billed Quarterly @ $13 HERE or Monthly @ $5 HERE) or who make one-time DONATIONS via Paypal HERE This site CANNOT survive without YOUR help, so please step-up and help!
PLEASE SPREAD THIS STORY LINK TO EVERY PERSON YOU KNOW.  THE WORLD CANNOT GO TO WAR OVER A DELIBERATE LIE.  PEOPLE HAVE A RIGHT TO KNOW THE TRUTH.  WE HAVE TO TRY TO STOP THIS THING BEFORE IT GETS OUT OF CONTROL.