Details

Category: World News
Thursday, 24 May 2018 10:12
Write a comment
President Donald Trump has CANCELED his scheduled meeting with North Korean leader Kim Jung Un.
The president said "There was 'tremendous anger and open hostility' in yesterday's statement from North Korea."
President Trump's Letter Cancelling Summit (Updates appear below this letter)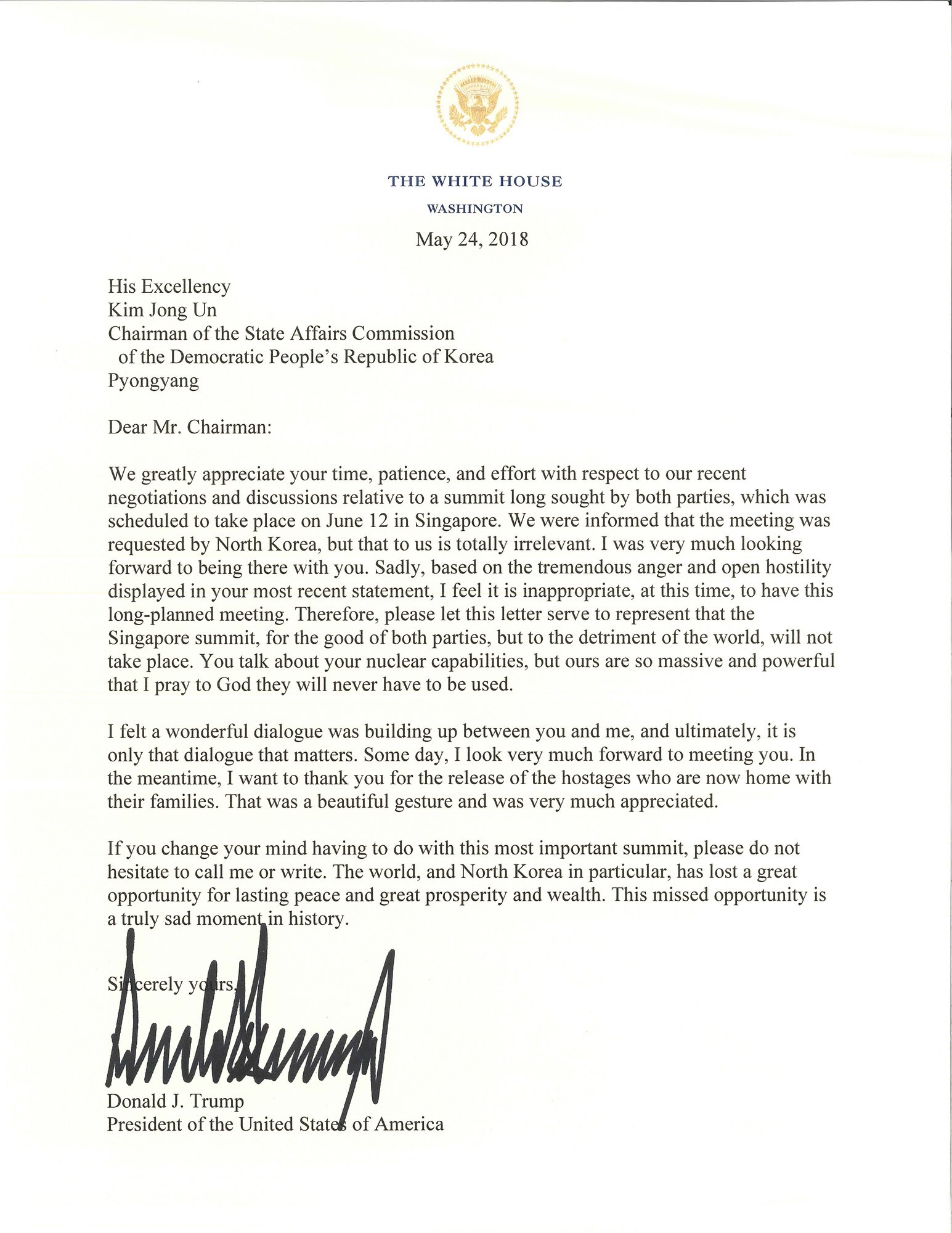 Hal Turner Commentary 
Uhhhhhhhh, sir . . . .  they are an avowed enemy.  We ought to expect tough rhetoric.  This cancellation was a tactical blunder on OUR part.
I urge you to reconsider and re-establish the meeting.  Too much is at stake for us to jerk around with niceties.
UPDATE 11:23 AM EDT --
National Security Adviser John Bolton: "I think the only diplomatic option left is to end the regime in North Korea by effectively having the South take it over"
UPDATE 11:27 AM EDT --
NORTH KOREA THREATENED US WITH NUCLEAR WAR IN TALKS - WE BELIEVE THEM - WHITE HOUSE OFFICIAL
"We can also make the US taste an appalling tragedy it has neither experienced nor even imagined up to now." -NK VICE MINISTER OF FOREIGN AFFAIRS
UPDATE 11:29 AM EDT --
"If they don't meet June 12th, that's probably the end of diplomacy. Plan B would be military operations to stop the threat that North Korea presents." - Senator Lindsey Graham
INTEL: Pentagon source. The US military think that Kim may well respond very quickly with kinetic actions.  There is likely to be an immediate raising of defense posture for US forces in the Korean theater.
UPDATE 11:35 AM EDT --
America had repeatedly tried in recent days to connect with North Korea over logistics for the summit but got no response.
- Pompeo
UPDATE 11:42 AM EDT --
SOUTH KOREAN PRESIDENT HAS JUST CALLED AN EMERGENCY MEETING WITH HIS SENIOR ADVISORS AND NATIONAL SECURITY TEAM