Details

Category: World News
Monday, 28 May 2018 20:30
Write a comment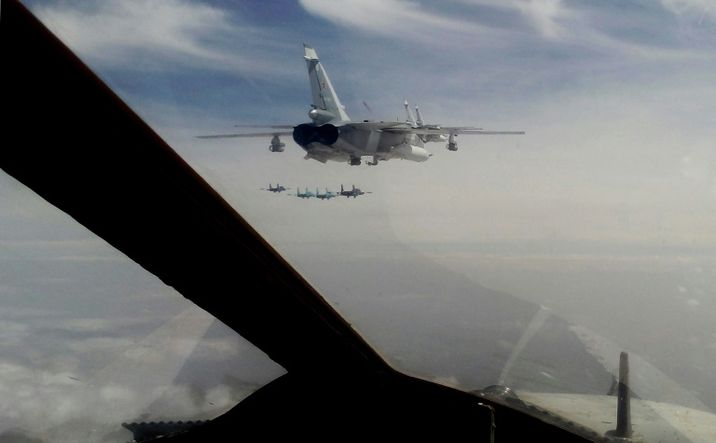 Israeli warplanes were intercepted by Russian fighter jets in Lebanese airspace on Monday morning, in what was deemed an unlikely clash between the two countries who have reached an agreement on averting confrontation in Syria and the wider region.
The two Israeli Air Force F-16 jets were said to have been been challenged by the Russian Sukhoi SU-34 jets over Tripoli, according to  Russian and Lebanese media outlets.
A video circulated on social media showed Russian planes flying over Lebanon Russia and Israel were yet to confirm the validity of the reports.
A host of previous reports, have alleged that Israel has targeted Iranian-operated bases in Syria from Lebanese airspace.
On Thursday, Lebanese media reported a heavy presence of Israeli air crafts flying over the Lebanese capital of Beirut and the Lebanese coast during an airstrike on an airbase near Homs said to have been in the vicinity of Hezbollah weapons warehouse facilities. As per routine policy, Israel has refused to confirm its responsibility for the attack.
Last week, the head of Israel's Air Force Amiram Norkin, showed a picture of an Israeli F-35 stealth fighter jet -- a warplane that has conducted airstrikes previously -- flying near Beirut.
Russia and Israel have conflicting interests in the delicately-balanced seven-year long Syrian Civil War. Israel's arch regional foe Iran is Syrian President Bashar al-Assad's main ally alongside Russia and Lebanese-based Iranian proxy Hezbollah. 
Whilst Israel is careful to navigate its relations with Russia, it is hellbent on preventing Iran from gaining a foothold in Syria and entrenching itself permanently, thus often leading to a clash of interests between Russia and the Jewish State.
RUSSIA DENIES
The Russian Defense Ministry has denied reports on an alleged interception of an Israeli F-16 fighter jet by a Russian Su-34 aircraft, stating that the country's aircraft do not conduct missions in Lebanese airspace.
"The information spread by one of the Israeli news outlets about an alleged 'interception' of two Israeli F-16s by a Russian Su-34 in Lebanese airspace is amateur nonsense," the Russian Defense Ministry stated.
The ministry specified that "the Su-34 multirole bombers, which belong to the Russian air group in Syria, are not used for flights to intercept aerial targets and do not perform tasks in the airspace of Lebanon."
The comment follows reports earlier in the day in Israeli, Lebanese and Russian media outlets, claiming that the two Israeli Air Force jets had been challenged by a Sukhoi Su-34 bomber over Tripoli and forced away.