Details

Thursday, 11 January 2018 23:13
Written by Hal Turner
Write a comment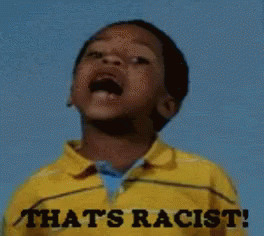 Today, President Donald Trump spoke a truth which is known -- and has been known -- by _every_ thinking person for the past 100 years: Certain countries in the world are SHIT-HOLES.  He specifically referenced Haiti and certain African countries.  
Members of Congress who were in attendance at the meeting where the President made this remark, were gobsmacked. Shell-shocked. Flabbergasted. Apoplectic.  "How could he SAY such a thing?"  "No one is allowed to say something like that."  "It's . . . . . . . . . . . . . it's . . . . . . . . . R A C I S T  ! ! ! ! ! ! ! ! ! "
It's not racist; it's 100% true.
It is long overdue that someone in a position of authority had the good sense and internal fortitude to speak this truth.  It has been unspoken for far too long.
Trump grew frustrated with lawmakers Thursday in the Oval Office when they discussed protecting immigrants from Haiti and African countries as part of a bipartisan immigration deal, according to several people briefed on the meeting.
"Why are we having all these people from shithole countries come here?" Trump said, according to these people, referring to countries mentioned by the lawmakers.
Trump then suggested that the United States should instead bring more people from countries such as Norway, whose prime minister he met with Wednesday. The president, according to a White House official, also suggested he would be open to more immigrants from Asian countries because he felt they help the United States economically.
In addition, the president singled out Haiti, telling lawmakers that immigrants from that country must be left out of any deal, these people said.
"Why do we need more Haitians?" Trump said, according to people familiar with the meeting. "Take them out." 
Lawmakers were taken aback by the comments, according to people familiar with their reactions. Sens. Lindsey O. Graham (R-S.C.) and Richard J. Durbin (D-Ill.) had proposed cutting the visa lottery program by 50 percent and then prioritizing countries already in the system, a White House official said. 
A White House spokesman defended Trump's position on immigration without directly addressing his remarks. White House officials did not dispute the account. 
"Certain Washington politicians choose to fight for foreign countries, but President Trump will always fight for the American people,"
spokesman Raj Shah said in a statement issued after The Washington Post first reported Trump's remarks.
". . . Like other nations that have merit-based immigration, President Trump is fighting for permanent solutions that make our country stronger by welcoming those who can contribute to our society, grow our economy and assimilate into our great nation."
Trump built his candidacy and presidency around hard stances on immigration, vowing to build a wall along the Mexican border and cut legal immigration by half, among other positions. Officials at the Department of Homeland Security have increased immigration raids, including dozens this week at convenience stores across the country. 
The left goes berserk
Needless to say, the useful idiots of the political left . . . . and that's what the political left consists of: Useful idiots . . . . are literally losing their minds over this.  The New York Daily News is one example: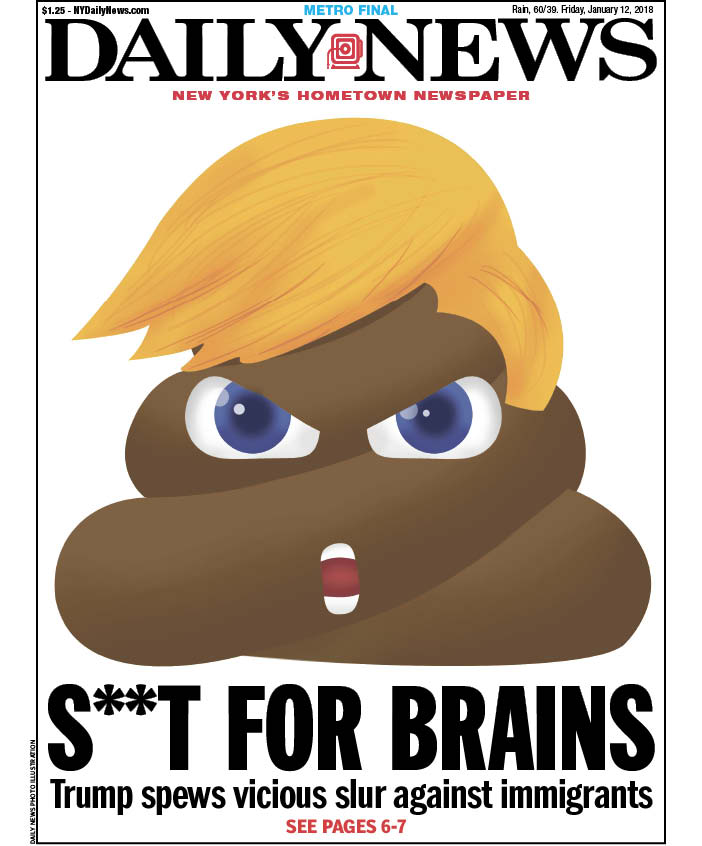 As I write this at 10:47 PM EST on January 11, still suffering mightily from a nasty bout of Flu, the shear volume of left-wing rage is growing like a tsunami.  Suffice it to say that most -- not all -- of the criticism of the President's remarks fall into two categories:
1) Rep. Luis Gutiérrez (D-Ill.) said ". . . it's always been about people of color and keeping them out of this country."
2) Rep. Mia Love (R-Utah), whose family is from Haiti, said in a statement that Trump's remarks were "unkind, divisive, elitist . . ."
Will someone kindly advise Rep. Gutierrez that it is "people of color" seeking to come here to the US . . . . because our (WHITE-CREATED and WHITE-MAJORITY) country is, in fact, better than the countries they leave to come here.  Thus, it is the "people of color" who recognize the superiority of what America is, and it is they who ascribe to be part of it.
Think about this realistically.  It isn't white families filing lawsuits to get their children into black majority schools.  It isn't white families demanding their kids be bused into black neighborhood schools.  It's the blacks who file such suits and demand such things.  Why?  Because WHITE SCHOOLS are better.  WHITE neighborhoods are better.
Which leads me to another ugly factual analysis.
When I was a little kid heading out with my friends to play, my parents would invariably remind me and my friends, make sure you stay on . . .  this side of the railroad tracks"  or "make sure you stay away from such and such a street because IT"S A BAD NEIGHBORHOOD."
Many of you probably remember similar admonitions from your parents.  So now that you're all grown up, let me ask you: What made "THAT NEIGHBORHOOD" bad?
Was it the road?  Was it the curbs?  Was it the sidewalks?  Was it the buildings?  No.
It was THE PEOPLE in "THAT NEIGHBORHOOD."
And, in general, who were the people?   . . . . . . Yea.  "them."
Here's some graphic proof using present day evidence, Detroit, Michigan. 
In the four minute video below, you will see exactly what took place from 1950, when Detroit was 90% White, to 2016 when Detroit had become 85% Black.  You cannot argue with the visual proof of what these folks actually do everywhere they go.  Why bring more here when we already know  the destruction they bring?
That may be an ugly fact that folks on the left refuse to answer, but their stiff-necked refusal to see reality for what it is, is something that too many other Americans are forced to endure . . . . and are tired of it.
President Trump is right.  We need to only allow immigration from countries and cultures which will BENEFIT AMERICA.  Haiti and most African nations simply cannot qualify under that simple criteria.
There are a few reasons why the President's accurate labeling has raised such ire on the part of the left:

1) Insults only hurt if the one being insulted knows they are accurate. It doesn't hurt to be called "bean pole" if you weight 500 lbs. It wouldn't wouldn't hurt being called a shithole if your kingdom is paved with gold.

2) The entire fantasy of the UN and the globalists rests on the fallacy that all nations and cultures are moral equals. That Kenya, Venezuela, and America are all considered peers and equals in the UN is the height of absurd hilarity, and an insult to the unique genius, accomplishments, and founding principles of America.

3) The observation that political beliefs inspire actions, actions have consequences, and stupid beliefs cause bad consequences on national levels places the blame of shithole nations' status as shitholes on their political leaders, not on external random forces of "poverty", "imperialism", or "global warming". Freedom causes prosperity, and Socialism causes shitholeness.

The shithole countries KNOW they are shitholes, much like the Muslims know they are terrorist insects whose religion is a hilarious fraud. That's why they are so easy to enrage by calling out their terrorism and barbaric cultural retardation. And they know their shitholeness is due to Socialism and their globalist, statist religion.

So in summary, President Trump just pointed out that the entire world-view of the left (that everyone on Earth is the same, that Communism and Constitutional Republicanism are moral and philosophical equals, and that actions and beliefs don't have any consequences) is a complete lie.

No wonder they're all triggered as fuck.
FOLLOW ME ON TWITTER & FACEBOOK
FOLLOW ME ON FACEBOOK