Details

Category: Opinions from the Web
Saturday, 17 November 2018 08:06
Write a comment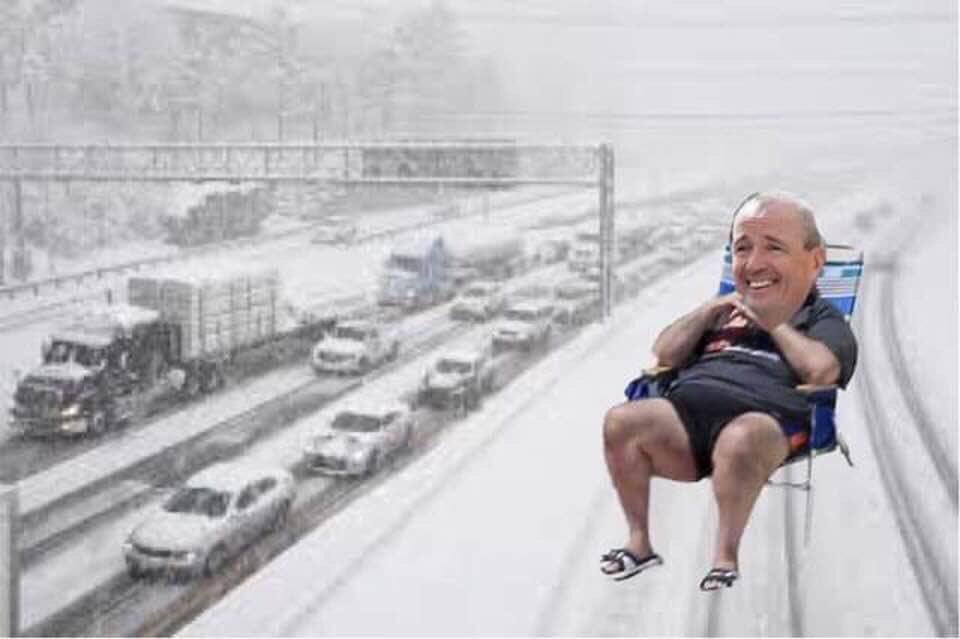 New Jersey's new Governor, Phil Murphy, is having a (former Governor) "Chris Christie moment" over his administration's dismal failure to properly handle Thursday's snow storm which crippled the Garden State.
Murphy, a Democrat, is being lambasted mercilessly on social media and in the Press, with the photo-shopped image above, delivering criticism in a decidedly sharp way.
The governor was a bit tardy to his own snow preparedness press conference, murmuring an apology to reporters that unwittingly summed up many people's reaction to Thursday's disastrous commute: You're late.
It didn't get much better from there, with the governor and his "storm cabinet" vacillating their posture between defensive crouches and apologetically hangdog looks before Murphy finally took full responsibility for the state's inadequate response, saying "the buck stops with me."
Here's a look at what officials -- and the governor -- had to say for themselves after yesterday's snowmess.
"Unfortunately the worst of the storm coincided with the early dismissals from schools and workplaces," said Gov. Phil Murphy. "Meaning just when we needed our road crews and all that equipment out there the most, they were competing with folks -- understandably by the way -- trying to get back home at the same time as well."
What was the governor saying? If only he had the power to close roads and keep schools open late by declaring a state of emergency?
While the state cannot tell private businesses or schools when to close, the governor absoltuely does have the power to declare a state of emergency and even to issue a travel ban -- which he could have done late yesterday afternoon, but did not.
"A state of emergency is a prophylactic," insisted the governor. "The fact of the matter is this came out of nowhere."
One Twitter user summed up the governor's lack of action by superimposing his face on the now infamous shot of his predecessor Chris Christie lounging on a closed state beach last year.
Fool me once...
This was a conference of conflicting messages. 
After spending much of his press conference blaming the weatherman ("forecasts were lousy") and calling the crippling snowfall "a perfect storm" that "came out of nowhere." 
But the possibility of a significant snowstorm was noted in weather forecasts by Monday morning, with several forecast models calling for the potential of several inches of snow in northern and central New Jersey, although most forecasts downgraded the snow totals by Wednesday.
Murphy then said New Jerseyans should take some comfort in weather forecasts predicting that "the weekend looks like it's going to give us a chance to warm up a bit."
Please tell us you're not relying on the same guys who told us that we'd only be getting two to three inches of snow?
'I've asked for an explanation...'
There weren't a lot of satisfying answers on Friday morning about why so few people could get access to NJ Transit buses at the Port Authority Bus Terminal in New York City to head home early, before and as the storm intensified.
"I've asked for an explanation as to why the bus terminal access was restricted as it was, which only made things worse last night," said Murphy. "This is a serious issue that I and our team have addressed to its leadership. It's unacceptable."
The Port Authority operates the terminal.
He also seemed to put more emphasis on individual rather than state preparedness.
"I urge residents to revisit their own storm readiness," said Murphy.
Good advice, certainly, and probably necessary to reiterate, but for people who'd spent upward of eight hours getting home -- or who never made it back at all -- this had to be galling.
Maybe' different decisions. 'Hopefully' better service
Department of Transportation Commissioner Diane Gutierrez-Scaccetti spent the last eight years running the Florida Turnpike Enterprise, where snow removal isn't exactly a regular occurrence.
On Friday, she offered little in the way of new procedures, other than to say maybe trusting the weatherman isn't the best bet.
"We had a forecast that we planned to," said Gutierrez-Scaccetti "And post mortem, we need to look at some of the risks of those forecasts to maybe make some different decisions."
Maybe? Maybe?
"We got behind the storm, we know" she said. "We'll do a post-mortem and improve our operations so by the time the next storm is here, we'll be making different decisions and hopefully delivering the service that everyone expects of us."
Hopefully? Hopefully?
State Police Superintendent Col. Pat Callahan sought to remind motorist that storm preparedness...is really on you.
"I use this opportunity and the frustration to remind everybody out there that preparedness is key" said Callahan. "Full tank of gas. Charged cell phone. Water, and maybe some snacks in your car. We do not like to here that motorists are stranded for four or five hours, but the responsibility and the ability to be prepared does fall somewhat on the motorist as well in the event that we struggle to get those highways open."
Callahan then went a step further, seemingly suggesting that those who ran out of gas after eight or ten hours on the road had no one to blame but themselves.
"Yesterday was an example of how being prepared, and how not running out of gas and then becoming part of even making it a greater problem."
Maybe so, but for a state that had just endured 555 crashes and over 1,900 motorist aid calls largely due to an ineffective storm response, this felt a bit like blaming the victim.
Claude Brodesser-Akner may be reached at This email address is being protected from spambots. You need JavaScript enabled to view it.. Follow him on Twitter @ClaudeBrodesser.