Riots and looting broke out in Kenisha Wisconsin earlier this week. During the mayhem, at least three people were shot, two of them killed - but it turns out those "victims" were actually ATTACKERS!
On the second night of such riots, local businesses requested and obtained private security protection. 
Among those offering such protection was 17 year old Kyle Rittenhouse of Lake County, Illinois, about a 30 minute drive away from Kenisha, WI.  The map below shows the driving distance between Lake County, IL and Kenosha, WI:
Rioting and looting were actively taking place when a group of attackers set-upon the store that Kyle Rittenhouse was guarding.   Rittenhouse did his best to evade the marauders, but soon found himself under GUNFIRE from someone armed with a handgun as seen in the video below.
Fearing for his safety, Rittenhouse tried to take cover, and returned fire.
He apparently struck on of the attackers in the head, and that attacker went down as seen in the photo below: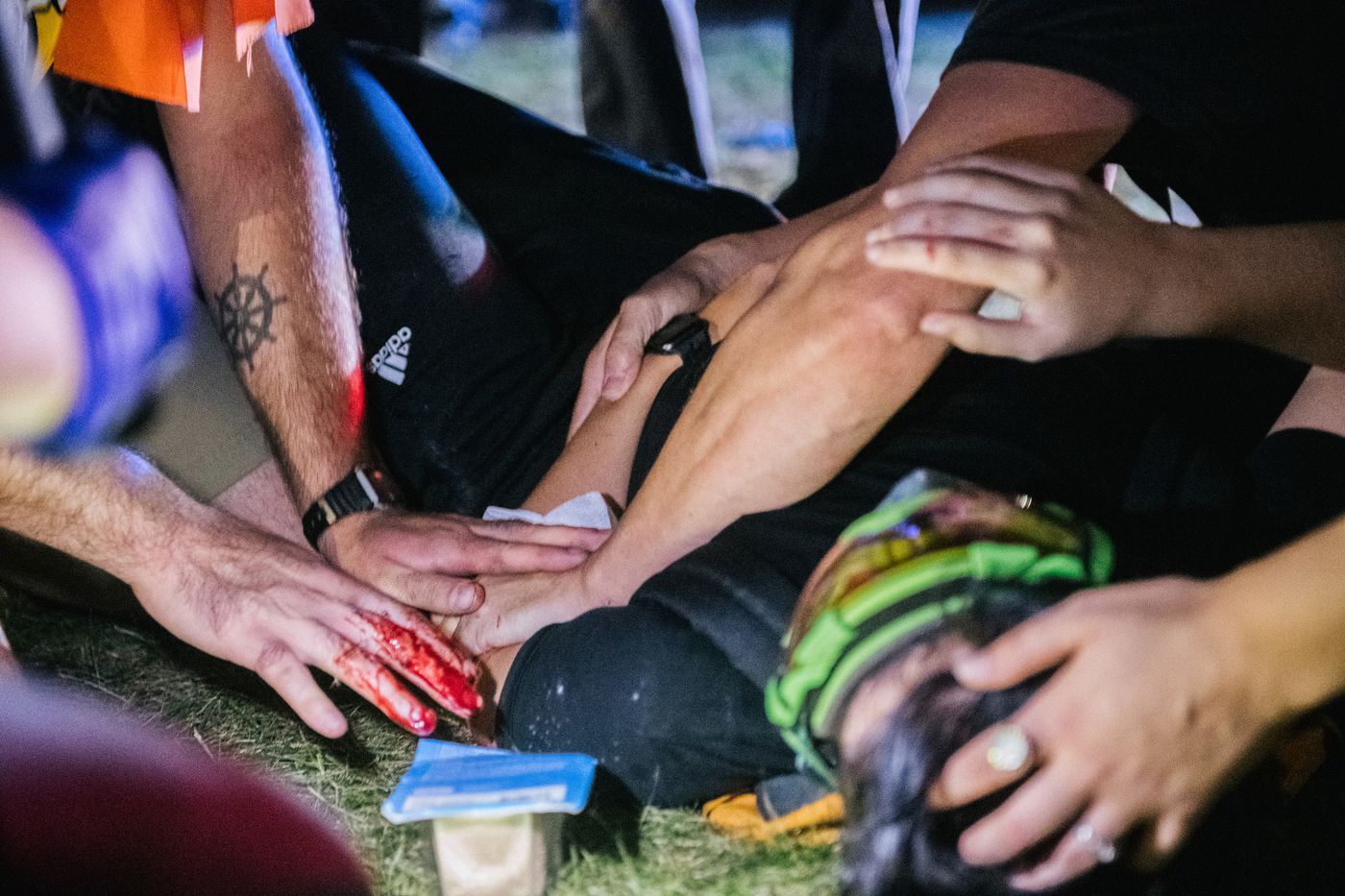 At that point, other marauders engaged Rittenshouse.  He tried to flee, but the thugs chased him.
At one point, Rittenshouse went down on the ground, either tripping or taking cover from other attackers.  At that point he was set-upon by at least three other attackers.
One attacker grabbed Rittenhouse's AR-15 rifle.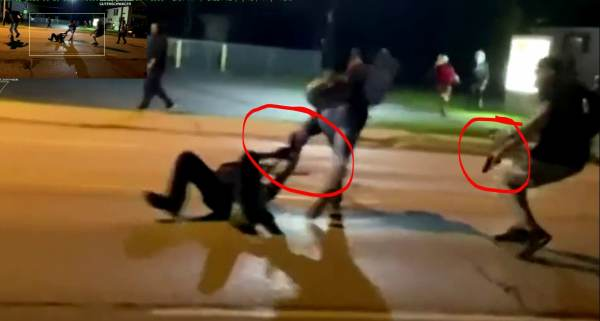 Rittenhouse SHOT HIM in the gut and he is shown down on the ground DEAD in the photo below taken from a different angle: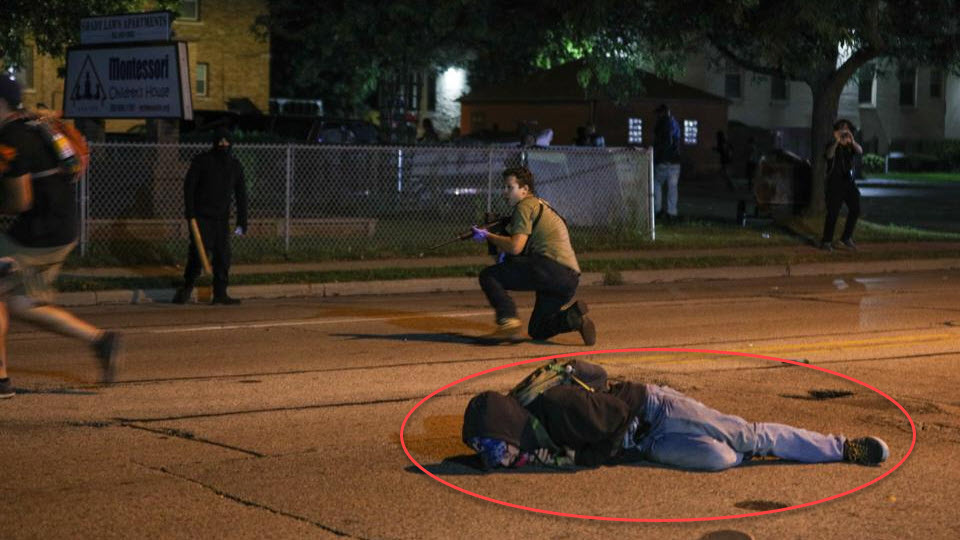 On its face, this seems to have been a perfectly lawful and reasonable response to a person trying to take his gun.
Ad
Next, another attacker approached, brandishing a pistol seen at right in the photo above! 
Rittenhouse, still on the ground, SHOT HIM, striking his arm and sending him fleeing.
Another photo of that second attacker shows him, moments later, with part of his arm blown open, STILL HOLDING THE PISTOL: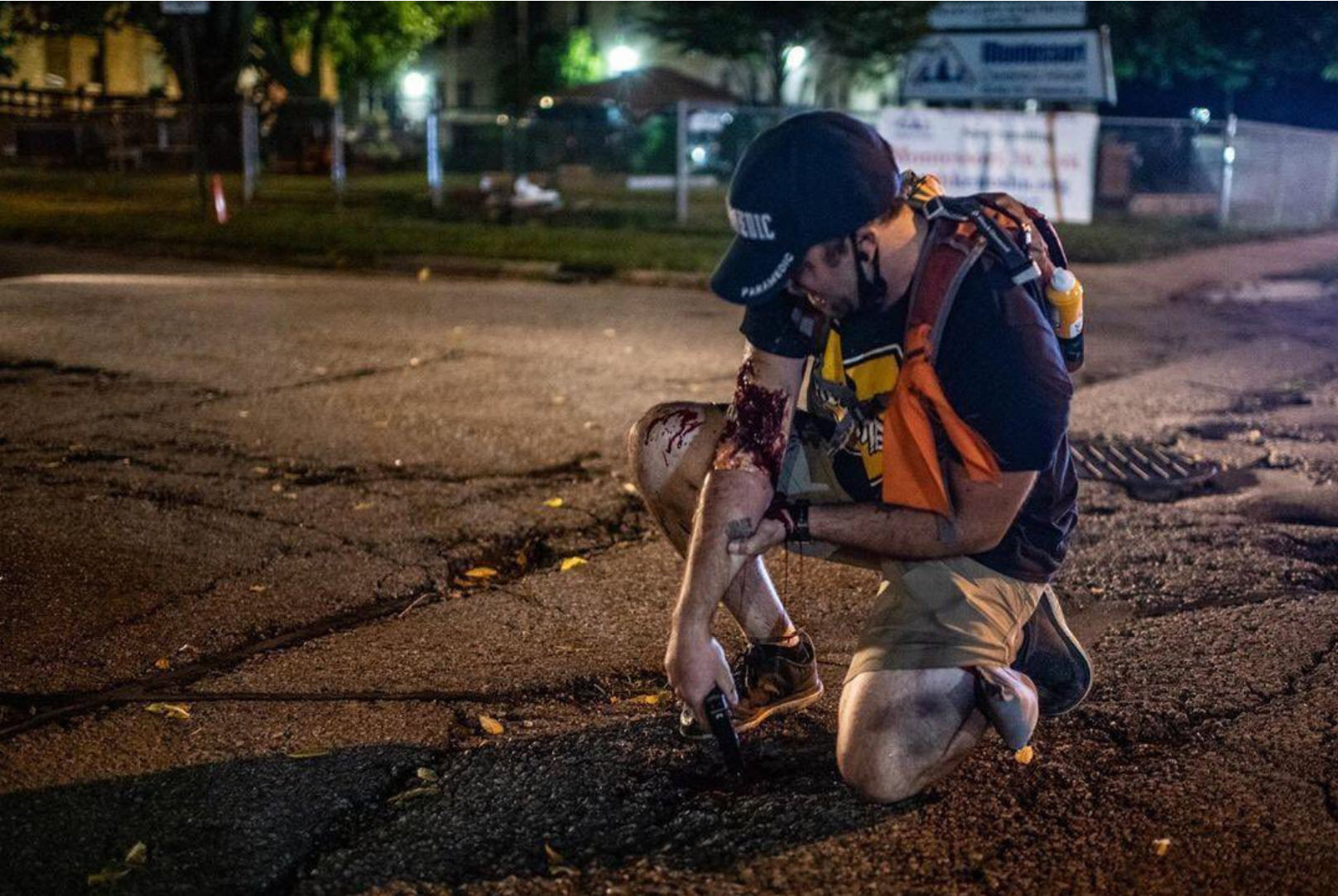 All in all, it seems as though this 17 year old young man did everything right.  He tried to evade and when set-upon, he fought back.
So why then have local police and Prosecutors CHARGED HIM with Intentional Murder?
This charge seems completely baseless given the facts.
VIDEO COMPILATION:
The video below is a compilation of several videos from that night and they show very clearly Rittenhouse was literally under attack and defended himself.
The mass-media is already smearing this 17 year old as some type of "vigilante" and claiming he "murdered" people.  Those are not the facts.  The photos and video above prove what actually took place.  This 17 year old is a hero for what he did.  Those who died, CHOSE to attack and got what they got.  
THE ATTACKERS HAVE VIOLENT CRIMINAL HISTORY
Footage obtained by anti-extremism watchdog AntifaWatch shows the first shooting. In the video, a masked man named Joseph D. Rosenbaum is shown chasing Rittenhouse and throwing what some have claimed may have been an improvised explosive, but this has not yet been confirmed. Rittenhouse then shot Rosenbaum in the head as he charged and tried to take his rifle, an injury the attacker later died of. 
Earlier in the night, Rosenbaum was shown violently antagonizing the armed men, shouting "Shoot me, Nigga!" 
After Rosenbaum was shot, a mob of anarchists pursued Rittenhouse as he attempted to flee. The young man then fell to the ground as the "antifa" members began attacking him. Rittenhouse opened fire against two of the attackers, one who was armed with a handgun. 
One member of the gang, Anthony W. Huber, died after being shot in the chest. The armed assailant, Gaige Paul Grosskreutz, suffered a gruesome gunshot wound to the arm but survived. 
The media has jumped into action to paint Rittenhouse as a white supremacist domestic terrorist and the anarchists who were shot as innocent "peaceful protesters." But the facts bring this narrative into question.  
Joseph Don Rosenbaum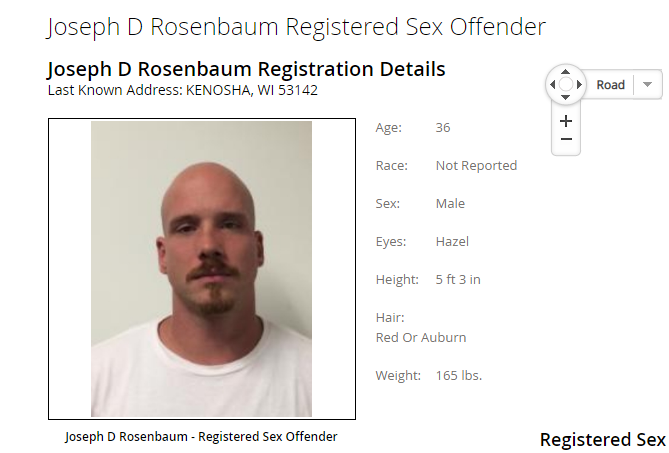 According to public records, Joseph "Jojo" Rosenbaum has a long history of violence.
Rosenbaum was convicted in Arizona in 2002 for committing an act of sexual misconduct with a child. 
According to his entry in the sex offender registry, he was a level 3 offender, meaning he was at a high risk of reoffending and a general danger to his surroundings. 
Arizona Department of Corrections records reveal that Rosenbaum spent 12 1/2 years in prison after being convicted of two counts of 3rd degree sexual misconduct against a minor and one count of interfering with a monitoring device. For sexual misconduct with a minor to reach the level of class 3 felony, the victim must be under the age of 15.  
More telling is Rosenbaum's 42 seperate disciplinary infractions while incarcerated, including numerous assaults, committing sex acts, manufacturing a weapon, and arson. He was then released in 2016.
According to records from the Wisconsin Circuit Court, Rosenbaum had pending charges for battery as domestic abuse filed just last month. 
Anthony W. Huber  
Anthony M. Huber, the second anarchist who died at the scene, is being promoted as a hero by for-profit "charity" business Go Fund Me. His girlfriend has raised almost $70,000 in his name.   
Public records show that Huber was in fact a violent criminal with a history of abusing his loved ones. 
In 2012, Huber pled guilty to false imprisonment with a dangerous weapon and strangulation as domestic abuse. He appears to have violated the terms of his probation in 2016 and was sentenced to two years in state prison, much of it settled with time served. Huber was arrested again in 2018 for battery.
The woman fundraising in his name, Hannah J Gittings, currently has a warrant out for her arrest for refusing a breathalyzer while driving drunk and driving with a revoked license. 
Gaige Paul Grosskreutz  
Gaige P. Grosskreutz, a pistol wielding anarchist who was shot in the arm while attacking the teenaged Rittenhouse, was charged with felony burglary and theft in 2013. He violated his probation just 4 months later. He has another arrest from 2017. 
It is unclear from public records if Grosskreutz was ever convicted of a felony. If so, his possession of a firearm is a serious offense that could net him 10 years in prison. 
According to a media puff piece, Grosskreutz was a professional activist with Milwaukee based "People's Revolution," a more extreme breakaway from the Black Lives Matter NGO. 
Virtually no mainstream media reporting on this incident has mentioned any of this information when reporting on GrossKreutz, Rosenbaum or Huber. 
The strong anti-social and violent streak exemplified by these individuals -- who were active participants in a violent riot and clear instigators in the shootings --is common among the rank-and-file of "antifa."
Journalists hired by elite media may side with them against a 17-year-old boy engaging in self-defense, but it remains to be seen if America will. 
UPDATE 8:25 PM EDT --
The Attacker who got shot in the arm has told his friend in the hospital that he INTENDED TO KILL the 17 year old Kyle Rittenhouse!
Here is the social media posting from that friend:
If this is true, then Kyle Rittenhouse was absolutely correct in shooting this guy.  The guy intended to kill Kyle.
2 Days: Fund-Raising for September Operations
TOTALS: Sunday 8-30 9:00 AM:  $3,371.56 IN     Still need ~$1,628.00

Today is Sunday, August 30 and that means I have TWO (2) calendar days to raise the funding to keep this web site and radio show alive through September.  As of 9:00 AM SUNDAY MORNING,  I have enough to pay the web site, but NOT THE RADIO STATIONS . . .

This endeavor exists thanks to reader and listener support.

Your financial contributions are absolutely essential to make this possible.   Remember, the radio show has NO COMMERCIAL ADVERTISERS, which is how it can accommodate real free speech.

The news stories on this web site are very often (but not always) reported well in advance of other, more traditional media outlets.

Your donations pay for things like the Radio Station Air Time Charges, Web Hosting, data transfer charges (when you read a story here, I get billed for the data sent to your computer), inbound telephone lines, outbound fiber optic services, licensing fees and a whole slew of other expenses which make a global radio show possible.

Please take a moment right now to click the yellow DONATE button and make a donation.   Most folks send $20, $35 or $50.   Others can only send $5 or $10.  A small few send $100.   Whatever you can send will help.

For those of you who cannot or will not use online financial transactions, you can mail cash, check or money order to:

Harold Turner
1906 Paterson Plank Road  Apt. 1A
North Bergen, NJ  07047-1902
USA

Without your help, this endeavor cannot exist.  Please donate right now.