As of 5:08 PM eastern US time Wednesday, reports are now FLOODING-in claiming massive network outage of Verizon Wireless (Cellular).   If callers can even hear ringing, they are reportedly unable to hear or speak to whomever they called or whomever called them.  DOWNDETECTOR starting to show huge reports, mostly west coast, but elsewhere as well.
DownDetector.com, which tracks major electronic outages, is reporting a staggering shot of 24,000 reports of trouble with Verizon, since about 4:00 PM eastern US time Wednesday: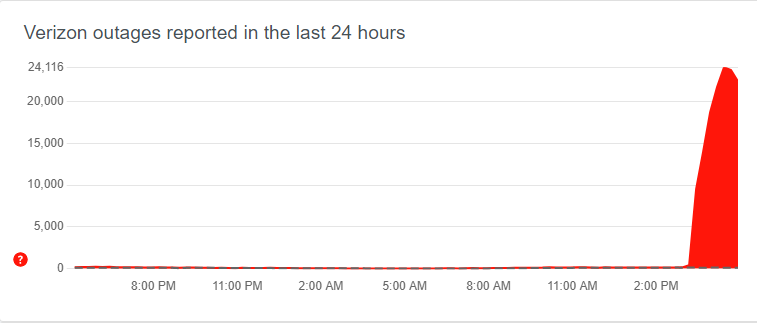 While many of the reports have come from California and the West Coast, outages have been reported in Atlanta, DC, Denver,  Minneapolis, New York City and Philadelphia.
The Clovis, California police department found the issue to be so important, they tweeted about it:
Cell services appear to be down for Verizon and possibly other carriers. 911 is still operational however we are unable to call back for 911 hangups from cell phones. Our non-emergency phone system is working however it doesn't appear cell phones can dial that at this time. pic.twitter.com/L4nPBeadzW

— Clovis Police (CA) (@ClovisPolice_CA) April 20, 2022
More info as it becomes available . . . 
UPDATE 5:24 PM EDT --
While Verizon Wireless is at the top of the network trouble reports, T-mobile, ATT, straight talk, us cellular and others are now also being reported as having trouble.
One Verizon Wireless customer told us: "I'm in SoCal. Phone service is Verizon. When I'm on wifi and call, it goes through to my wife's phone. Off wifi, it rings once and then an automated voice says "all circuits are busy."