As of about 7:00  PM eastern US Time today, Friday, August 30, Hurricane Dorian has grown to a CATEGORY 4 storm with maximum sustained winds of 138 MPH and a central barometric pressure of 945mb.  This is now a "CATASTROPHIC" Major Hurricane.
Worse still, the computer models are now showing the storm as barely making landfall in Florida, but instead traveling northward along the coastline like a Buzz Saw, tearing up most of Florida, eastern Georgia, South Carolina, North Carolina, eastern Virginia and even southern New Jersey by September 7 - next Saturday! 
Here is the latest Global Forecast System (GFS) Model from the National Hurricane Center:
STUNNING POWER
This Rapid Intensification is an incredible thing to witness; this storm's central pressure dropped like a rock.  One Hurricane Expert told me directly "45 mb pressure drop across 20 nautical miles; that's just a big ass hole in the atmosphere. That's one of the biggest drops/distance I've seen!"
The storm went from a Category 1 to a Category 4 in less than 24 hours.  Here's the latest satellite image: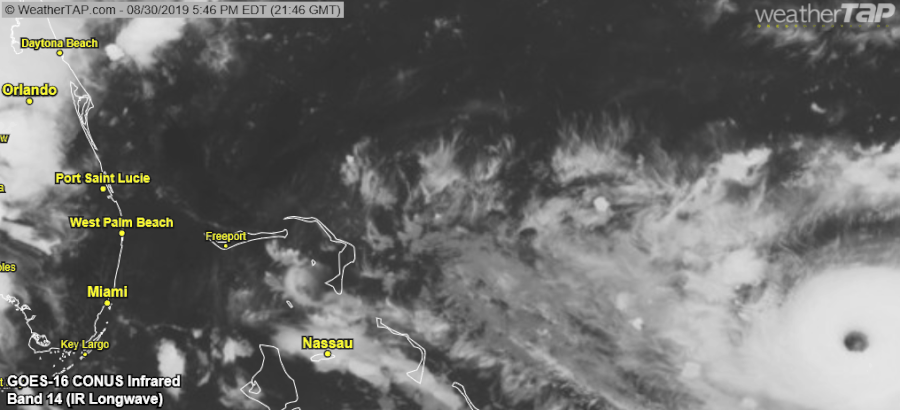 PREP . . .
Persons in ALL of Florida, eastern Georgia, most of South Carolina, eastern North Carolina, eastern Virginia, and coastal locations in Maryland, Delaware, New Jersey and New York City should begin making preparations IN CASE this GFS Computer model proves correct. It is better to have "preps" and not need them, than to need them and not have them.
Emergency Water (1 gallon per person, per day, for one week)
Emergency Food (Canned meats, tuna fish, and the like)
Emergency method of cooking (Propane gas grill or Charcoal Grill with lighter fluid)
Spare fuel for propane
Spare Charcoal for regular grill
Flashlights for each member of your household.
Portable radio
SPARE BATTERIES FOR FLASHLIGHTS AND RADIO
EMERGENCY MEDICINES you need to live
Baby wipes for clean-up and personal hygiene.
Folks who own electric generators should check them to make certain they run and get spare fuel.
Speaking of fuel, you should gas-up your vehicles early and often so you don't run into the same situation as folks in Florida right now, where HALF the gas stations in the state have already run out of fuel.
Pay close attention to information from local authorities and if told to EVACUATE, please take that advice.
Those of you who live in FLOOD ZONES must keep aware of the situation and be ready to move at a moments notice.
NATIONAL HURRICANE CENTER
 The 8:00 PM Intermediate Update from the National Hurricane Center IS NOT YET REPORTING THESE NEW NUMBERS because their policy is to have the numbers verified by a second Hurricane Hunter Aircraft before revealing them publicly.
The NHC Intermediate Report is as follows:
000
WTNT35 KNHC 302345
TCPAT5

BULLETIN
Hurricane Dorian Intermediate Advisory Number 26A
NWS National Hurricane Center Miami FL AL052019
800 PM EDT Fri Aug 30 2019

...NOAA HURRICANE HUNTER AIRCRAFT FINDS DORIAN STRONGER...
...ADDITIONAL STRENGTHENING EXPECTED...

SUMMARY OF 800 PM EDT...0000 UTC...INFORMATION
----------------------------------------------
LOCATION...25.3N 71.0W
ABOUT 400 MI...645 KM E OF THE NORTHWESTERN BAHAMAS
ABOUT 575 MI...925 KM E OF WEST PALM BEACH FLORIDA
MAXIMUM SUSTAINED WINDS...125 MPH...205 KM/H
PRESENT MOVEMENT...WNW OR 300 DEGREES AT 10 MPH...17 KM/H
MINIMUM CENTRAL PRESSURE...950 MB...28.05 INCHES
[NOTE: Based on a just-concluded on-air interview with NHC deputy director: @NHC_Atlantic considering a special advisory depending on how high the winds have ramped up to after the 20 millibar pressure drop in the eye of Dorian]
The NHC Warning Cone has, however, been changed dramatically to indicate the path of this storm is now likely to head NORTH ALONG THE COAST.   Here is that notice: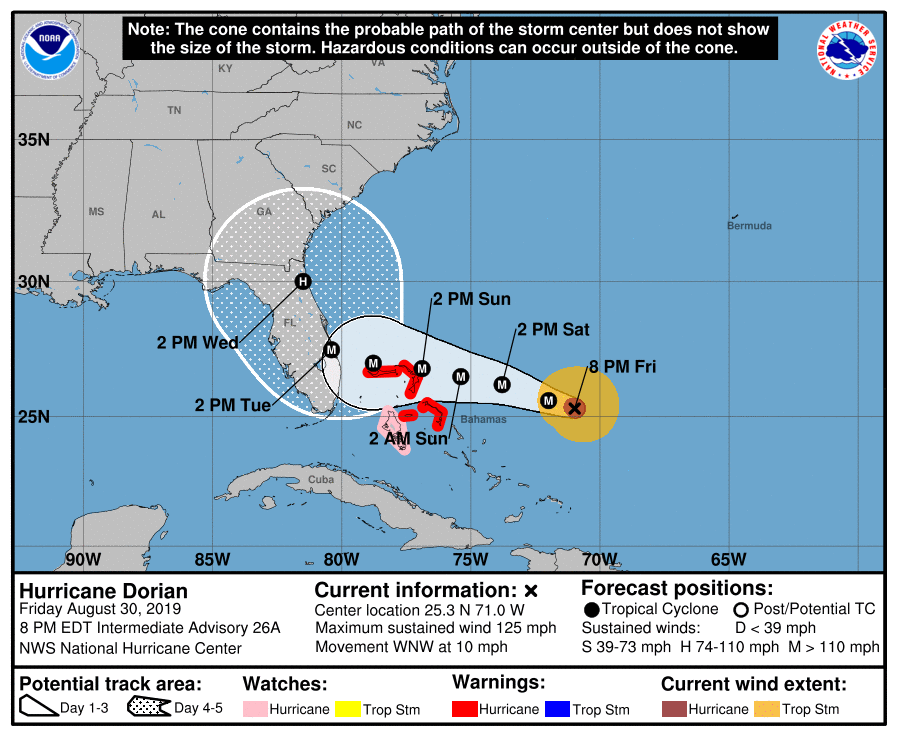 Don't forget that Hurricane Katrina made a sharp turn to the north, and in one day New Orleans went from being safe to being told to evacuate. 

Make no assumptions. Make your plan and take action now.
UPDATE 9:51 PM EDT --
Governor of North Carolina declares a State of Emergency ahead of Hurricane Dorian. 
As much as I enjoy being a provider of such cutting-edge news, I regret to tell you that the finances of this web site and radio show are NOT sufficient to pay its bills for August and continue in September.  Those of you who enjoy the content of this site from time to time are asked to PLEASE help out with a few bucks to the bills for this site and radio show (which total about $3100 a month) can be paid, and the endeavor can continue.
Donations can be made via the yellow DONATE button below:
Those of you who cannot or will not use online financial transactions can mail cash, check or Money order payable to:
Harold Turner
1906 Paterson Plank Road  - Apt. 1A
North Bergen, NJ   07047-1902
USA