Congresswoman Ilhan Omar was caught on video standing with a violent ANTIFA Mob in Minneapolis, protesting during President Trump's rally at the Target Center arena in that city! 
"ANTIFA" stands for Anti-Fascist Action and is an extremely violent Communist group that attacks and beats Americans, sets fires, wrecks private property and openly calls for the actual OVERTHROW of our government.
Why is a member of the United States Congress standing with violent Communists protesting our American President?
Video and still images clearly show the Congresswoman standing among the ANTIFA mob which went on to steal MAGA hats from Trump supporters and burn them outside the rally.
Social media is exploding with images and video showing the Congresswoman and asking a LOT of questions about her apparently DISLOYALTY to America.
DATE NIGHT—Ilhan Omar and her new squeeze out for a night of Antifa protests.pic.twitter.com/P88vXDNEMj

— Lady Liberty-Well Then...War It Is! (@DutyOfAPatriot) October 12, 2019
@IlhanMN @Ilhan IS THIS YOU?

If so why were you there participating in an ANTIFA PROTEST?@realDonaldTrump @SirHublife @DonaldJTrumpJr @AKA_RealDirty @annvandersteel @drawandstrike @HowleyReporter @Jim_Jordan @jsolomonReports @DevinNunes https://t.co/91nDRRVUJw pic.twitter.com/tIHQy37ntK

— WildBill (@MagaSpud) October 11, 2019
Hello @IlhanMN, since when did you wear a Burqa? What were you doing with Antifa last night in the violent riots against President @realDonaldTrump's speech?

Why would this Hijabi cover her face like that?.. weird..@TuckerCarlson @seanhannity @DonaldJTrumpJr @charliekirk11

1/ pic.twitter.com/h4wwdWNKKw

— Imam of Peace (@Imamofpeace) October 11, 2019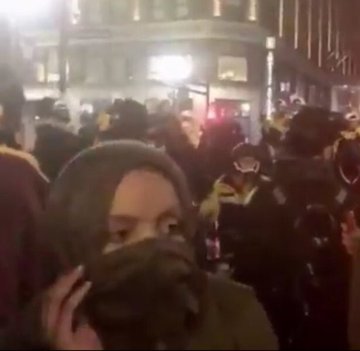 Far-left protesters reportedly made a bonfire with dozens of 'Make America Great Again' hats stolen off the heads of people who attended Thursday night's Trump rally in Minnesota.
Blaze correspondent Elijah Schaffer reports that there were approximately 40 hats stolen and burned.
Anti Trump protestors in Minnesota stole about 40 hats off the heads of Trump supporters & then lit them on fire 🔥 at the Trump Rally

They then left the ashes as a vigil against fascism, leaving a f*ck Trump sign on the top of the pile

This is tolerance. This is the left pic.twitter.com/jFhVNXrgId

— Elijah Schaffer (@ElijahSchaffer) October 11, 2019
Schaffer tweeted that after burning the hats, "they then left the ashes as a vigil against fascism, leaving a f*ck Trump sign on the top of the pile This is tolerance. This is the left."
The situation outside the Trump rally in Minnesota is quickly deteriorating

Left wing protestors are destroying barricades

A protestor can be seen waving the Chinese flag in front of riot police. While people in Hong Kong wave American flags for freedom, we wave Chinese flags pic.twitter.com/XVl551kyqZ

— Elijah Schaffer (@ElijahSchaffer) October 11, 2019
After the rally had concluded, Schaffer tweeted a warning that the area was no longer safe for Trump supporters.
"Trump supporters are literally fleeing the event after it ended as protestors are waiting around attacking attendees as they leave the arena It is not safe in Minneapolis any longer for Trump supporters. Please stay away from the vicinity and do not come out with branded gear," Schaffer tweeted.
So there you have it: Direct PROOF of a Democrat Congresswoman standing shoulder-to-shoulder with anti-American communists, protesting our American President.  
Traitor.
REMINDER: YOU can keep this web site FREE to the General Public by clicking one or more of the ads below which generates Advertiser revenue of two to three cents per click - no purchase necessary by you -- and helps offset operating costs for this web site.