MULTIPLE UPDATES SINCE FIRST PUBLISHED . . . SEE BOTTOM -- The outbreak of an alleged new coronavirus in China is completely out of control, and is killing THOUSANDS every day.   
As of 6:00 PM eastern US time on 23 January, Covert Intelligence sources who are former colleagues of mine from my 15 years with the FBI, the final five years handling National Security, Terrorism and Foreign Counter-Intelligence on the Joint Terrorism Task Force and who are presently inside China, confirm over 2.8 MILLION infected people with one-hundred-twelve-thousand (112,000)  DEAD so far.  Chief cause of death: Multiple Organ Failure.
This deviates wildly from the PUBLICLY reported number of 830 Infected and 25 deaths because . . .  ready for this . . . . . A message from a frontline doc in Wuhan has confirmed the reason for the stopped growing number of infected is because the hospitals have run out virus test kits …
The thousands of dead are being taken directly to incinerators. No funeral. No burial.  Just burned. 
Intel is getting its actual Death counts directly from the incinerator operators!!!!!! 
People are literally "Dropping-Dead."
On trains (Before Quarantine):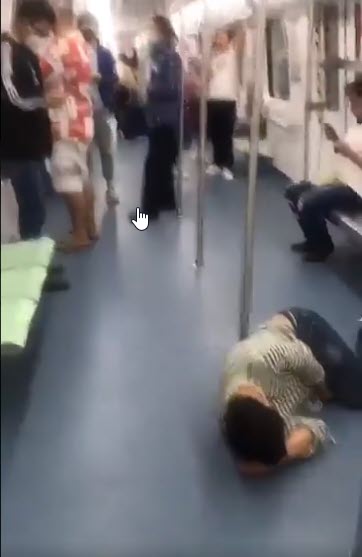 On the streets: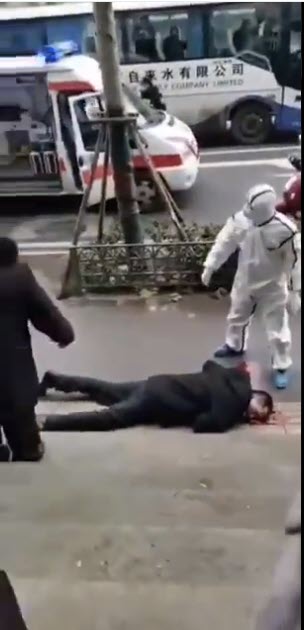 And Here: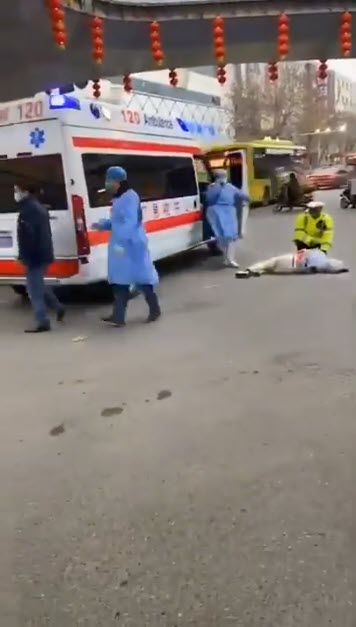 And here too: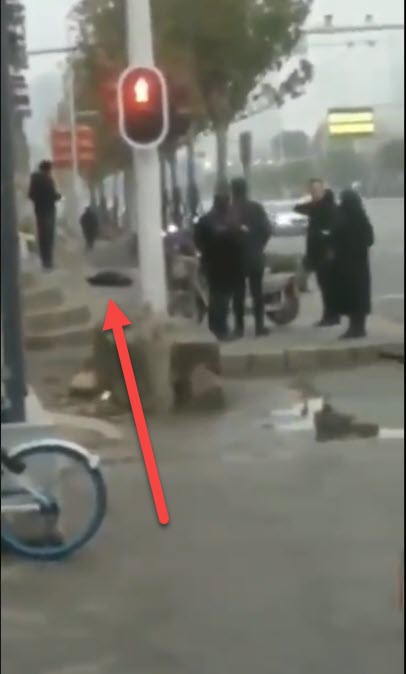 On Hospital Floors waiting for treatment:
Now, even Doctors in Hospitals are literally falling down dead: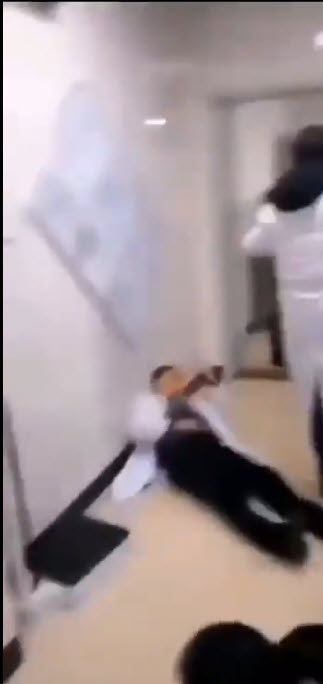 The new virus is different from SARS, in that it causes rapid kidney failure. 
As of Thursday, 23 January, the government of China has QUARANTINED a total of EIGHT cities:  Wuhan, Huanggang, Ezhou, Chibi, Xiantao, Qianjiang, Zhijiang and Lichuan

20,000,000+ citizens in total.
The Chinese Military is now assisting with the lockdown of multiple Chinese cities. They're all wearing bio-protective suits.
CCP Central Military Commission has ordered Central Command to assist the Wuhan lockdown in response to social instability due to panic emotions.

The soldiers were equipped with biological protective gear and they vowed to win the campaign.

Motorized equipment will be put to use. Dongfeng EQ2050 armored vehicle, armored personnel carriers and light tanks were all put to use to defend the roadblocks.
Even more astonishing, Chinese in the entire province Zhejiang have been told to stay in their homes. 60 million people are told to stay where they are. It's not an official Quarantine (yet) but rather strongly worded advice.
The systemic failure of Chinese society has already started. By THIS Sunday, full panic will be unavoidable as people realize food, medicine, and doctors, are finite resources and triage is in effect.
Stores are already OUT of food:
There is literally NO FOOD LEFT in the cities under Quarantine because no trucks are allowed in to deliver!
When China collapses -- and it looks very much as though it will -- China's collapse will set in-motion a global economic shockwave from which the planet will be unable to recover for decades.
ELSEWHERE
In Australia:
Health authorities have confirmed a person in Sydney is in quarantine as of this morning after possibly contracting the potentially deadly coronavirus disease.
Suspected case now in Brisbane.
UPDATE: NSW Health has confirmed it is investigating four possible cases of coronavirus in the state.
In Canada:
MONTREAL -- Five people in Quebec who had recently traveled to China and displayed symptoms of a respiratory virus are currently being tested for coronavirus.
In Colombia (South America):
Colombia is on alert for a possible case of a patient suspected of presenting the symptoms of coronavirus originating in China.

As reported by various Colombian media, it is a Chinese citizen who arrived in the city of Cali after traveling from Turkey. The man was isolated to undergo the respective exams.
In England (UK)
FIFTH SUSPECTED CASE OF CORONAVIRUS FEARED IN UK AS PATIENT RUSHED TO HOSPITAL
UPDATE: Fourteen people in the UK have been tested for coronavirus with five confirmed negative and nine still awaiting the results, Public Health England said
NEW -- In India:
First suspected cases in India

2 Mumbai
1 Kochi
In Italy:
In ITALY, Chinese woman who was in Wuhan has been hospitalized
In Japan:
Japan has confirmed a second case of coronavirus in a Wuhan male who was visiting Tokyo 
In Malaysia:
Two suspected cases now in Quarantine, awaiting test results.
In Mexico:
Three new suspected cases of coronavirus reported in Jalisco, Mexico
In Nepal:
NEPAL HEALTH MINISTRY SAYS A STUDENT WHO HAD RETURNED FROM WUHAN, CHINA HAS BEEN FOUND INFECTED WITH CORONAVIRUS
In Northern Ireland:
1 suspect case in Belfast, Northern Ireland
In The Philippines:
Five suspected cases
UPDATE: PhillipinesDOH monitoring at least 12 people who had contact with Wuhan Coronavirus   - Positive 5yr old boy in Cebu City
In Saudi Arabia:
Several confirmed cases
UPDATE: Saudi Arabia's Health Ministry said Thursday that five people have died and two other patients were in critical condition with confirmed cases of a new respiratory virus related to SARS.

The ministry said in a statement that it had informed the World Health Organization of the seven new cases of novel coronavirus.

The germ is from a family of viruses that cause the common cold, as well as SARS – the severe acute respiratory syndrome that killed some 800 people, mostly in Asia, in a 2003 epidemic. Health experts still aren't sure how humans are being infected. The new coronavirus, which can cause acute pneumonia and kidney failure, is most closely related to a bat virus and scientists are considering whether bats or other animals like goats or camels are a possible source of infection.

Since September 2012, WHO has been informed of 24 confirmed cases. Sixteen of the patients died.

The new virus was first identified last year in the Middle East and several of the people infected had all traveled to Qatar, Saudi Arabia, Jordan or Pakistan.

WHO says the virus is probably more widespread than just the Middle East and has advised countries to test any people with unexplained pneumonia. In Saudi Arabia last year, four members of the same family fell ill and two died.

The Saudi government is conducting an ongoing investigation into the outbreak.

The seven people who contracted the virus are not from the same family and there is no indication that any of them were in contact with animals or had traveled recently.
In Scotland:
The Scottish Government says three people are being tested, as a precaution, for coronavirus but says there are no confirmed cases.
SOUTH KOREA:
S.KOREA GOV'T CONFIRMS SECOND CASE OF CHINESE CORONAVIRUS
In the United States:
LOS ANGELES - A passenger arriving on an American Airlines flight to Los Angeles International Airport from Mexico City was hospitalized and quarantined after showing what health officials called "disturbing" symptoms, that indicate the patient may have been exposed to the deadly coronavirus,  it was announced Thursday.  
American Airlines flight 2546 arrived around 6:45 p.m. Wednesday and was met by Los Angeles firefighters and police. 
The Los Angeles Fire Department conducted a deep contamination process after the patient was transported to a local hospital Wednesday night. 
This development comes a day after Los Angeles County public health officials said it was "very possible" the area will see at least one patient, given the number of people traveling between the Southland and China.
Health screenings continue at LAX for passengers arriving from China amid the coronavirus outbreak. The U.S. Centers for Disease Control and Prevention began conducting health screenings of passengers arriving at Los Angeles International Airport from China on Saturday.
TEXAS - Possible case of coronavirus in Brazos County, Texas- person being tested.  the Brazos County case is in College Station.
There is also a SECOND suspected case at Baylor ICU per insiders.
UPDATE TEXAS: BrazosCoHD has confirmed it is a Texas A&M University student who is the patient health officials suspect may have the Coronavirus
OAKLAND, CALIFORNIA — A number of patients in Alameda County are being tested to see whether they have contracted the Wuhan coronavirus, according to health officials.
A spokeswoman for the Alameda County Health Department stressed Thursday that there is no confirmed case of the novel coronavirus that has led to epidemic fears and quarantines in China, as well as increased screening at San Francisco International and other airports.
COOKEVILLE, Tenn. — The Tennessee Department of Health says a Tennessee Tech student is being tested for the Coronavirus.
The student had "very mild symptoms" and had a recent travel history that met the criteria to test for the 2019 Novel Coronavirus (2019-nCoV), according to university officials.
School officials say health providers quickly recognized that the patient met the testing criteria and are awaiting the results. In the meantime, the student is being kept isolated and nothing has been confirmed.
In Vietnam:
Two Chinese nationals in Vietnam have tested positive for the SARS-like coronavirus and are being treated in hospital, officials said Thursday.

A Chinese man living in Ho Chi Minh City was infected by his father who traveled to Vietnam on January 13 from the Chinese city of Wuhan, the epicenter of the virus.
No info available yet from Thailand 
PROTECT YOURSELF NOW
Filter masks prevent tiny (microscopic) particles from going into your lungs.  They can help protect you long enough for you to get home from work, school, or to evacuate from a contaminated / infected area.  These will not function correctly if a man has any kind of beard. Beards MUST be shaven off or the mask will leak from the whiskers.
Here's what they look like:
They're inexpensive  $8-$12 each.  You should have at least one for each member of your family at home; in each family car and one for each of you while at work or school.
These filter masks are rated by the US Government's National Institute for Occupational Safety and Health (NIOSH).  
Click Here for Various Quantities of NIOSH Model N100 Filter Masks 
QUARANTINES COULD COME HERE, TOO!
For people in the USA, One confirmed case is already in Seattle, WA, and a new REPORTED CASE is in Brooklyn, NY. . . . When a biological Quarantine is enacted, Health Authorities cannot lift that Quarantine until TWO FULL INCUBATION PERIODS have elapsed.   There are still varying reports about the actual incubation period of THIS virus; some say four days, others say two weeks.
IF IT IS TWO WEEKS, then you have the initial Quarantine of two weeks, followed by another FOUR WEEKS where (hopefully) there are no new cases.
If YOU could not go out for a total of 6 weeks, do YOU have enough food in your house to feed yourself and your family?  If not, what do you think you would do?  You can't go out under penalty of arrest.  No one can come deliver to you because stores are all closed.  So what do you do?
STARVE!
Those of you with means, should arrange to get supplied with EMERGENCY FOOD.  Outlets specializing in that are shown below.  Get something so you can survive.
UPDATE 10:55 PM EST --
China's Hubei and Guangdong provinces declare first-level public health emergency
All major hospitals in Wuhan have fallen. On the first floor of the neurosurgery, all the doctors and patients were infected, and all the wards were closed.
The director of the Department of Infectious Diseases of the Union Hospital and the director of the department of nail and breast surgery of the Central Hospital, all the recruits have been on the ventilator! Cai Xin, executive deputy editor-in-chief, said in a message:
Well over 10,000 people have become ill, and the remaining 10 million people in Wuhan are also in danger.
---
Chinese Government Official Proudly Boasts: "80000 respirators donated by Chinese members of the public that live abroad, have arrived in Wuhan.  Another 160000 respirators and 15000 sets of protective coverall are on its way to Wuhan, China"   
REMARK:  (Gee, if they only have 830 sick people and only 25 deaths, why this much gear?   Oh, wait, could it be because the numbers they've given out publicly are FALSE and the numbers being reported on the Hal Turner Show web site are true?) 
***** BULLETIN ******
COVERT INTEL
URGENT 11:39 PM EST--
For Subscribers Only.   Additional public updates to appear below this area . . .
PREMIUM CONTENT:  
This section of the article is only available for Subscribers who support this web site with $1 a week billed either Quarterly ($13) or monthly ($5).
This is necessary because this is a CLOUD-BASED web site.  The way it works is YOU READ . . . I GET BILLED for "Data Transfer."
Despite being politely asked for voluntary donations, few people ever bothered to donate. Then, despite being asked to click an ad within a story to generate ad revenue for this site, the majority of the general public couldn't be bothered with that, either. So there's no reason to give the general public free news anymore; they don't pull their own weight.
With tens-of-thousands of people reading stories here every day, the costs nearly drove the site out of business.
In order to be able to continue providing cutting-edge news, often hours or even DAYS before Drudge and most of the "mass-media" -- if they even cover it at all -- I need to be able to sustain this effort. To do that, I rely on folks like YOU contributing a pittance of about $1 a week;  which is chump-change that you won't even miss!  Yet that small amount makes all the difference in the world to the continued existence of this web site.
In the final analysis, knowledge is power.  Getting information first, or info that other sources simply don't report, is usually well worth a few bucks in the long run.
Please click here to choose a subscription plan in order to view this part of the article.
Subscribers LOGIN to see the story.  
*** If you are having trouble logging-in, email: This email address is being protected from spambots. You need JavaScript enabled to view it.
YOU MUST SET YOUR WEB BROWSER TO "ACCEPT COOKIES" FROM THIS SITE IN ORDER TO LOGIN OR ELSE YOU WILL NOT BE ABLE TO SEE PREMIUM CONTENT.
Additional Public Updates will appear below . . .
 UPDATE 11:55 PM EST --
"Several people who have died from a new virus in China did not display symptoms of fever, potentially complicating global efforts to check for infected travelers as they arrive at airports and other travel hubs."
 UPDATE 12:58 AM EST FRIDAY 24 JAN. --
We have confirmed NEW lockdowns:
- Huangshi (2.5 million people)
- Daye (1 million people)
- Yangxin County (1 million people)
Confirmed lockdown measures in 10 cities and 1 county in the Wuhan area, which is nearly 29 million people. Another city (1 million) is on partial lockdown.
 List of locked down cities due to coronavirus:
- Wuhan (11 million people)
- Huanggang (7M)
- Xianning (2.5M)
- Huangshi (2.5M)
- Xiantao (1.2M)
- Daye (1M)
- Yangxin County (1M)
- Qianjiang (1M)
- Chibi (500K)
- Zhijiang (500K)
- Enshi City (750k)
Total: 29M

Partial: Ezhou (1M)
UPDATE 1:29 AM EST --
Health Commission in Anhui Province, China, says it is mobilizing 450,000 workers to build a "solid line of defense" against the epidemic, urges everyone to assume a state of emergency
 UPDATE 1:37 AM EST --
The U.S. Centers for Disease Control and Prevention said on Thursday it is seeking special emergency authorization from the Food and Drug Administration to allow U.S. states to use a CDC-developed diagnostic test to detect the new coronavirus from China.
UPDATE 1:45 AM EST --
Source in Wuhan reports the following:

>Parents turned away by hospital, both his mother and father were taken by PRC military and loaded onto trucks, not told where they were being taken.
>When he asked too many questions the police were involved by the men escorting patients to the truck loading area, told to leave things alone, go home and stop asking questions
>People in the building opposite him are complaining of bad smells, they believe many families who were told to self-quarantine are now possibly dead in their apartments
>All landlines have no dial tone, his aussie cell phone works with roaming enabled but cannot get even 3g data now.
>5pm-9pm yesterday the city was doused in powder by PRC air force, disinfectant - used also in shanghai
>He has been watching people from his window, panic has set in because even relatively young are now dropping over even in his street.


Yes, he has a meeting with neighbors to discuss things and then will send me even more info.  Source also reports:
Wechat, weibo etc are ALL being censored, the death toll reported is bullshit, the 25 dead happened in mid dec after the outbreak.


If you see China quarantining any of these cities, know that the shit is hitting the fan:
> Shanghai
> Shenzhen
> Ningbo-Zhoushan

These are their three largest container ports. They are necessary for world commerce, and closing any of these three would result in a rapid collapse of their economy.

If they quarantine any of these cities, the situation is out of hand.


UPDATE 1:50 AM EST --
 Jingzhou, a city of nearly 6 million people, will be put on lockdown from 5 p.m.
More details on Jingzhou lockdown.

Gov't statement
- Effective immediately, train services are shut down
- At 5 p.m., all other forms of transportation are shut down
- All public venues are closed
- Public & religious events canceled

People in locked down cities: 35 million
 SHANGHAI DISNEY RESORT CLOSING DUE TO OUTBREAK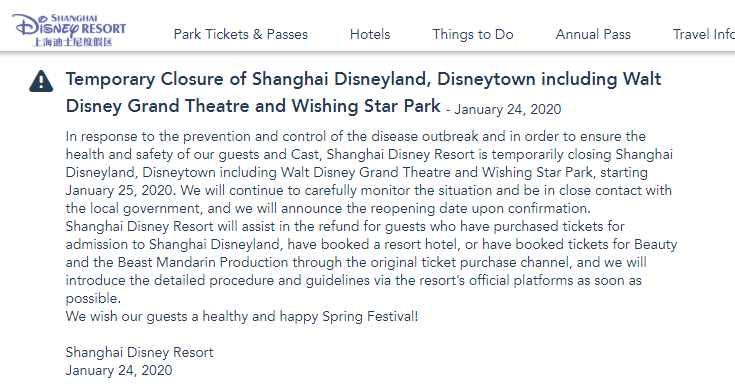 UPDATE 2:00 AM EST --
Yichang enacting transport restrictions now too, starting at 2pm Fri. 4 million more people.
 --------------------------------------------------------------------------------------------------------------------------------
 2:25  AM EST -- Leaving my radio studio here in NYC to head home.   End live updates for this story.   New info will appear in new stories.
Please click yellow DONATE button in top right column of this page to help cover the cost of you reading this, and help sustain this reporting.
URGENT: CHINA BLOCKADING PEOPLE *** IN *** INFECTED CITIES!  
 RELATED: 
Now that you have read this story, please COVER THE COST for what your visit cost this site by clicking one or more of the ads below which generates Advertiser revenue of two to three cents per click - no purchase necessary by you -- and helps offset operating costs for this web site.
When YOU read a story here, the web hosting company charges us for "data transfer / Bandwidth" to convey the material to you.  Without your help by clicking an ad below, this web site would be in danger of shut down from the data transfer charges.  Please click any ad below to offset the cost of bringing this news to you.