Developments overnight in the US Election process are such, that it now appears to many within government and intelligence circles that outright armed conflict is likely to erupt over the ongoing THEFT of the US Presidential Election by corrupt Democrats.  If you do not yet have body armor to protect yourself, and can afford to get it ($299), you are URGED to do so.
The level of brazen criminality taking place in Democrat-controlled ballot counting facilities, is now mind-boggling.
Just last night, in Delaware County, PA, security camera video seems to show Ballot-counting workers actually FILLING-OUT new Ballots, and placing them into the vote-count stream.  In the video, below, you can see a young man with a black sweater, actively marking what appear to be Ballots:
In Philadelphia, Republican Ballot Observers, which are permitted BY LAW to observe the counting of election ballots, are being DENIED ENTRY to the Philadelphia convention center where ballots are being counted.
The Republicans went to court and obtained a COURT ORDER at about 9:30 AM Thursday, allowing them to be inside.   To this very minute (7:27 AM EST) the Democrats who run the City of Philadelphia and who control access to the convention center, CONTINUE TO REFUSE entry. 
When the County Sheriff was asked to enforce the court order, the Sheriff REFUSED.
Former Trump Campaign Manager Corey Lewandowski joined Lou Dobbs on Thursday night.
Corey told Lou the Philadelphia Election Officials are still refusing observers into the convention center despite a court order.
The election officials are openly defying the court with the support of local law enforcement.
Corey Lewandowski: Here's where we are. Every second they're counting additional ballots with NO OBSERVERS in the city of Philadelphia. They're not telling us when they're going to finish counting in Philadelphia by about 11 o'clock tonight. We've had a court order in place effective since 9:30 this morning. They dismissed it. There is no enforcement mechanism. We asked the sheriff to come and enforce it. He patently said no. We asked the election office to enforce it. They said no. And you know if they can do this to the President of the United States? What is the next court they don't have to listen to?.. The fact is there is complete lawlessness in the city of (Philadelphia) should scare every American!
PROOF OF FRAUD
A registered Democrat and poll watcher at the Philadelphia Convention Center overseeing ballot counters detailed corruption at the highest levels in the city of Philadelphia.
"They will not allow us within 30 to 100 feet to supervise the ballots being counted," poll watcher Brian Mchafferty said. "This is a coup against the President of the United States of America and I want to call out the Mayor of Philadelphia, James Kenny…the Attorney General Josh Shapiro who tweeted that there was no way that Donald Trump would win president of the United States of America…."
He continued, "I can't believe what I'm seeing right before my eyes. This has nothing to do with Joe Biden or Donald Trump. This has to do with our democracy and I will tell you, there is corruption at the highest levels in the city of Philadelphia."
That Democrat took photos with his cell phone, and also took video, which he uploaded to Twitter.
Twitter DELETED his video, and Suspended his account, so as to conceal the fraud taking place.
One of the photos he took, showing a computer screen with Voter Registration data, shows seven of eight voters on that screen with birth dates of January 1, 1900. -- ALL FRAUDULENT!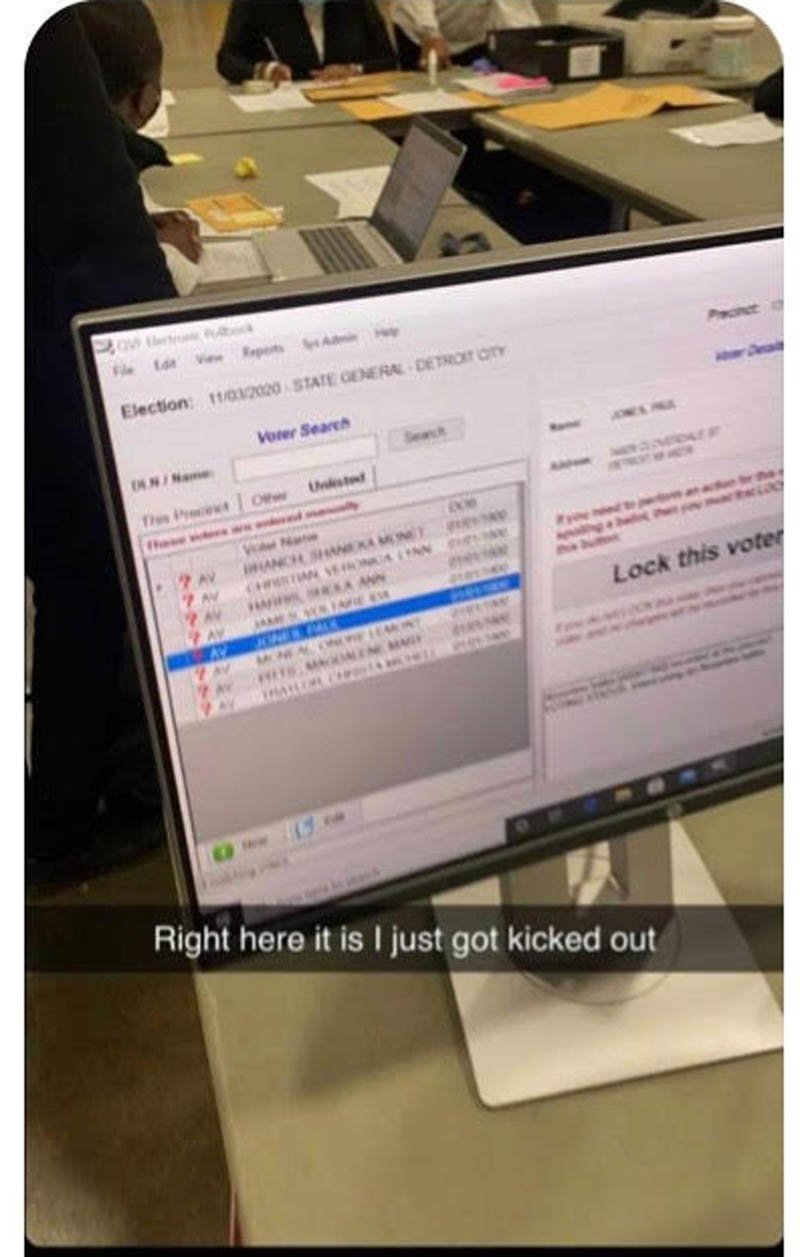 Minutes later, other Democrats came and THREW THEIR OWN WORKER OUT of the the convention center!
Brian McHafferty: "I got a badge. I got a badge right here. I'm observing people. And this man here is running. He threw me out! America don't stand for this!"
This is outrageous!
He was walked out of the convention center by criminal Democrat co-conspirators, for reporting the fraud!
We will not be silenced. @realDonaldTrump @DonaldJTrumpJr @TeamTrump @Project_Veritas @RealJamesWoods @JamesOKeefeIII @RealCandaceO pic.twitter.com/Ouhs9DJvyi

— PhillyGodfather ® Sports Bettor (@phillygodfather) November 5, 2020
President Trump was ahead of Joe Biden in Pennsylvania on election night by nearly 700,000 votes but the crooked elections officials in Philadelphia keep finding hundreds of thousands of mail-in ballots for Joe Biden.
U.S. Postal Worker Caught Crossing Canada Border with Stolen Ballots in Trunk
On Election Day November 3, 2020, at approximately 7:34 p.m., Customs and Border Protection (CBP) Officers encountered Brandon Wilson, 27, of Buffalo, NY, an employee of the United States Postal Service (USPS), at the Peace Bridge Port of Entry.
As part of a standard CBP vehicle sweep, Wilson opened the trunk of his vehicle for CBP Officers. A USPS mail bin containing numerous mail pieces was observed by a CBP officer inside the trunk. CBP officers also observed multiple USPS uniform items bearing the USPS logo along with a USPS identification badge with Wilson's name. Wilson stated the mail belonged to him and his mother. However, Wilson could not account for additional names printed on the mail pieces. Wilson further stated that he had intended to deliver the mail and had forgotten to return the mail pieces to the post office.
The United States Postal Service, Office of Inspector General, was called to retrieve the recovered mail pieces. A subsequent inventory of the recovered mail pieces revealed absentee ballots sent to Buffalo, NY, addresses from the Erie County, NY Board of Elections, 106 political mailings, 220 first class mailings, and 484 standard mailings for an approximate total of 813 mail pieces. The first-class letter mailings were destined for zip codes 14227, 14211, 14214, with the majority destined for 14215. Cancellation dates showed seven dates between September 16 and October 26, 2020.
SHOOTINGS BEGIN
Multiple people have already begun being shot over the election.  This type of violence is now expected to grow and spread.
In Portland, OR, for instance, multiple people were shot as tempers flared over election issues.  The media has completely, totally squashed all coverage so as to conceal the fact that DEMOCRATS are SHOOTING PEOPLE who voted for Trump!
Readers are URGED to equip themselves with body armor.  
Level IIIA protects from most handguns ($299) and can be bought HERE  BulletSafe
Level IV Protects from both handguns and rifles, but is considerably more expensive, (~$600) very much heavier,  and can be bought via the text link below:
Steel-Toe . . . . SNEAKERS !!!!
For years, some of the best protection a person could have was wearing steel-toe boots. One good kick and an attacker was done.   Now, you can get steel-toe SNEAKERS!   
 Quiet, concealed protection from hoodlums trying to accost you . . .  or your kids!