Every once in awhile, an entity does something that, on its face, may seem reasonable, but upon closer scrutiny, signals trouble.  Such seems to be the case with Credit Unions . . .
UNITUS Community Credit Union has sent an email to its members advising them that their money is safe . . . . and besides, it's insured . . . . .    Upon receiving this, a lot of members went "Uh Oh."
Here is the email in its entirety:
DIFFERENT CREDIT UNION: ONLINE SYSTEM "OUTAGE"
 The "everything's fine" email above comes as another credit union, First Flight, sent an email to its members advising their Online Banking System was suffering an "Outage."  That notice appears below: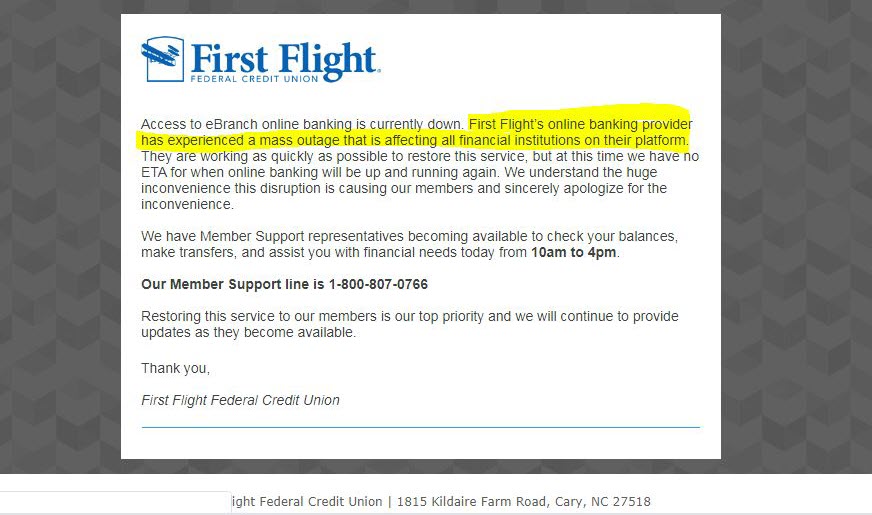 So . . . . . . if everything is just fine, why the email?  If the Online system "Outage" will be fixed fast, why the notice?
Some folks are wondering if everything ISN'T just fine.  Others are also wondering, is it just UNITAS and First Flight Credit Unions?  Is it ALL of them?  
Now that you have read this story, please COVER THE COST for what your visit cost this site by clicking one or more of the ads below which generates Advertiser revenue of two to three cents per click - no purchase necessary by you -- and helps offset operating costs for this web site.
When YOU read a story here, the web hosting company charges us for "data transfer / Bandwidth" to convey the material to you.  Without your help by clicking an ad below, this web site would be in danger of shut down from the data transfer charges.  Please click any ad below to offset the cost of bringing this news to you.