The National Hurricane Center reports as of 5:00 AM EDT on Friday, August 30, that Hurricane Dorian is expected to strike the east coast of Florida, with 140 MPH (Category 4) winds and intense, deadly,  "storm surge"  and 24 inches of rain within 50 miles of the coast from Miami to North Carolina!  UPDATE: Ocean Buoys recording 20.7 FOOT Waves!
People along the coast should have PLANS for evacuation as the storm approaches.   Storm Surge is what kills most victims in hurricanes and it happens within minutes.
Here is the latest Global Forecast System (GFS) computer model: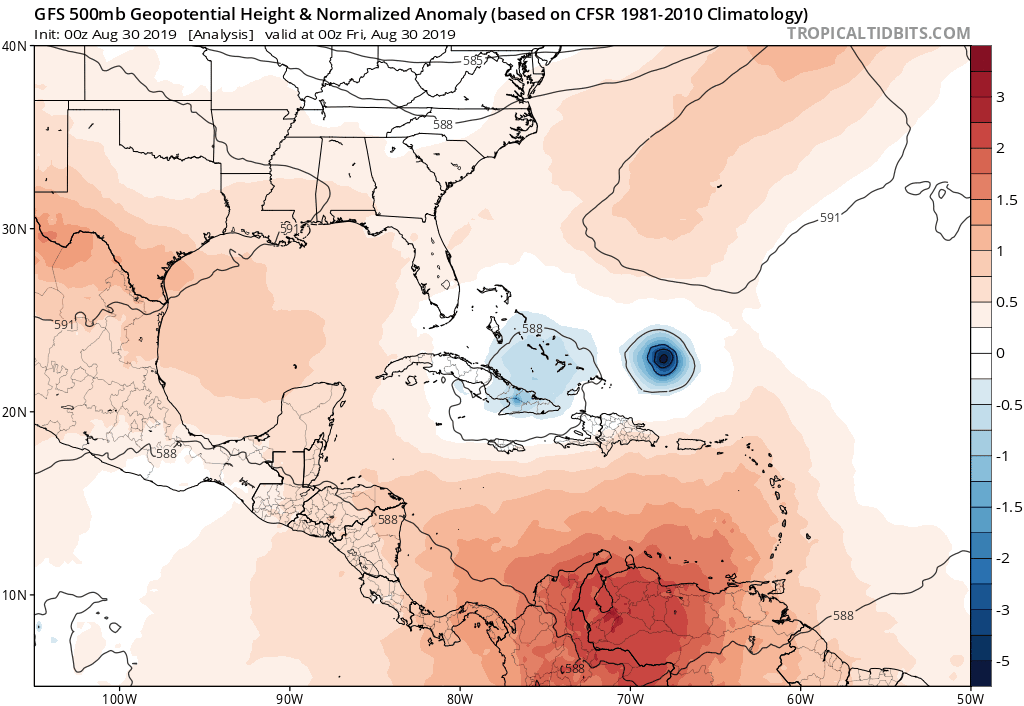 As seen on the model above, the worst of the storm will begin striking Monday afternoon, with landfall of the "eye" happening early Tuesday morning.  Once the hurricane force winds begin to strike the coast Monday, things will get steadily worse as the eye moves toward shore.
The fierce winds - expected to be around 140 MPH -- will push the ocean water onto shore in what's called storm surge.  This surge could exceed twenty-five FEET.  Homes and other buildings within a mile of the coastline will be completely inundated by water and waves crashing on top of that water.   Once the surge begins, it will rise to twenty five feet within three to five MINUTES.
Folks who have not evacuated BEFORE the storm surge begins, have NO CHANCE OF SURVIVING.
Residents must have an evacuation plan, where they will go and how they will get there, BEFORE the storm arrives.  Do not wait until you see it getting bad, to leave.  If you wait, once you see it getting bad, it will get too bad for you to leave, within minutes.
24 Inches Rain
As shown on the rain forecast below, areas within 50 miles of the coast from Miami, FL, thru Georgia, South Carolina, and the coast of North Carolina are expected to be deluged with twenty-four (24) inches of rain.   So if the wind and the storm surge doesn't get you, the flooding from two feet of rain will.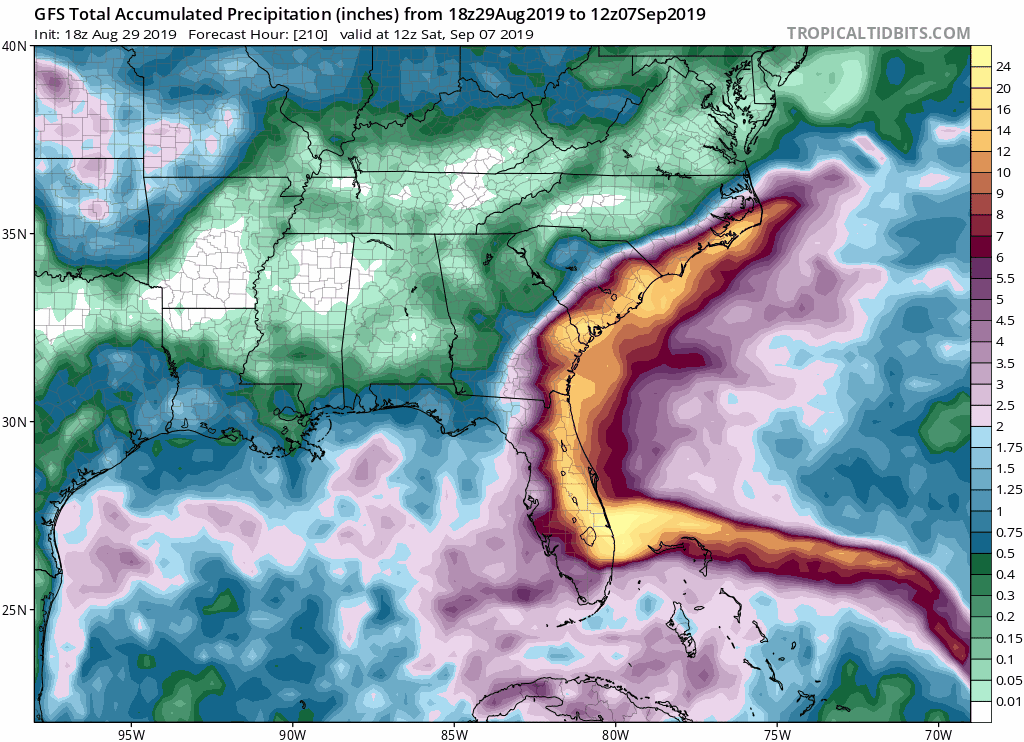 STUPIDITY STRIKES ALREADY . . .
The reason this story is emphasizing evacuation has to do with certain acts taking place now in Florida which appear to many people to be outright stupidity.
These Hurricane Party Cakes were photographed at a PUBLIX supermarket in Florida:
Somehow, we doubt the hurricane will take the message from these cakes and "Go Away"
Although when the storm surge smashes down the walls of houses, it might carry these cakes away . . . . and carry away any idiots who thought they could face-down one of the most fierce examples of nature's awesome power.
UPDATE 7:26 AM EDT --
Earlier this morning, Dorian passed about 30 or so miles west of this Buoy "Station 41046 - EAST BAHAMAS - 335 NM East of San Salvador Is, Bahamas" (this Buoy reports the weather data every 10 minutes). At 12:50 AM EDT the Maximum Wave Height was  "20.7 ft."
Persons living along the Florida east coast should stop and think about this very carefully.  20 foot waves on top of storm surge.  Houses will NOT survive -- neither will anyone inside them.
UPDATE 7:48 AM EDT -- 
First morning flight recon pass through Dorian's eye finding pressures estimated around 969mb with surface winds of ~110 mph in the NE eyewall.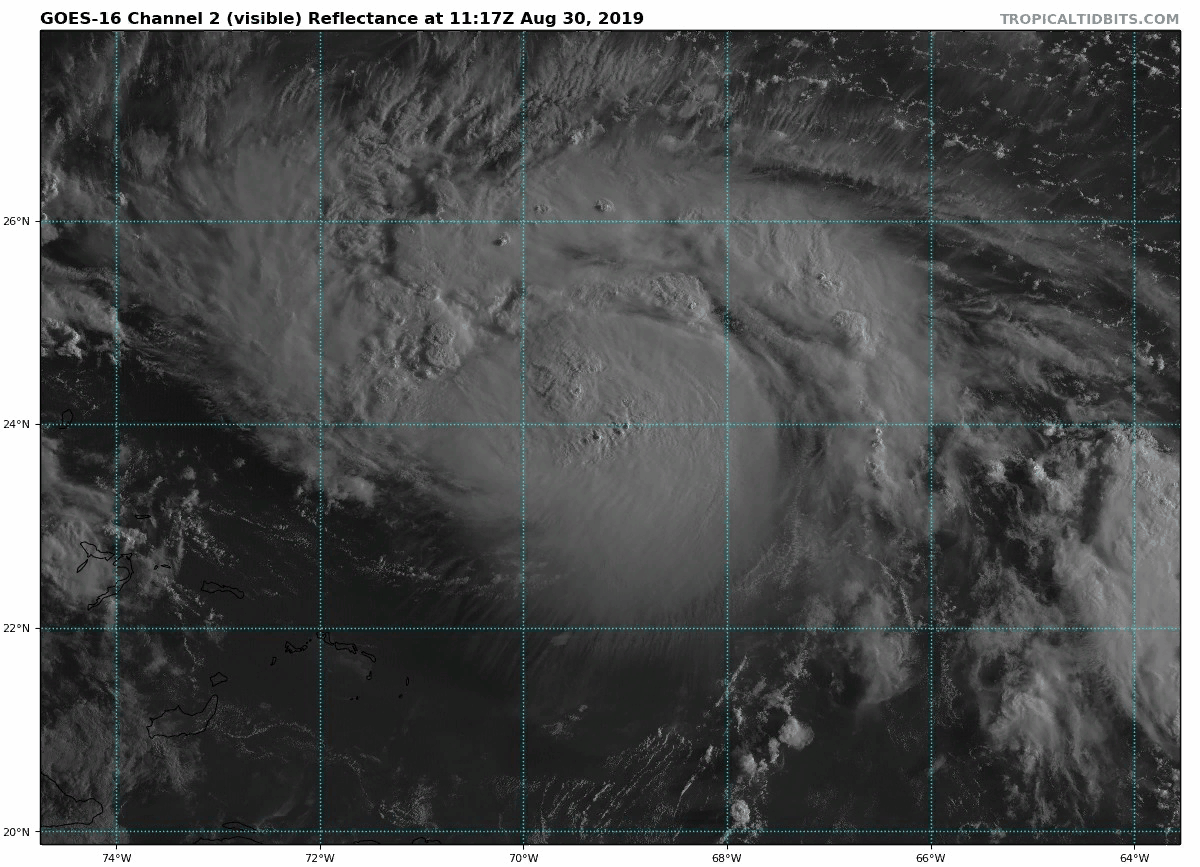 REMINDER: YOU can keep this web site FREE to the General Public by clicking one or more of the ads below which generates Advertiser revenue of two to three cents per click - no purchase necessary by you -- and helps offset operating costs for this web site.