Tropical Storm "Dorian" is churning in the Caribbean Sea, heading toward what computer models show to be a FLORIDA LANDFALL.  Folks in Florida need to begin making immediate preparations for a possible Category 3 Hurricane landfall near what models say is Cape Canaveral on Florida's east coast!
Initially expected to impact Puerto Rico, "Dorian" took an unexpected northward turn and appears to be AVOIDING land impact, which means it will strengthen.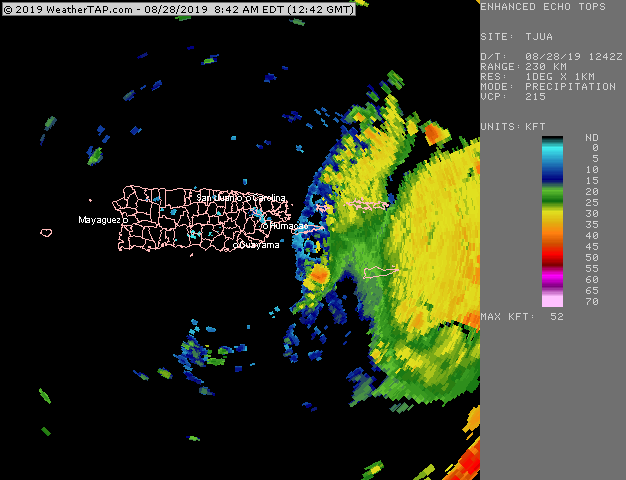 Computer models as of August 28 are almost uniformly showing an east coast Florida impact.  Some models show landfall in Georgia, others in South Carolina, but the majority show Florida.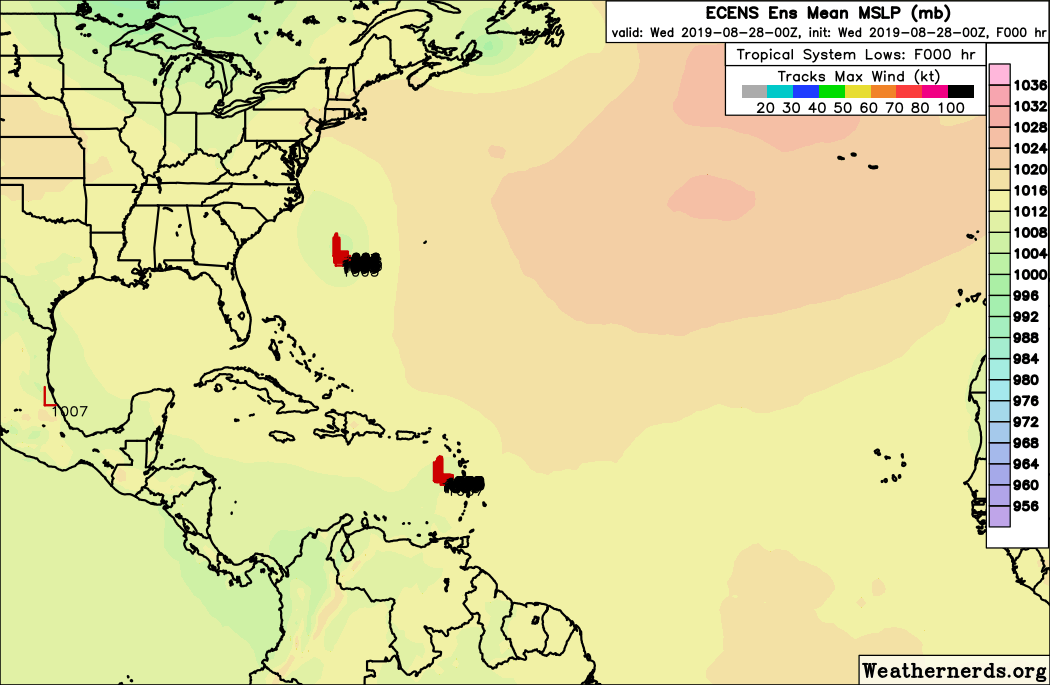 This image is from a MODEL; and so the location of landfall IS NOT CERTAIN yet: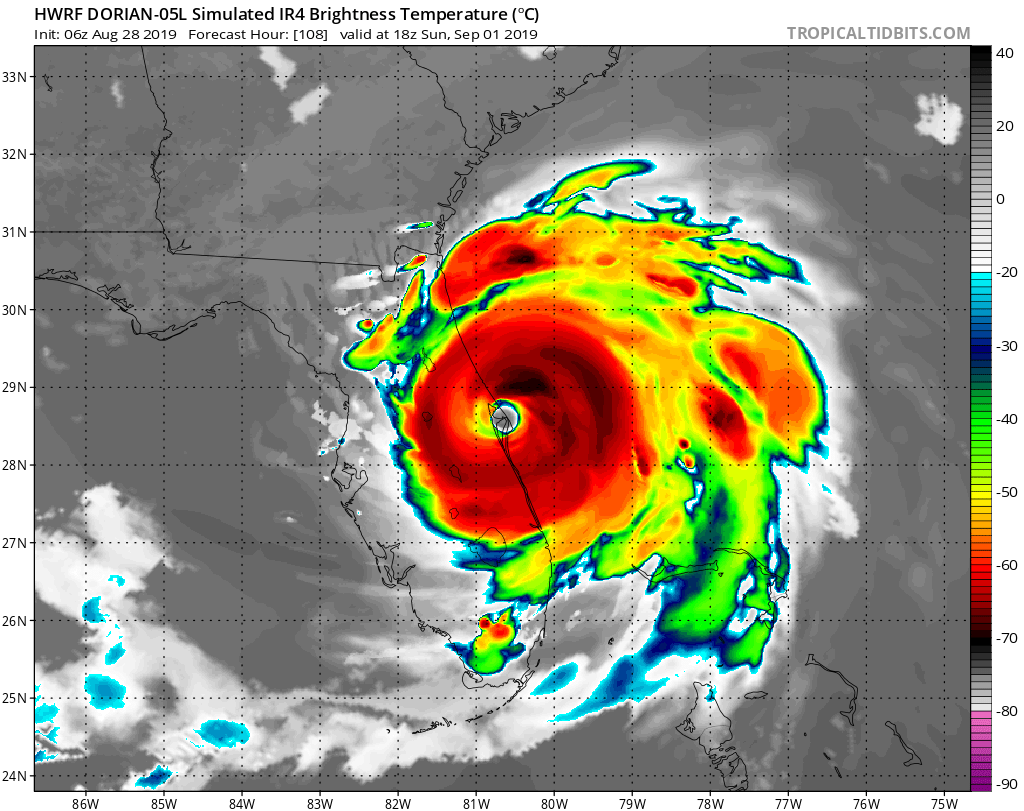 PREPS
When it comes to preparations for an event like this, you folks know this drill all to well.
You need:
Emergency Water - 1 gallon per person in your household, PER DAY for at least a week
EMERGENCY FOOD - Canned goods that won't go bad without refrigeration (Meats, tuna fish, Soups, Sauces)
COOKING - You need to be able to cook without electric, so make certain you have either a propane Barbecue grill (fill your tank) or a charcoal barbecue with spare charcoal and lighter fluid
Flashlights for each member of your household with SPARE BATTERIES for each.
Portable radio with SPARE BATTERIES to keep abreast of news and information.
Spare Medicines you need to live - (Have at least one week supply of any medicine you MUST have in order to live)
These are the bare essentials and you MUST have them.
Other "Preps" like a portable electric generator are nice to have to keep your refrigerator running and have a light or two in the house, charge-up your cellular phones and computers, etc.  REMINDER: Never run a gas-powered generator indoors - the Carbon Monoxide gas will KILL YOU.
SPARE FUEL for your cars/trucks/generators, etc.
Some folks along the coast have plywood to board-up windows and doors against hurricane damage.  
If Oficiials tell you to EVACUATE, please take that advice and go.  Many people get killed in these storms and it doesn't have to be that way. If you're advised to get out, then GET OUT.
Make plans NOW where you'll evacuate to; friends, relatives, a hotel, etc.  Don't wait to the last minute to plan.
Further updates about this storm will appear in new articles.
UPDATE 11:08 AM EDT --
According to a Hurricane Hunter flight, the following readings were obtained inside "Dorian:"
77 mph
( * ) Denotes suspect data
Time: 14:27:00Z
Coordinates: 17.683N 64.200W
Acft. Static Air Press: 843.0 mb
Acft. Geopotential Hgt: 1,539 m (5,049 ft)
Extrap. Sfc. Press: 1008.8 mb (29.79 inHg)
Flt. Lvl. Wind (30s): From 168° at 66 kts (From the SSE at 76.0 mph)
Air Temp: 16.4°C (61.5°F)
Dew Pt: 16.4°C (61.5°F)
Peak (10s) Flt. Lvl. Wind: 67 kts (77.1 mph)
72 Hours to Raise Funding for September
Last month I got sort of "scolded" about how long I took to raise funds - I did for a whole week. So this month, I went low-key. I put ONE Fund raising story up last Thursday and left it at that. WOW did that fail.

Here's what came in:
Randy W. $20, Kristen T. $20, William C. $10, Richard H. $5, "HJ" $25, Skye C. $5, MaLisha G. $20, Charles G. $20, Gayle S. $30, Jeanne R (France) $400, Jim V (AZ) $300.

That tallies $855 out of the approximate $3100 needed to fund the web site and radio show thru September.

I now have 72 Hours to raise the rest or I'm in big operational trouble. I need YOUR immediate financial help. Please click the DONATE Button below to help out.


Here's how things go if we do NOT make it:  Amazon Web Services will attempt to debit my checking account and if the charge is DECLINED, I will be given until the 28th of September to pay.  If the money remains unpaid on that date, THIS WEB SITE WILL BE SHUT OFF BY AMAZON FOR NON-PAYMENT.  It's not me doing this, it's them.  Hopefully, some of the tens-of-thousands of people who come here each week will step-up and send a few bucks so we don't face that shut down.


If you enjoy the news, commentary and opinion you find here, PLEASE click the DONATE button below and make a donation right now.
There are no paying commercials on my radio show.  That is by design.  When a media outlet allows real free speech as I do on my show, and covers news and issues the mass-media will not report, the way the politically-correct crowd works to silence that is via Advertiser Boycotts.
If a media outlet is beholden to advertiser dollars, and the advertiser starts getting a slew of Boycott calls and emails, the advertiser calls the media outlet and says "you've got to stop talking about such-and-such because I'm being boycotted.  If this talk does not stop, I will have to PULL my advertising dollars."  And THAT is how the radicals silence speech they disagree with!
Since its inception in June of 2000, this radio show has be listener-supported.  This web site has been reader-supported.  That means YOU!
It may be FREE for you to read the stories here, but it is not free for me to publish them.  Each time you read, I GET BILLED for "data transfer" to send the stories and images to your computer.  Those bills add-up to a lot of money.
Then too, the radio show costs big bucks to air on global high frequency stations WBCQ and WRMI.  That radio air time must be paid for IN ADVANCE.
Of course there are six phone lines to accommodate callers; they have to be paid.
And there are other costs like studio time, music licensing fees, Fiber-optic connection lines and so on.
In order to meet these costs, I need folks like YOU to step-up and support this endeavor with a few bucks.  Some of you can only afford to send two or three dollars.  Others $10 or $20.   Some $25, $50, or even $100.  Rarely, folks donate $300, $400, or even in one case $650.
Whatever amount you can donate is essential; every little bit helps.

Please show that the REAL news found here, and broadcast on my radio show is worthy of your support by clicking the yellow DONATE button below.   I simply cannot do this without YOUR help.


Please use either your Credit/Debit Card or Paypal via the DONATE button below to make a contribution.  Every little bit helps! 
Those of you who cannot or will not use online financial transactions can mail cash, check or Money order payable to:
Harold Turner
1906 Paterson Plank Road  - Apt. 1A
North Bergen, NJ   07047-1902
USA