The National Hurricane Center (NHC) has released its 11:00 PM Hurricane Update and according to furious staffers inside NHC "The report contains deliberate lies to conceal the severity of Hurricane Dorian."  In short, these NHC staffers claim the government is withholding the truth because "No one wants tourists to flee Florida early, costing millions in lost business."
According to these NHC staffers who have direct access to Hurricane Hunter aircraft flight data, Dropsonde readings have shown winds in excess of 157 Miles per hour since about 10:00 AM local time in Florida on Saturday morning. 
Despite having these readings, the NHC has failed to upgrade Hurricane Dorian to Category 5 because "business interests with powerful political connections have made clear they do not want Tourists fleeing the state when there is some chance the hurricane might turn."   Those interests are allegedly flexing their political muscle which has resulted in NHC Administration withholding the accurate Category 5 designation.
Staffers within NHC have said the computer models showing the hurricane taking a sharp turn to the north were dependent upon a cold trough that was SUPPOSED to develop over the Great Lakes.  That trough would have affected a ridge of High Pressure over the eastern US, causing it to move out to sea, thus clearing the way for Hurricane Dorian to take it's natural route to the north.  Trouble is, they say, the Trough NEVER DEVELOPED.   
The ridge of high pressure is situated north of hurricane Dorian and is preventing it from turning northward.  The ridge can be seen on the graphic below; it is the brown line to the north of the Hurricane AND THE RIDGE IS HIGHLIGHTED:
The high pressure ridge IS NOT MOVING. 
Thus, even at this late hour, Hurricane Dorian remains on a westward track toward the Bahamas and Florida, and at this hour, Hurricane Hunter Dropsonde readings show the storm has "sustained winds of 176 Miles per hour, with higher gusts."
 MORE:
Orlando Airport had earlier announced it would be closing on Monday.   That decision was suddenly changed, and now the airport says it will NOT close on Monday.
WORSE:
Evacuation Orders are being rescinded in several areas along Florida's east coast.
According to the staffers spoken to, these decisions are "all being driven by politics and money."  One staffer stated "This is criminal negligence. A lot of people are likely to be killed by this storm because of these decisions."
We thought the public should know.
UPDATE 8:55 AM EDT --
Overnight, the Weather Channel declared the storm to be Category 5 as have other non-governmental outlets.
As of 8:00 AM EDT this morning, the National Hurricane Center is admitting "Mximum Sustained Winds of 160 MPH and gusts to 185 MPH.    
THe Saffir-Simpson Hurricane Scale declares that any hurricane with sustained winds "above 156 MPH" is a Category 5 hurricane.  Here is the Saffir-Simpson Hurricane Scale:
Now, after this story was published about nine hours ago, the NHC is admitting sustained winds of 160 MPH and also admitting "Category 5:"
Sat-Photo This Morning: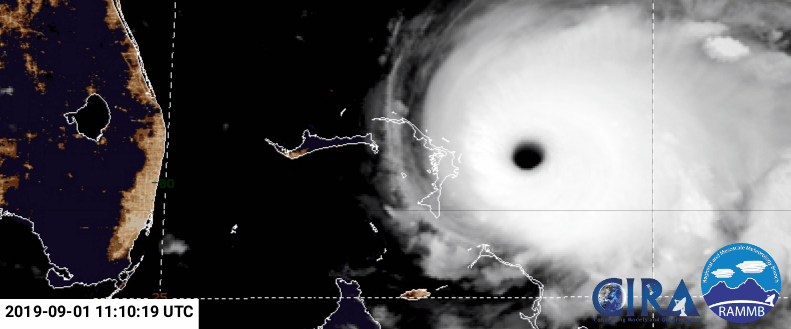 Momentary Radar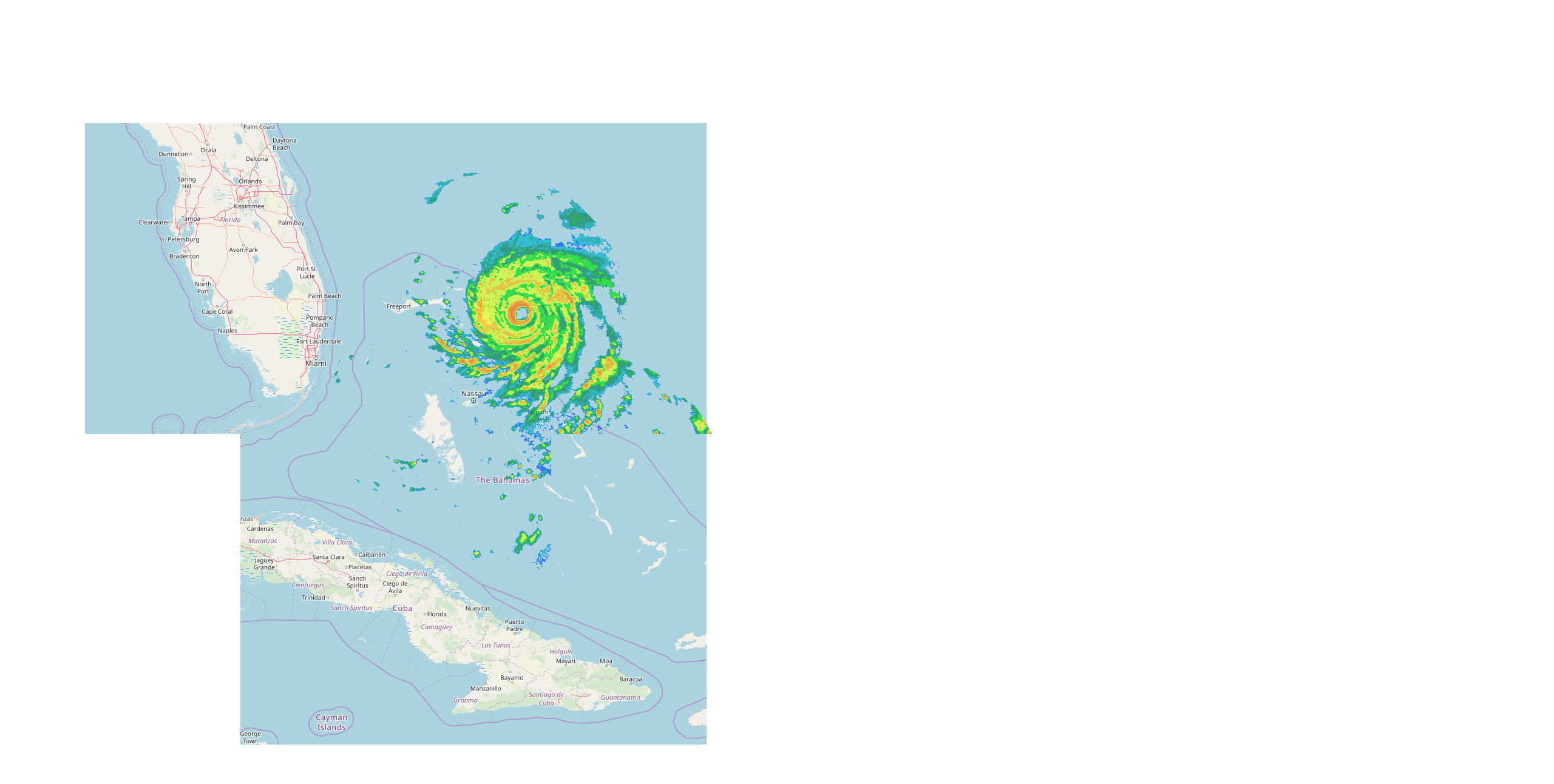 Florida Radar Picks-up "Eye"
Infra-Red Satellite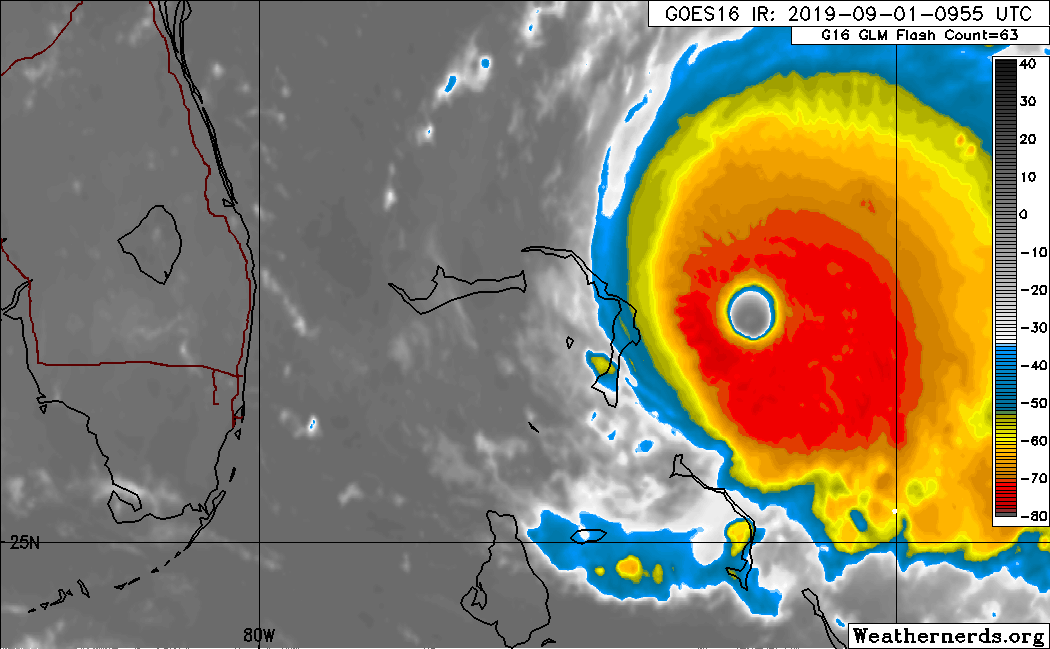 MORE:
COMMENTARY
None of us wanted this to be true.  None of us wanted this hurricane to become what it has, and none of us wants it to hit Florida.  
Perhaps the high pressure ridge presently blocking Hurricane Dorian's natural move toward the north, will move and allow the hurricane to travel north toward the narrower part of our planet.  Perhaps this will take place before the storm hits Florida.  We all HOPE the storm turns and moves away.
But prudence dictates that the general public be told the facts; not "protected from truth."  When truth is publicly distributed, responsible people are fully informed and can make informed decisions about whether to stay or to go.  As such, this web site will continue to publish the facts.
For the record, we urge persons in southeast Florida to evacuate the coast.  We urge all persons in Florida, southeast Georgia, eastern South Carolina and southern North Carolina to have preparations for a massive, destructive, Hurricane.
REMINDER: YOU can keep this web site FREE to the General Public by clicking one or more of the ads below which generates Advertiser revenue of two to three cents per click - no purchase necessary by you -- and helps offset operating costs for this web site.