The 93rd annual Macy's Thanksgiving Day Parade is officially underway in New York City.
As promised, more than a dozen giant balloons are flying high above the Manhattan parade route.
The inclusion of inflatable versions of Snoopy, SpongeBob, Smokey the Bear and other beloved animated characters had been in doubt Wednesday because of anticipated high winds.
"As of now the balloons will fly!" the NYPD Manhattan North Twitter feed said at 7 a.m. on Thursday.
The temperature was 47 degrees when the the parade kicked off, NBC News said. Wind gusts were expected to be between 20 to 30 m.p.h.
The traditional event is airing on NBC, with Savannah Guthrie, Hoda Kotb and Al Roker serving as hosts.
Early performances on the broadcast included Celine Dion, and the casts of Sesame Street, Ain't Too Proud to Beg, Beetlejuice, Hadestown and The Tina Turner Musical.
 Once Snoopy's safety net came off, he proudly flies above the parade route:
Still scheduled to perform are music stars Natasha Bedingfield, Black Eyed Peas, Chicago, Ciara, Josh Dela Cruz, Jimmy Fallon and The Roots, Debbie Gibson, Chris Janson, Idina Menzel, Lea Michele, NCT 127, Ozuna, Billy Porter, Kelly Rowland, That Girl Lay Lay, TLC, Tenille Townes and Chris Young.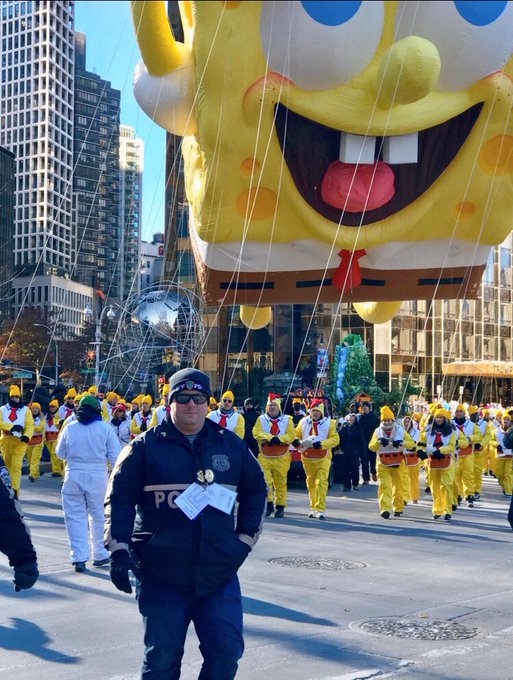 Huge crowds have turned out to watch the parade despite very blustery winds:
The parade will end with an appearance by Santa Claus.
Happy Thanksgiving --
December Fund-Raising $2401 So Far . . .
SHORT 1,799 . . .
Today is Thanksgiving Day, Thursday, November 28 and the Bills for this web site and radio show will come due in THREE (3) days.  Money is coming in very slowly this month - we're only about halfway to the necessary amount and with only 3 days to go to raise the money we're now in SERIOUS trouble . . .

As you know, the radio show EXPANDED to 5 days a week, Monday-Friday 9-10 PM eastern US time.  You're now getting the absolute LATEST news, five days a week, usually long before the mass-media reports it . . . if they even bother to report it!

About $4200 is needed in total to keep this endeavor going 5 days a week.  

As of Saturday, the following Donations have come in:
Edward F. $10, Alfred D. $30, Michael G. $20, Michael H. $20, Grier E. $50, Kristen T. $20, Bertram A. $10, Thomas L. $25, Alan W. $25, William C. $20, Catherine J. $20, Deborah E. $50, "HJ" $25, Kenneth S. $10, Kevin M. $100, Thomas. D. $10, Kevin M. $100 (Second donation), Jeanne in France $400.

As of  Sunday, the following donations arrived all day Saturday:
Louise M. $10.

Sunday --  Thomas M. $25  and Julian J. $10

Monday (11/25) --  Robert M. $30

Tuesday -- John P. $10, Deborah L. $25, Marc D. $10, Larry S. $20, Jared P. $25, Karen H. $10, Bernadette S. $15, Andrea D. $20, Johanne G. (Germany) US$14, Judson P. $20, Gayle S. $30, Richard M. $20, Erik N. $22.11, James K. $25, Mark F. $50, Jeremy B. $13.50, William W. $30.   Via Postal Mail: Craig B. $50, and Curt $23.10.+

Today, Wednesday (so far) -- Geoffrey $13.60, John B. $20, Charles R. $10, James M. $20, Moses C. $5, Gale A. $5, Rebecca C. $25, Seth S. $50, Charles P. $5, Alexander K. $100, Peter V. $10 . . . 

Frank A. $20, Sidney L. $85, Kathleen E. $50, Ralph P. $10, Matt W. $187, Bertram A. $10, Corey M. $200, Charles H. $30, Terry S. $40, Adam C. $5, Ken R. $75, Joseph A. $20, 

TOTAL: $2401. Need another $1799 to fund thru December.


It may be free for YOU  to read much of this site and tune-in to the streaming audio for the show, but it is not free for ME to put it all out here.   This is a "cloud-based" site and that means the Primary server sends data out to nineteen data centers worldwide to handle traffic.  The hosting company, Amazon Web Services, charges for "Bandwidth" which is the data sent to you to read this site or listen to the show.
I pay for that.

So each month, I have to ask YOU for financial help to keep this endeavor alive.  

PLEASE make a donation using the button below to sustain this site and radio show.

Those of you who cannot or will not use ONLINE FINANCIAL TRANSACTIONS can mail cash, check or money order to:

Harold Turner
1906 Paterson Plank Road
North Bergen, NJ   07047
USA

Thank you for your help.