The mass-media is trying to literally manufacture an alternate reality, so as to aid and abet the outright THEFT of the Presidency of the United States.  Nowhere is this more apparent than in decisions by the Associated Press and now, the New York Times, to declare Joseph Biden the President-Elect, when that is absolutely not the truth.
 Corporate media outlets called the presidential election for former Vice President Joe Biden and his running mate, Sen. Kamala Harris (D-CA).
CNN, MSNBC, and the Associated Press called the election for Biden at 11:28 a.m., just minutes before President Trump's lawyers were expected to speak at a press conference about challenging votes in Pennsylvania.
Fox News ultimately followed suit at 11:40 a.m.
At the time of the decision, President Trump spent Saturday morning at his golf course in Sterling, Virginia, presumably to play golf on a sunny fall afternoon.
The president issued the following statement via his campaign:
We all know why Joe Biden is rushing to falsely pose as the winner, and why his media allies are trying so hard to help him: they don't want the truth to be exposed. The simple fact is this election is far from over. Joe Biden has not been certified as the winner of any states, let alone any of the highly contested states headed for mandatory recounts, or states where our campaign has valid and legitimate legal challenges that could determine the ultimate victor. In Pennsylvania, for example, our legal observers were not permitted meaningful access to watch the counting process.  Legal votes decide who is president, not the news media.

Beginning Monday, our campaign will start prosecuting our case in court to ensure election laws are fully upheld and the rightful winner is seated. The American People are entitled to an honest election: that means counting all legal ballots, and not counting any illegal ballots. This is the only way to ensure the public has full confidence in our election. It remains shocking that the Biden campaign refuses to agree with this basic principle and wants ballots counted even if they are fraudulent, manufactured, or cast by ineligible or deceased voters. Only a party engaged in wrongdoing would unlawfully keep observers out of the count room – and then fight in court to block their access.

So what is Biden hiding?

I will not rest until the American People have the honest vote count they deserve and that Democracy demands.

– President Donald J. Trump
HAL TURNER OPINION
What we have here is the left-leaning media, intentionally ignoring the actual vote fraud which is STILL taking place in Pennsylvania, Michigan, Georgia and elsewhere, refusing to even REPORT on the fraud, then publishing banner headlines like the one pictured above, to aid and abet the theft of our Presidency.  This is the epitome of fake news. 
This is no mistake by the media, it is an intentional falsehood. They are now active participants in an ongoing criminal conspiracy by the Democrat Party and its officials in various government jobs, to steal the federal election.
This criminal conspiracy is designed to defraud the American people of their duly elected President.  
We KNOW its criminal because the people at the vote counting facilities in places like Detroit and Philadelphia, actually put large white cardboard over the windows of the count center, so no one could SEE what they were doing: Manufacturing false votes . . . all for Biden!
Here, look: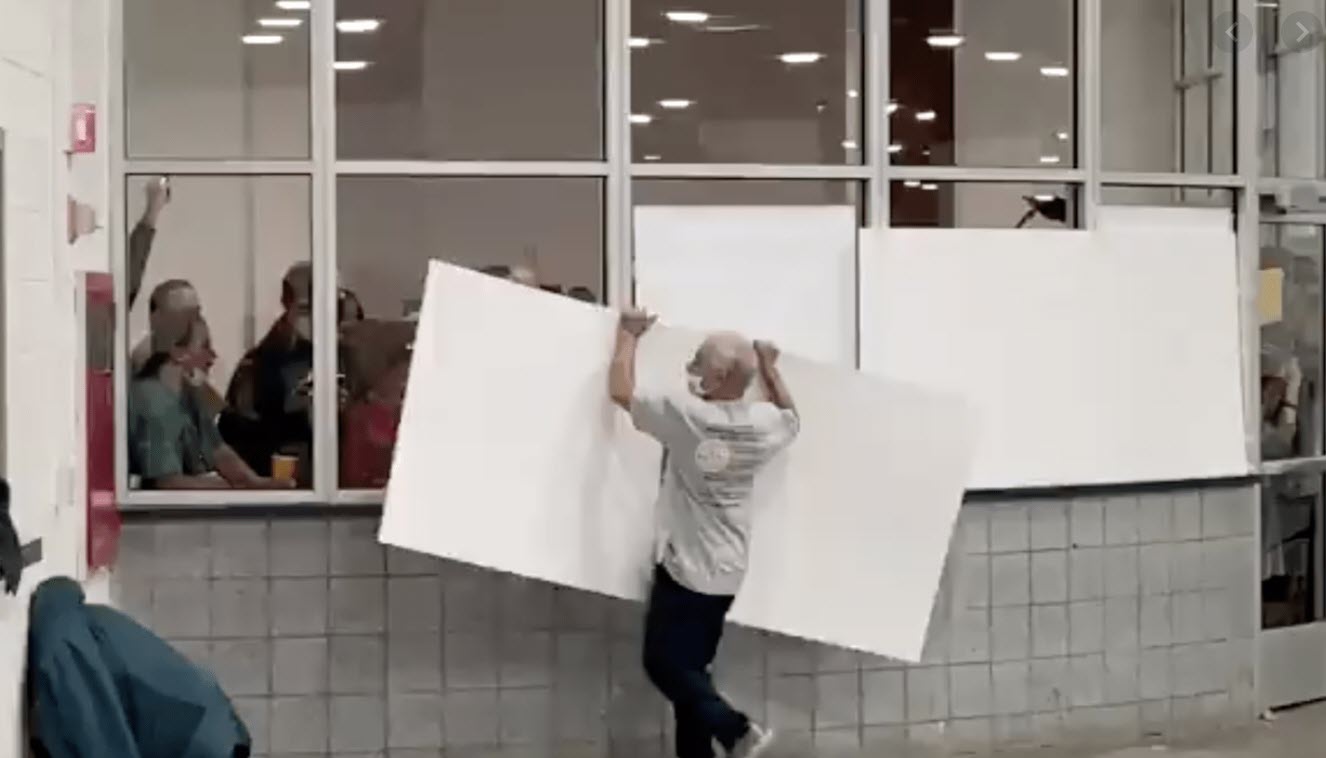 They are covering the windows so people outside CANNOT SEE that literally hundreds of Democrat election workers are inside filling out PHONY BALLOTS!
In Philadelphia, it's worse.  Not only did they cover up windows, they blocked legally-required Ballot Count Observers from entering the count area!   And when the Republicans went to court and WON a court order to gain access, the Democrats said the order was "unclear" and the Sheriff of Philadelphia REFUSED to enforce the court order!
Why? Because the Democrat election workers in Philadelphia were inside filling out blank mail-in ballots, and putting them in the vote-count pile.   They literally MANUFACTURED several hundred thousand votes between Philadelphia and Pittsburgh!  ALL FRAUDS.
PROOF OF FRAUD
A registered Democrat and poll watcher at the Philadelphia Convention Center overseeing ballot counters detailed corruption at the highest levels in the city of Philadelphia.
"They will not allow us within 30 to 100 feet to supervise the ballots being counted," poll watcher Brian Mchafferty said. "This is a coup against the President of the United States of America and I want to call out the Mayor of Philadelphia, James Kenny…the Attorney General Josh Shapiro who tweeted that there was no way that Donald Trump would win president of the United States of America…."
He continued, "I can't believe what I'm seeing right before my eyes. This has nothing to do with Joe Biden or Donald Trump. This has to do with our democracy and I will tell you, there is corruption at the highest levels in the city of Philadelphia."
That Democrat took photos with his cell phone, and also took video, which he uploaded to Twitter.
Twitter DELETED his video, and Suspended his account, so as to conceal the fraud taking place.
One of the photos he took, showing a computer screen with Voter Registration data, shows seven of eight voters on that screen with birth dates of January 1, 1900. -- ALL FRAUDULENT!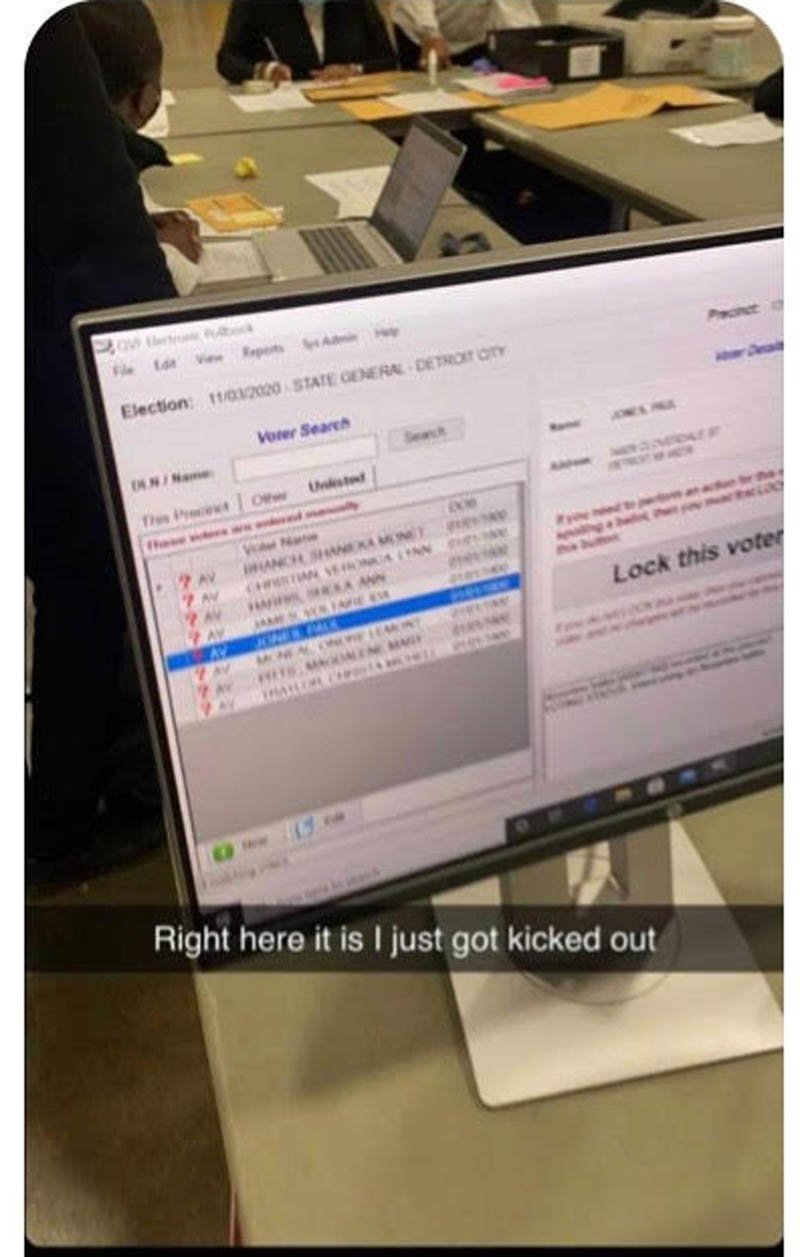 Minutes later, other Democrats came and THREW THEIR OWN WORKER OUT of the the convention center!
Brian McHafferty: "I got a badge. I got a badge right here. I'm observing people. And this man here is running. He threw me out! America don't stand for this!"
This is outrageous!
He was walked out of the convention center by criminal Democrat co-conspirators, for reporting the fraud!
We will not be silenced. @realDonaldTrump @DonaldJTrumpJr @TeamTrump @Project_Veritas @RealJamesWoods @JamesOKeefeIII @RealCandaceO pic.twitter.com/Ouhs9DJvyi

— PhillyGodfather ® Sports Bettor (@phillygodfather) November 5, 2020
President Trump was ahead of Joe Biden in Pennsylvania on election night by nearly 700,000 votes but the crooked elections officials in Philadelphia keep finding hundreds of thousands of mail-in ballots for Joe Biden.
in Delaware County, PA, security camera video seems to show Ballot-counting workers actually FILLING-OUT new Ballots, and placing them into the vote-count stream.  In the video, below, you can see a young man with a black shirt, actively marking what appear to be Ballots:
Where's the media coverage?  Nowhere (except here) . . . and today that same media "calls" the Presidency for Biden?   What balls!
Here's more . . .
U.S. Postal Worker Caught Crossing Canada Border with Stolen Ballots in Trunk
On Election Day November 3, 2020, at approximately 7:34 p.m., Customs and Border Protection (CBP) Officers encountered Brandon Wilson, 27, of Buffalo, NY, an employee of the United States Postal Service (USPS), at the Peace Bridge Port of Entry.
As part of a standard CBP vehicle sweep, Wilson opened the trunk of his vehicle for CBP Officers. A USPS mail bin containing numerous mail pieces was observed by a CBP officer inside the trunk. CBP officers also observed multiple USPS uniform items bearing the USPS logo along with a USPS identification badge with Wilson's name. Wilson stated the mail belonged to him and his mother. However, Wilson could not account for additional names printed on the mail pieces. Wilson further stated that he had intended to deliver the mail and had forgotten to return the mail pieces to the post office.
The United States Postal Service, Office of Inspector General, was called to retrieve the recovered mail pieces. A subsequent inventory of the recovered mail pieces revealed absentee ballots sent to Buffalo, NY, addresses from the Erie County, NY Board of Elections, 106 political mailings, 220 first class mailings, and 484 standard mailings for an approximate total of 813 mail pieces. The first-class letter mailings were destined for zip codes 14227, 14211, 14214, with the majority destined for 14215. Cancellation dates showed seven dates between September 16 and October 26, 2020.
Joseph Biden has not won the Presidency.   The mass-media is manufacturing their own reality. 
Don't fall for it, America.
There should be a terrible reckoning over this; a reckoning so thorough and so unmistakable, no one will dare even THINK of pulling this crap again for 100 years.
Now that you have read this story, please COVER THE COST for what your visit cost this site by clicking one or more of the ads below which generates Advertiser revenue of two to three cents per click - no purchase necessary by you -- and helps offset operating costs for this web site.
When YOU read a story here, the web hosting company charges us for "data transfer / Bandwidth" to convey the material to you.  Without your help by clicking an ad below, this web site would be in danger of shut down from the data transfer charges.  Please click any ad below to offset the cost of bringing this news to you