In one of the most ominous developments in the U.S. Coronavirus outbreak, Mobile Morgue Trailers are being deployed outside of major US cities.
The photo above - and the enlarged one below -- show several of these trailers stashed on a farm in Joliet, IL, southwest of Chicago.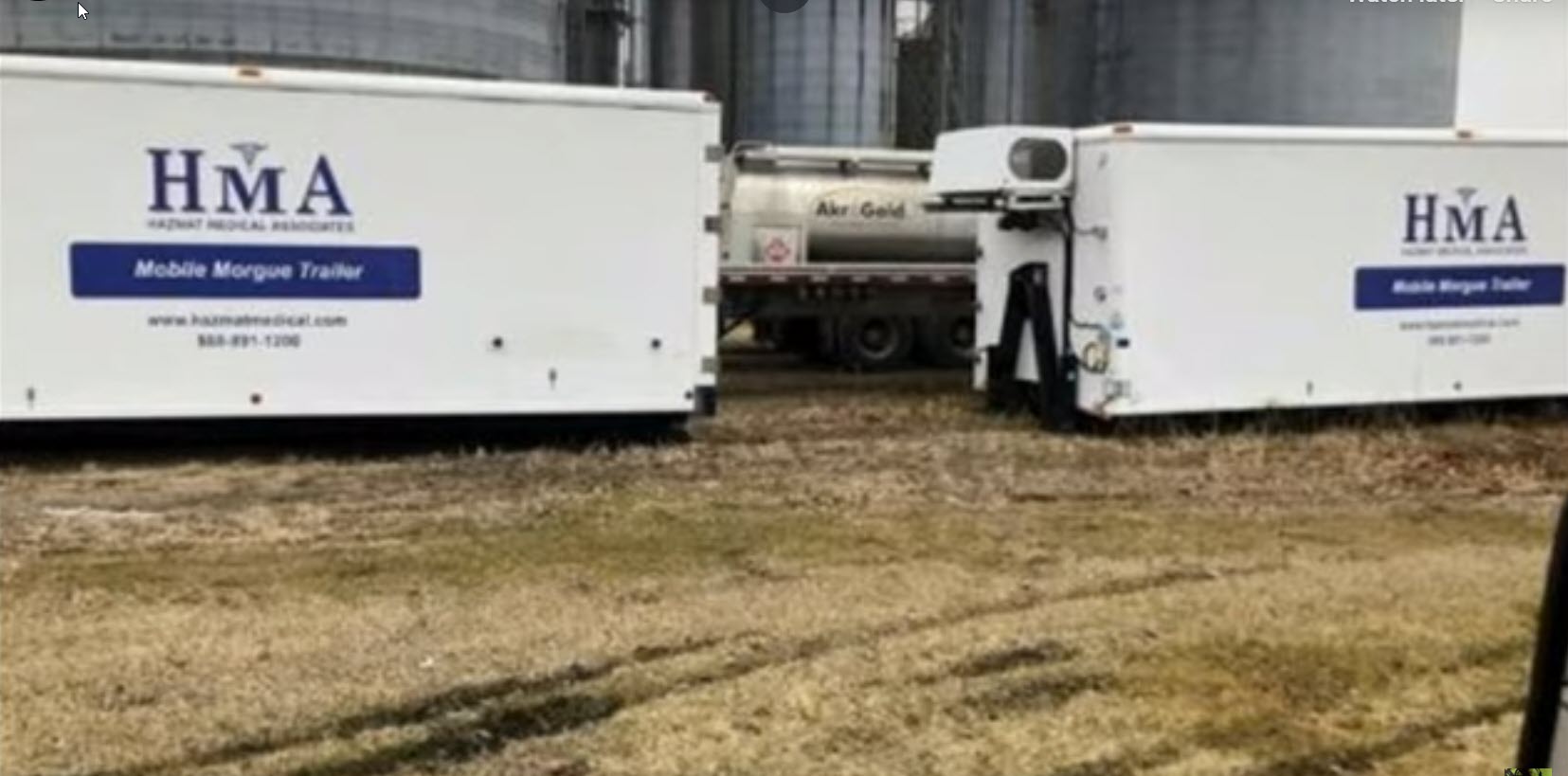 For those who still erroneously think "This is just the Flu" may we respectfully point out that never before have mobile morgue trailers been deployed for victims of flu;   This outbreak is NOT "just a Flu."
And for those who are just flat out stupid, the reason these morgue trailers are being deployed is because officials believe the number of dead bodies coming from this outbreak will overwhelm local coroner's offices.
FYI . . .
As of Monday, Morning, March, 23, 2020 at 9:00 AM Eastern US Time, this radio show and web site has received $3,571.20 in donations toward April operations. This money came in from My Birthday, March 15.  So we're well on our way to meeting expenses and are a little over halfway there right now.  If you haven't yet donated, PLEASE do so.  Money is very tight and the web site bandwidth carges are already headed to $2600 for this month becuase so many people are coming here for REAL information about the coronavirus outbreak.  I need your help to cover those costs, as well as the normal costs to air the radio show, have the caller phone lines, the fiber optics and such to carry the show.   Its a big expense which I cannot do without YOUR help.

Due to the ongoing and worsening outbreak of Coronavirus, the Hal Turner Show is opening monthly Fund Raising early, in the hope the you find this show worthy of your financial support, to continue reporting the REAL FACTS.

The radio show has NO COMMERCIAL ADVERTISERS and relies completely on Listener Donations to surivive.  

Please either click the DONATE button below, or send cash, check or Money order to the address below.  Your money pays for THIS WEB SITE, the radio station air time costs, Fiber Optics to carry the show to the radio stations, the phone lines, the music licensing fees and all the rest.  Without YOUR help, this endeavor cannot exist.
Thank you for your anticipated help!




Cash, Checks or Money Orders can be sent to:

Harold Turner
1906 Paterson Plank Road
1-A
North Bergen, NJ   07047-1902
USA