Electric power has blacked-out on Manhattan's upper west side, and five-hundred-megawatts of energy just STOPPED.   Numerous reports of no lights or air conditioning in the area of Lincoln Center (67th & Broadway) and farther north.  UPDATED:  This was NO ACCIDENT!
The full scope of the blackout is not yet known, but New Yorkers are NOT happy given the temperature in the city right now remains in the upper 80's.   Those tenement buildings will heat up very fast.
And with all the "diversity" living there, the smell will get raunchy fast, too.
UPDATE 7:21 PM EDT --
30 Rockefeller Plaza just has a power SURGE.
Radio City Music Hall has no electricity either.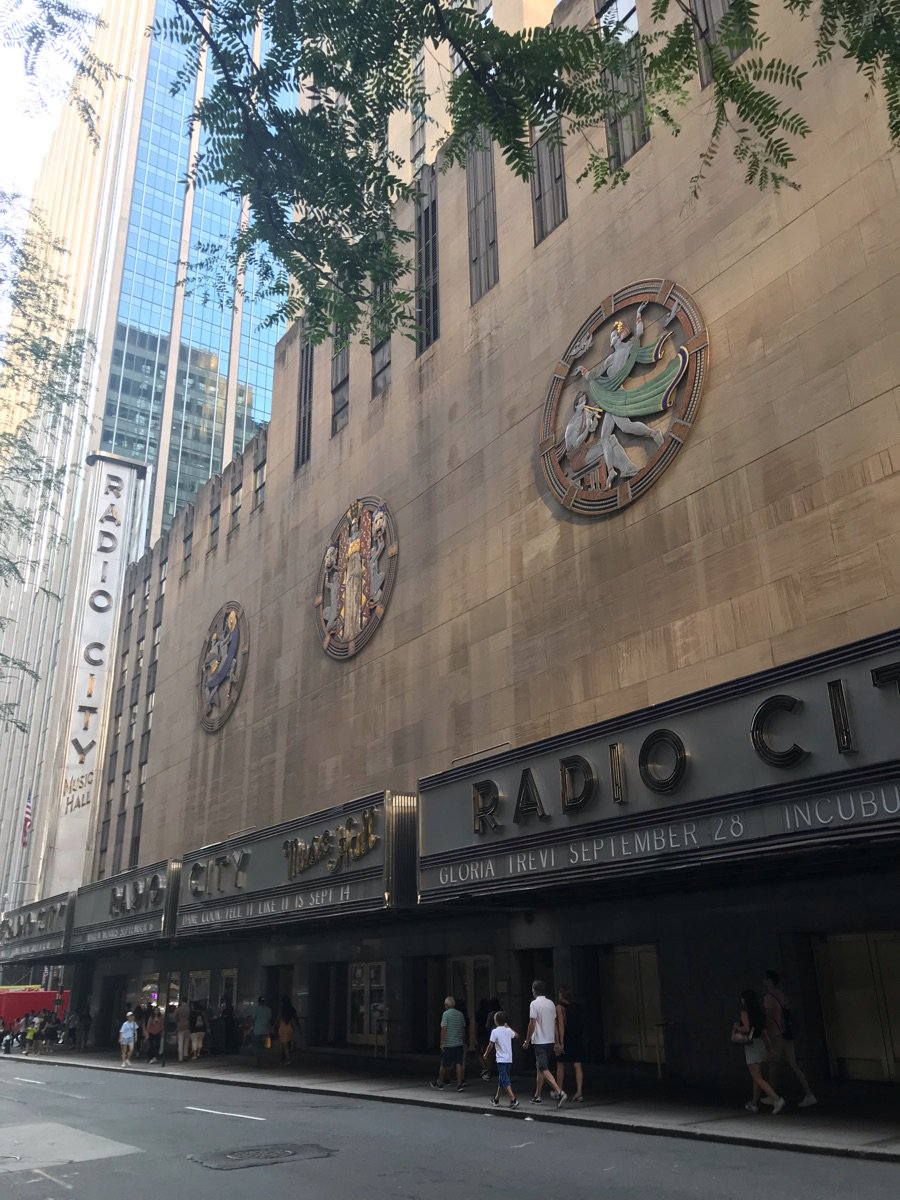 The AMC Movie Theaters at Lincoln Square forced all movie-goers to evacuate.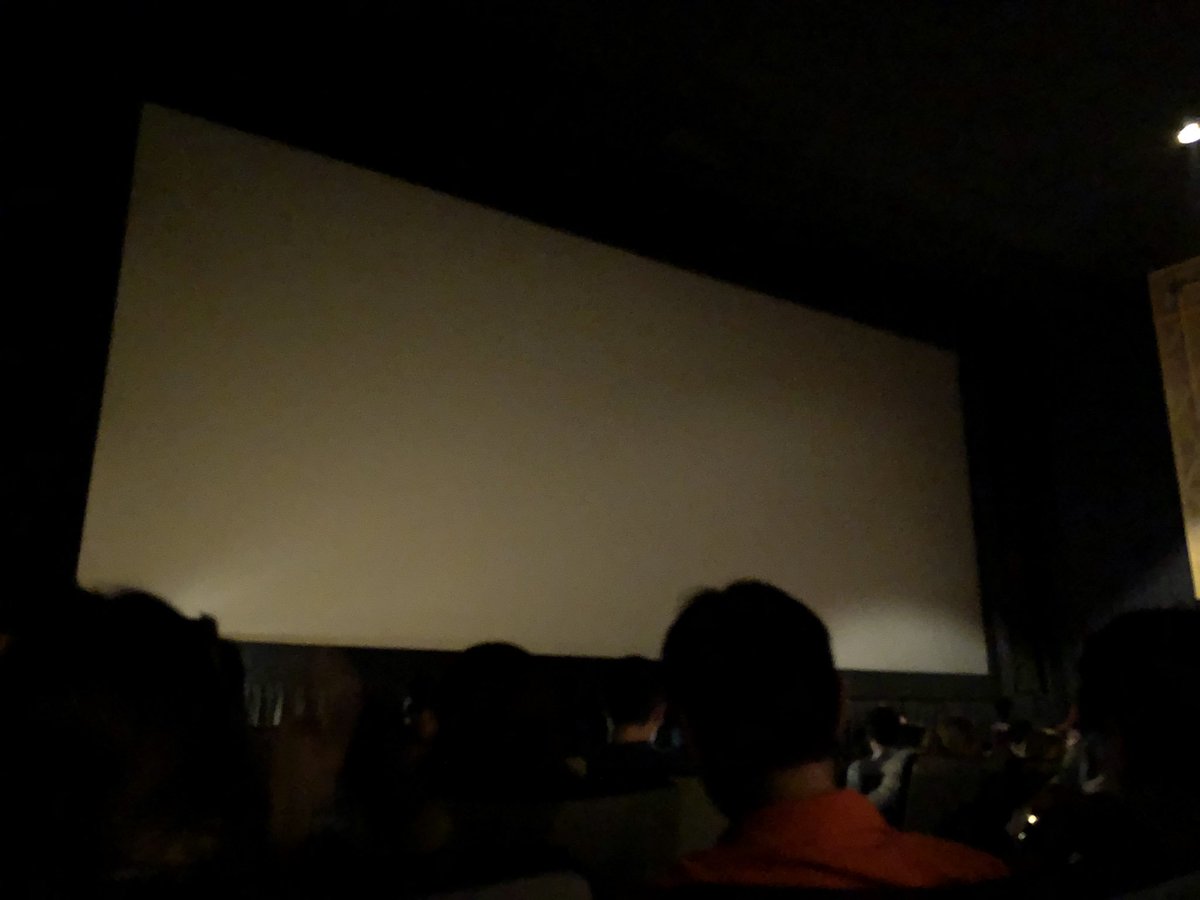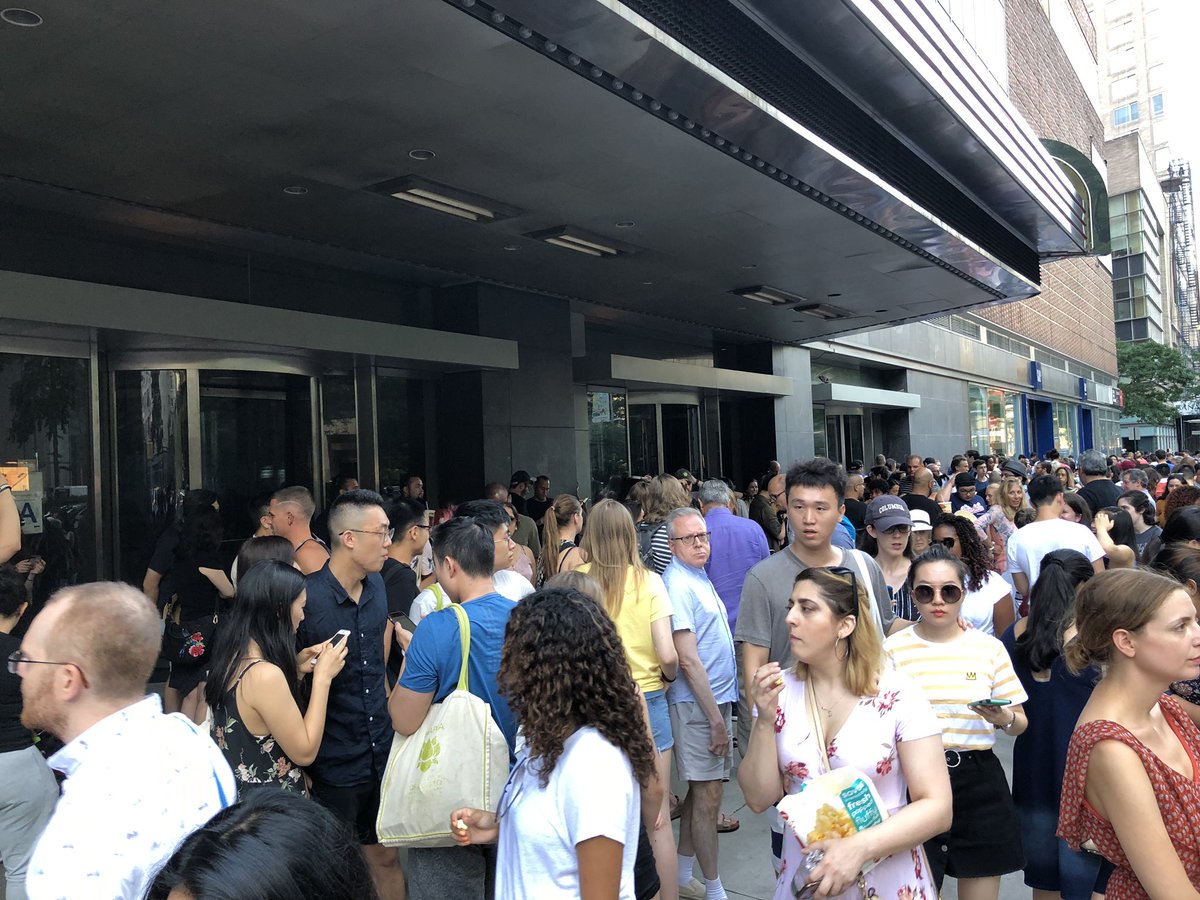 Emergency lighting is activated inside the 59th Street subway station: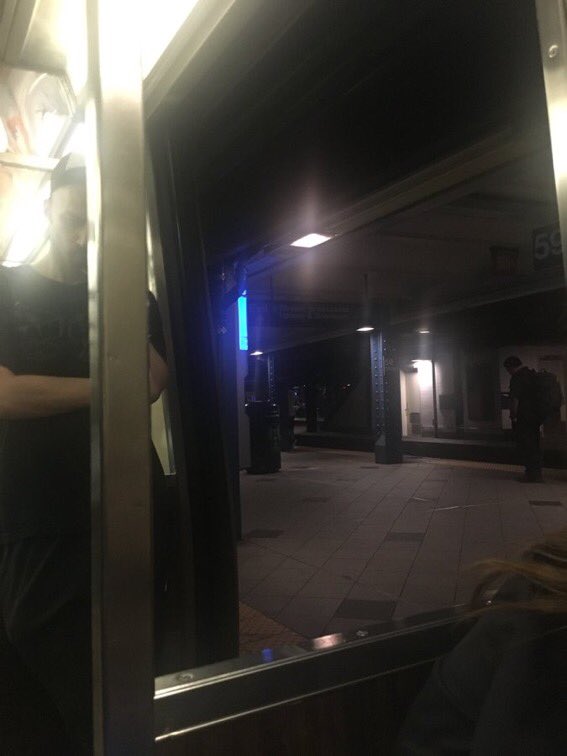 Con Edison is reporting an outage for 19,739 CUSTOMERS in Manhattan.   Bear in mind that a "customer" is not a one family home;  it could be a fifty story apartment building with five hundred families.  
Now, a map from ConEd showing most (not all) of the outage)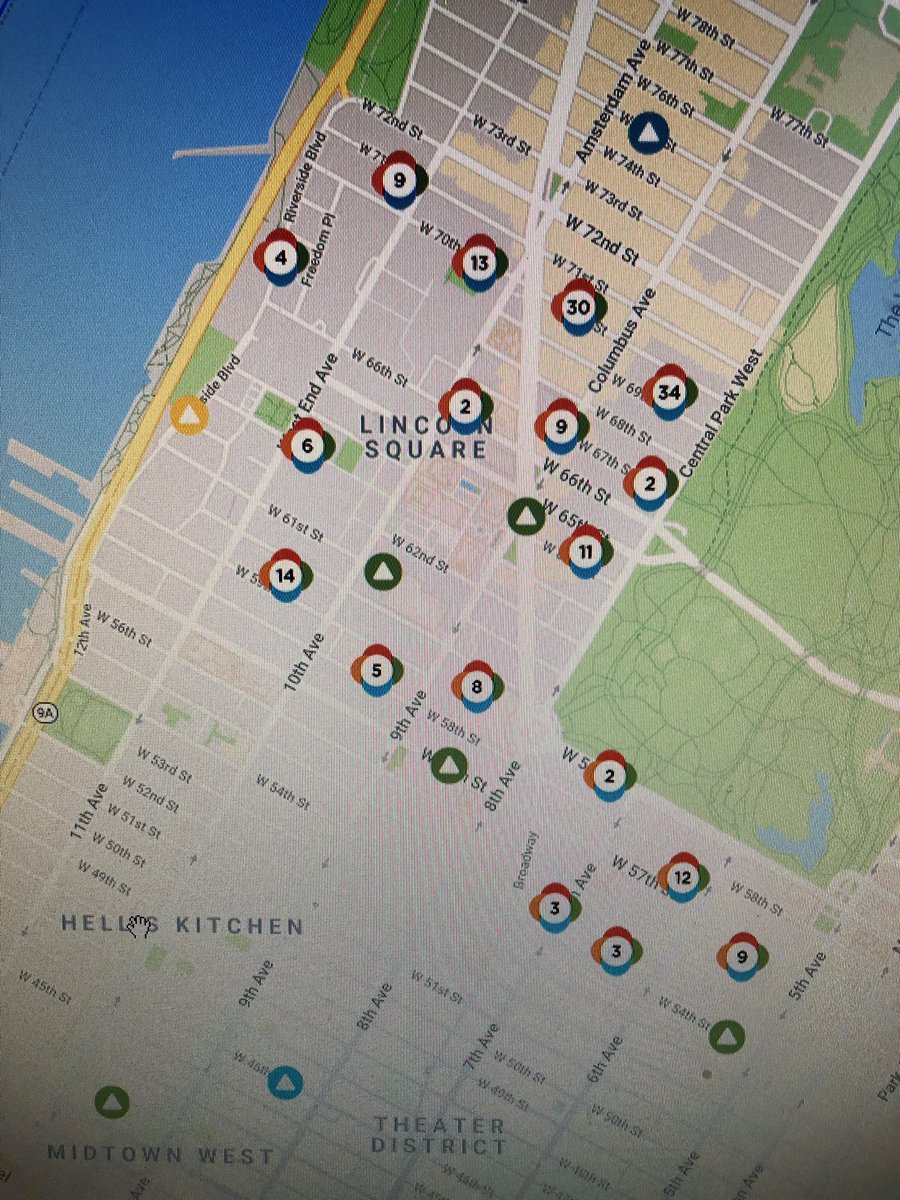 Mass Transit riders exiting the trains at 66th St report no lighting AT ALL in that subway station. "People using cell phone flashlights to get out."
UPDATE 7:39 PM EDT --
Reports now coming in from the area of 33rd Street, that SMOKE is coming from Madison Square Garden
COVERT INTEL
Subscribers Only --  This blackout is NOT an accident  . . .
PREMIUM CONTENT:  
This section of the article is only available for Subscribers who support this web site with $1 a week billed either Quarterly ($13) or monthly ($5).
This is necessary because this is a CLOUD-BASED web site.  The way it works is YOU READ . . . I GET BILLED for "Data Transfer."
Despite being politely asked for voluntary donations, few people ever bothered to donate. Then, despite being asked to click an ad within a story to generate ad revenue for this site, the majority of the general public couldn't be bothered with that, either. So there's no reason to give the general public free news anymore; they don't pull their own weight.
With tens-of-thousands of people reading stories here every day, the costs nearly drove the site out of business.
In order to be able to continue providing cutting-edge news, often hours or even DAYS before Drudge and most of the "mass-media" -- if they even cover it at all -- I need to be able to sustain this effort. To do that, I rely on folks like YOU contributing a pittance of about $1 a week;  which is chump-change that you won't even miss!  Yet that small amount makes all the difference in the world to the continued existence of this web site.
In the final analysis, knowledge is power.  Getting information first, or info that other sources simply don't report, is usually well worth a few bucks in the long run.
Please click here to choose a subscription plan in order to view this part of the article.
Subscribers LOGIN to see the story.  
*** If you are having trouble logging-in, email: This email address is being protected from spambots. You need JavaScript enabled to view it.
YOU MUST SET YOUR WEB BROWSER TO "ACCEPT COOKIES" FROM THIS SITE IN ORDER TO LOGIN OR ELSE YOU WILL NOT BE ABLE TO SEE PREMIUM CONTENT.
More updates for the General Public will appear below . . . .
UPDATE 7:47 PM EDT --
"Police are reporting several trains are stuck between 47th-50th St Rockefeller Center and the 57th St station." 
UPDATE 7:50 PM EDT --
Now getting reports of transformer explosions and fires on 64th St at West End Avenue.
Metropolitan Transit Authority (MTA) saying power now failing in Midtown Manhattan; subways stuck.
 Because of the ongoing power outages, there is limited subway service into Manhattan from Brooklyn, Queens, and the Bronx.

Please check [link to MTA.info] or the MYmta app for the status of your line, and we will continue to provide updates here.
Update: Because of the ongoing power outages, there is limited subway service into Manhattan from Brooklyn, Queens, and the Bronx.

Please check https://t.co/tyvPdlXfha or the MYmta app for the status of your line, and we will continue to provide updates here.

— NYCT Subway (@NYCTSubway) July 13, 2019
 COVERT INTEL
From Staff of Member of New York City Council -- 
PREMIUM CONTENT:  
This section of the article is only available for Subscribers who support this web site with $1 a week billed either Quarterly ($13) or monthly ($5).

This is necessary because this is a CLOUD-BASED web site.  The way it works is YOU READ . . . I GET BILLED for "Data Transfer."

Despite being politely asked for voluntary donations, few people ever bothered to donate. Then, despite being asked to click an ad within a story to generate ad revenue for this site, the majority of the general public couldn't be bothered with that, either. So there's no reason to give the general public free news anymore; they don't pull their own weight.

With tens-of-thousands of people reading stories here every day, the costs nearly drove the site out of business.

In order to be able to continue providing cutting-edge news, often hours or even DAYS before Drudge and most of the "mass-media" -- if they even cover it at all -- I need to be able to sustain this effort. To do that, I rely on folks like YOU contributing a pittance of about $1 a week;  which is chump-change that you won't even miss!  Yet that small amount makes all the difference in the world to the continued existence of this web site.

In the final analysis, knowledge is power.  Getting information first, or info that other sources simply don't report, is usually well worth a few bucks in the long run.

Please click here to choose a subscription plan in order to view this part of the article.

Subscribers LOGIN to see the story.  

*** If you are having trouble logging-in, email: This email address is being protected from spambots. You need JavaScript enabled to view it.

YOU MUST SET YOUR WEB BROWSER TO "ACCEPT COOKIES" FROM THIS SITE IN ORDER TO LOGIN OR ELSE YOU WILL NOT BE ABLE TO SEE PREMIUM CONTENT.
Additional updates for the general public will appear below. . . .
 UPDATE 8:12 PM EDT --
FDNY responding to over one THOUSAND calls for stuck, occupied, elevators . . . .
Con Edison now says forty THOUSAND Customers without power in Manhattan.  Reminder, that's CUSTOMERS, not single family homes.  A "customer" can be a fifty story building with hundreds of families.
UPDATE 8:19 PM EDT --
Folks who are at Broadway shows are saying they've been evacuated and standing outside the theater.   That means the outage has now spread down in the forties on Manhattan's west side.
 UPDATE 8:24 PM EDT --
The official COVER STORY is now falling apart.  People are looking for the explosions and fires themselves and finding . . .  NOTHING:
Rode the bike over to 54th & WEA.
No sign of any fire or any problem here or anywhere near here. #blackout
No firefighters or ConEd workers anywhere in sight. pic.twitter.com/m5Xdm5ccHm

— Hal Strickland (@ThankGod4Karma) July 14, 2019
UPDATE 8:32 PM EDT --
Now the game is really up;  the lies are being exposed via social media.   My Subscribers know what's REALLY happening . . . via COVERT INTEL.
They can't get their story straight on how the power went down in Manhattan. Man hole fire,Substations pick one

— EndGameWW3 (@EndGameWW3) July 14, 2019
UPDATE 8:53 PM EDT --
Con Ed now reporting about 45,000 Customers without power.  The number keeps going up . . .
UPDATE 9:06 PM EDT --
Outage now down to 40th street and 8th avenue, the outage is spreading
UPDATE 9:58 PM EDT --
FROM A NEWS SOURCE: "I'm in my hotel on 37th and 8th. We just lost power. "  (THE POWER OUTAGE CONTINUES TO GET WORSE!)
9:24 PM · Jul 13, 2019
and; 
FROM ANOTHER NEWS SOURCE: "I'm in Penn station and lights just went out. Running on emergency lights"
10:03 PM EDT --  MADISON SQUARE GARDEN HAS JUST LOST POWER.  IT HAS 19,000 PEOPLE IN IT FOR A J-Lo CONCERT.
HERE'S VIDEO FROM INSIDE THE GARDEN AS EVACUATION ORDER GIVEN:
MSG evacuating pic.twitter.com/ekyLzdyW1n

— cganz (@mehpatrol) July 14, 2019
UPDATE 10:08 PM EDT --
Con Ed now reporting 51,200 without electric now.
UPDATE 10:10 PM EDT --
NYPD Officers on the streets told to expect outage to last another 6 hours until resolved.
National Guard being called in to NYC. -- 
UPDATE 10:20 PM EDT --
RESTORATION of partial power has begun. Electricity from 33rd-57th Streets has just come back on.
REMINDER: YOU can keep this web site FREE to the General Public by clicking one or more of the 12 ads below which generates Advertiser revenue of two to three cents per click - no purchase necessary by you -- and helps offset operating costs for this web site.