A sign has been posted outside a Popeye's Chicken in Missouri saying as of June 1, they may refuse to serve WHITE people.
The particular Popeye's store is located at: 
6475 Ronald Reagan Drive
Lake St. Louis, MO  63367
The notice announces the store will be under new management as of June 1 and "
". . . WILL RESERVE THE RIGHT TO REFUSE SERVICE TO WHITE PEOPLE"
It ends "Signed,
General Manager
Mason"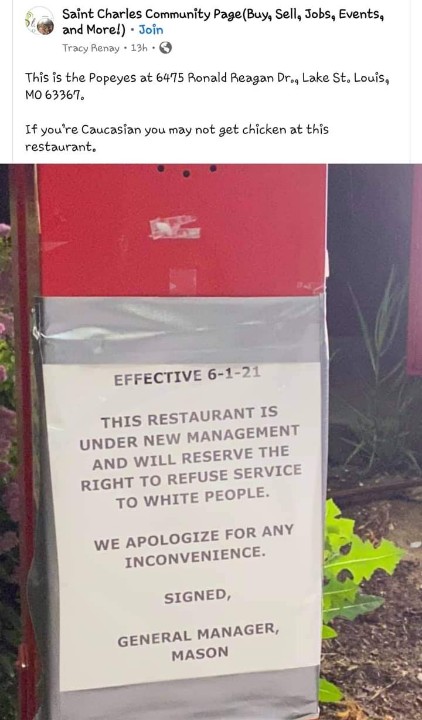 While we're not attorneys, and cannot render a legal opinion, as average people this sure looks like it is a federal civil rights violation; denial of a public accommodation based upon race.
UPDATE 7:31 PM EDT THURSDAY, 27 MAY 2021 --
LAKE ST. LOUIS, Mo. – A racially offensive poster outside a Popeye's drive-thru in Lake St. Louis has prompted a police investigation, but authorities say the restaurant and its employees had nothing to do with the sign.
"We are currently working and investigating a trespassing and possibly a related vandalism case which occurred at Popeyes located at 6475 Ronald Reagan Drive in Lake Saint Louis," according to a police statement. "Earlier this month, several drive through menu signs were spray-painted. Today, unknown subjects posted an inappropriate sign on the drive-thru window, unbeknownst to the business."
Additional photos of the sign in question have been sent to us and the one below shows the local reaction was not favorable:
ONLY THREE (3) DAYS LEFT -- June Fund Raising!
TODAY IS MAY 28 AND THAT LEAVES ONLY THREE (3) DAYS TO REACH THE GOAL.
The reason I am seeking $7500 this month has to do with the purchase of SIMIAN Broadcast Automation Software for the Bugout Studio location. The software itself cost $2000 and a guy told me last month that HE would donate the $2,000 to cover it; but the donation NEVER CAME.
Those of you who cannot or will not use online financial transactions, can mail cash, check or money order to:
Harold Turner
Post Office Box 421
North Bergen, NJ  07047
USA