Don your jackets and mittens, East Coasters. You're going to need them.
The next five to seven days won't just be cold — they'll be record breaking. 
That's according to data from the National Weather Service, which predicts that more than 200 record lows could be tied or set from Monday to Wednesday.
According to the National Weather Service, over 200 records could be tied or set during the first half of the week. This graphic from CNN represents a combination of both record lows and record cold highs through the period: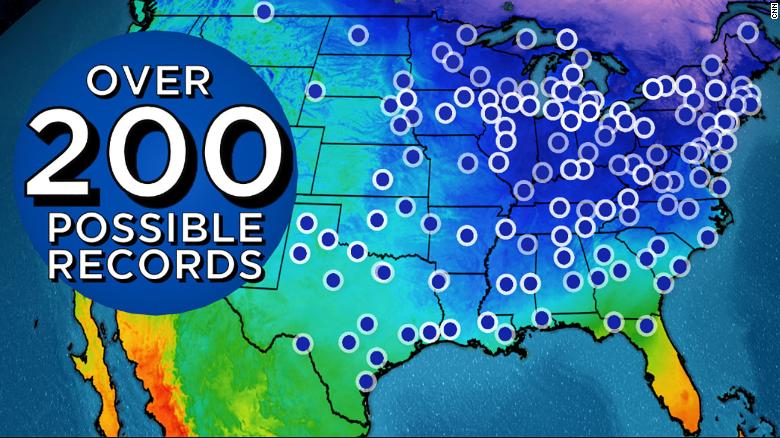 It's all part of the Arctic blast that's hitting the East Coast, bringing below-freezing temperatures to some places. On Monday, temperatures are expected to plummet in the Great plains, before moving farther east on Tuesday and Wednesday.
Record low temperatures are possible across Texas, Oklahoma and parts of the Ohio Valley starting Tuesday morning. By Wednesday, more than a dozen record lows could be set in the Deep South and the Gulf Coast, according to CNN meteorologist Taylor Ward.
Some places in the East could experience temperatures on Wednesday afternoon that are up to 30 degrees below average.
Now that you have read this story, please PAY for what your visit has cost this site by clicking one or more of the ads below which generates Advertiser revenue of two to three cents per click - no purchase necessary by you -- and helps offset operating costs for this web site.
When YOU read a story here, the web hosting company charges us for "data transfer / Bandwidth" to convey the material to you.  Without your help by clicking an ad below, this web site would be in danger of shut down from the data transfer charges.  Please click any ad below to offset the cost of bringing this news to you.