The Russian Federation will not conduct further discussions in the OSCE on proposals for security guarantees. It is also pulling Diplomatic Staff from the Russian Embassy in Kiev, Ukraine, and from the Russia Consulate in Lviv. The Russian Yamal Pipeline has booked no gas transit to Europe for February.
Moscow does not plan any further discussion at the Organization for Security and Cooperation in Europe (OSCE) on security guarantee proposals, Russian Ambassador to the OSCE Alexander Lukashevich says.
"I want to say that we did not, nor are we going to hold any discussions on our initiatives at the OSCE. This is an amorphous structure that has no international legal status," he stressed.
This organization has neither a charter nor a founding document and is in no position to influence the situation in the Euro-Atlantic region in any way at present. "However, initially, in the 1990s, the function of conducting negotiations and ensuring the trajectories of Europe's development was included in the OSCE's mandate," the envoy went on to say.
"Now, hardly any significant politician can say that the OSCE is capable of influencing NATO's behavioral habits or the EU's hardline policy towards Russia . It's the other way around actually," Lukashevich stressed.
On December 17, 2021, the Russian Foreign Ministry released a draft agreement on security guarantees between Russia and the United States and a draft agreement on ensuring the security of Russia and NATO member states. Russian-US consultations on the issues took place in Geneva on January 10, followed by a meeting of the Russia-NATO Council in Brussels on January 12 and a session of the Organization for Security and Cooperation in Europe's Permanent Council in Vienna on January 13. Thus far, Diplomacy has not worked. At all.
Pulls Diplomats/Staff
18 Russian people — mostly the children and wives of Russian diplomats — boarded buses and embarked on a 15-hour drive home to Moscow from Kiev, Ukraine, according to a senior Ukrainian security official.
About 30 more followed from Kiev and a consulate in Lviv, in western Ukraine. Diplomats at two other Russian consulates have been told to prepare to leave Ukraine, the security official said, speaking on the condition of anonymity to discuss national security matters.
As Diplomatic efforts continue to fail, it is clear to most rational people that Russia is preparing for the situation to change to something other than Diplomacy.  In the US and Europe, the highly skilled college graduates in government, fail to see the obvious.  Instead, they wonder aloud if this removal of Diplomats is some type of feint on Russia's part.
Apparently, the NPC's who staff the US State Department can only think the way they themselves actually are.   In other words, they seem to think this might be a head fake because that's what THEY would do.
One seasoned Diplomat we spoke to about the situation told us "when high ranking Diplomatic staff are of such dishonest character that their sly thinking ignores the obvious, the world is in big trouble."  
GAS PIPELINE OFF
In related news, Russia's natural gas giant, Gazprom, reports no booking of natural gas transit through the Yamal-Europe pipeline for February, and no booking of natural gas through any Ukraine Pipelines for February either.
It appears Europe will be getting zero natural gas from Russia just as Winter reaches its coldest point.
(Hal Turner Remark:  Maybe the nitwits at the US State Department or their Dingbat counterparts at NATO can explain this as some type of head fake when the people of Europe are freezing to death without gas to heat their homes.  Stupid is as stupid does, and by the looks of how they've botched the Russia situation to date, its doesn't seem to be any stretch to regard US State Department personnel and NATO Staff as a Special Kind of Stupid.)
BONDS PLUNGING
Meanwhile, the money people already see clearly what's coming; Ukrainian Bonds are plunging in markets all over the world:
BRTIAIN STIRS THE POT
Ever willing to stir the pot of other people's simmering troubles, the British have announced they are sending Troops to Ukraine:
In addition, both British and US military cargo planes are now engaged in an almost air-ferry operation to bring weapons into Ukraine.  C-17's are landing at very increased pace since yesterday: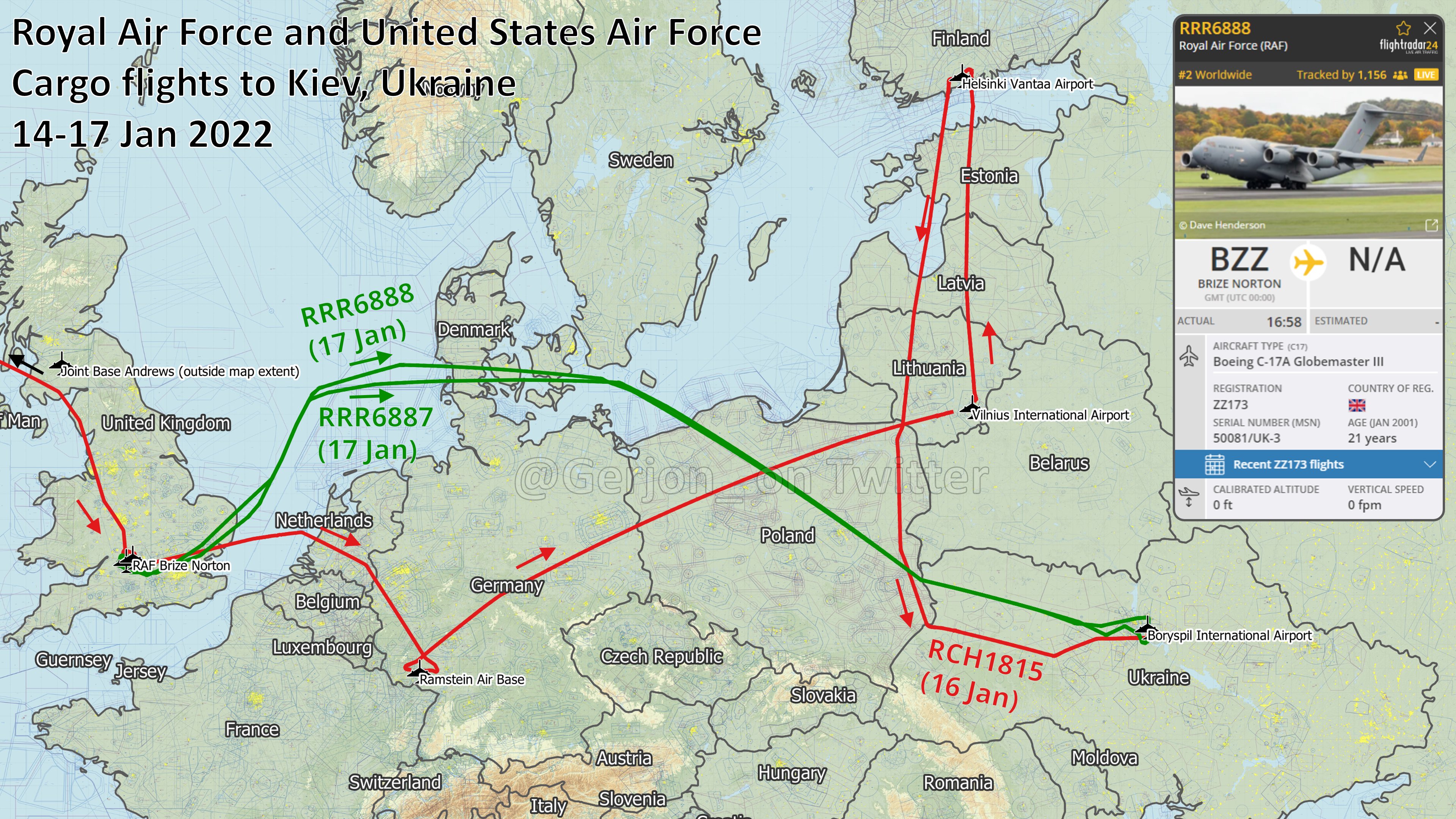 We think the British may want to send a whole slew MORE to offset what NATO is going to get from Germany.   The German Army seems a bit less than . . .  manly: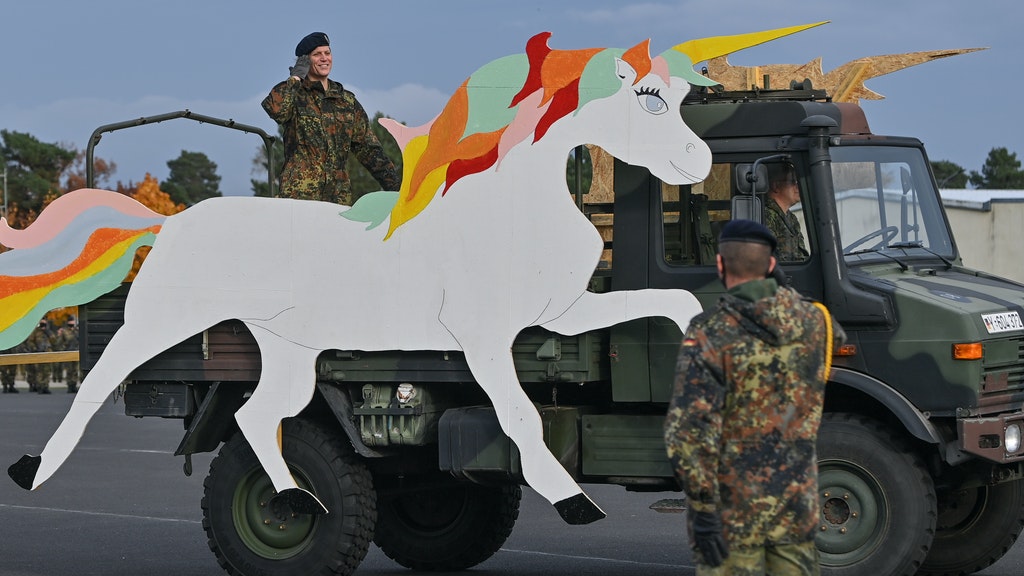 Come to think of it, the American military just doesn't seem to be what it used to be either. As reported by the Washington Times and numerous other media outlets across the country, cadets from Arizona State's ROTC program recently donned their Army Combat Uniforms and red high heels to help raise awareness for sexual assault and harassment.:
And the women in the US Army don't seem to be very military either.  Said one Twitter user "We're doomed."
We're doomed. #Military #America #armedforces #sundayvibes pic.twitter.com/00zmgHKvuo

— Tyler (@Ironworker05) January 16, 2022
If this is what constitutes "NATO"  we may actually win a war with Russia - the Russian troops might just be too busy laughing at us to actually fight.
And so it goes . . .