The US military's nuclear command and control aircraft have increased their number of daily flights since Russia's invasion of Ukraine, a US official says, a sign that the US strategic force has responded in some way to Russia's invasion of Ukraine.
The fleet of Boeing E-6 Mercury aircraft has flown more frequently since the invasion, which has not been previously reported. The commander of America's nuclear weapons says the posture of the US strategic force has not changed, but the increased flights mark a shift in the last week, even before Russian President Vladimir Putin said he would put his own strategic force, including nuclear weapons, on heightened alert.
The Boeing E-6 Mercury is an airborne command post and communications relay based on the Boeing 707.
The original E-6A manufactured by Boeing's defense division entered service with the United States Navy in July 1989, replacing the EC-130Q.
This platform, now modified to the E-6B standard, conveys instructions from the National Command Authority to fleet ballistic missile submarines, a mission known as TACAMO ("Take Charge And Move Out").
The E-6B model deployed in October 1998 also has the ability to remotely control Minuteman ICBMs using the Airborne Launch Control System.
The E-6B replaced Air Force EC-135Cs in the "Looking Glass" role, providing command and control of U.S. nuclear forces should ground-based control become inoperable. With production lasting until 1991, the E-6 was the final new derivative of the Boeing 707 to be built.
Here is a FlightRadar map showing how many of these planes are up on a recent day.   (HT REMARK:  Too many.   Someone is VERY worried)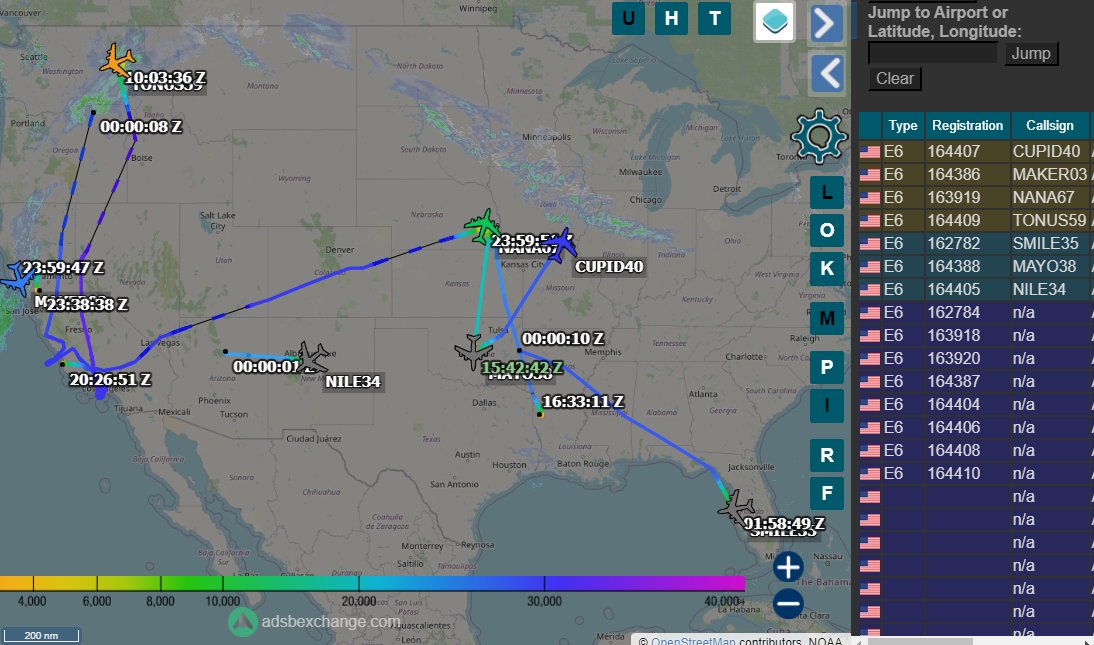 Codenamed "Looking Glass," it is United States Strategic Command's (USSTRATCOM) Airborne Command Post (ABNCP), designed to take over in case the Global Operations Center (GOC), located at Offutt Air Force Base, Nebraska, is destroyed or incapable of communicating with strategic forces. The term "Looking Glass" is used because the ABNCP "mirrors" the abilities of the US Strategic Command GOC to control nuclear forces.
The E-6 fleet is based at Tinker Air Force Base, Oklahoma, and operated by Fleet Air Reconnaissance Squadron 3 (VQ-3), VQ-4, and VQ-7.