It is quite often that folks send me emails or postal mail suggesting Books to read or videos to watch.   I cannot and do not read them all.  But this caught my eye and I refer it to all of you because much of what is in it, is taking place right now!
 The book "FOCUS OF DEMONS" lays out the plans of certain "elite" for world domination by them, and a life of servitude and want for those few others who are ALLOWED to live.
For instance, on Page 107, the book talks about the elite plan to "eliminate 4 billion "useless eaters" through . . . "  Here's a screen shot: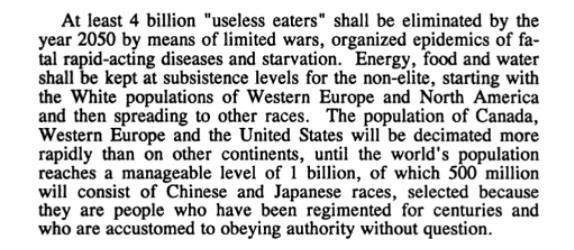 Is this not what we see taking place right now?   Limited wars.  Organized epidemics of fatal, rapid-acting diseases?  COVID-19???
Are we not hearing of food and supply shortages for the past year?
ELIMINATION OF CASH
The book covers a multitude of topics including a phase-out of cash and coin money:
Are we not already seeing the development of crypto-coins like BITCOIN?  Isn't there already talk about the US Federal Reserve presently developing their own digital currency to be called "FedCoin?"
Most interestingly, if any person, anywhere, offends the sensibilities of some powerful entity, their card can be shut off making it impossible for them to buy or do anything!
We already see this effort being undertaken by radical leftists (Commies like BLM and ANTIFA) getting people thrown off payment processors, getting web sites shut down or "de-platformed" and folks being driven out of their jobs for holding a viewpoint the masses don't like.  
How hard would it be to translate that malice into shutting off a digital currently card?  I think not hard for them at all!
Now, the book does contain some weird and whacky material.  Although what I think to be weird or wacky NOW, may end up coming to be in the future.   Who knows?
But I provide a link to the entire book, available FREE via Google, for your consideration.