UPPDATED 8:17 AM EST--  SEE BOTTOM -- Six F-16Is of the Israel Air Force's 107th  Squadron, each one carrying four Delilah cruise missiles, have left Hatzerim Air Base and headed toward Lebanon. They are waiting for intel to see if two planes heading for Damascus are weapons or not, to destroy them after unloaded.
Also, a G-V Nachshon Shavit airborne Signals Intelligence (SIGINT) with serial number 676  is now airborne assisting the other Shavit of Israel Air Force in monitoring radio communications of IRGC Quds Force in Syria.
Late last week, Iran wondered aloud if Russia had been deliberately turning OFF the new Syrian S-300 air defense system, to allow Israel to attack Iranian forces inside Syria.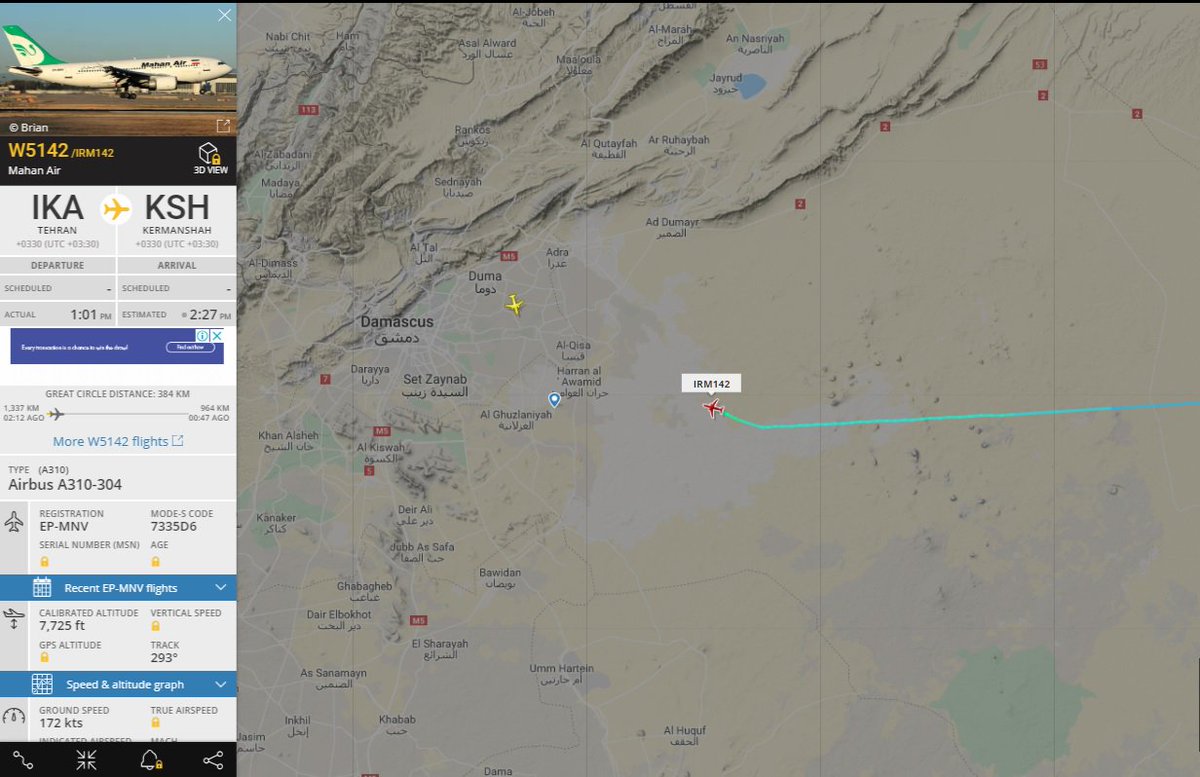 Perhaps today, we will see. . .
This is a fast-developing story, please check back for updates.
UPDATE 8:17 AM EST --
Syrian air defenses are engaging unknown target(s) along Syrian coast near Russia Air Base at Latakia
UPDATE 8:34 AM EST --
Reports indicate a Drone Attack has been repelled by Syrian air defenses.
--- ADDITIONAL UPDATES APPEAR BELOW RED TEXT BOX BELOW ---
NOTE: All day Saturday, a total of TWO (2) donations came in to help pay the costs of this web site and radio show for February.  That's TWO donations, despite over twelve THOUSAND of you who read articles here.   I thought you should know how many take, and how few donate. 
Without your immediate financial help, I am not certain this endeavor will be able to continue in February because I have five days to raise about $1900.
If you enjoy this news story, and the cutting-edge reporting on this web site, I implore you to please make a donation using the button below, to SUBSCRIBE for $1 a week, billed quarterly ($13) HERE, or $5 a month HERE.
It costs money to bring you the news.  I cannot do this without your help.  Please help right now.
UPDATE 8:49 AM EST --
AGAIN for the 2nd time IAF Israeli Air Force 4X984 Gulfstream G550 Nachshon Eitam GLF5 IAI EL/W-2085, (AEWC) multi-band radar system Tail:537 Icao: #738A4C, providing intelligence - now airnborne heading toward Syria coast.
 UPDATE 8:59 AM EST --
After landing in Tehran from Moscow yesterday, Iran's Cargo Pouya Air IL76TD EP-PUS from Tehran to Damascus is the first Iranian cargo flight since the last Israeli attack. 
UPDATE 9:02 AM EST --
Reports of sonic booms all over Israel, likely caused by Israeli jets breaking the sound barrier. 
Russian air defenses shot down three armed drones in the Jableh countryside this afternoon.
95 out of 320,786
With only today (Jan. 31) left before the bills come due, want all of you to know that since January 23 when this web site asked for reader support, ninety-five (95) people donated.  During that same  time period, 320,786 Unique visitors read content on this site.   95 out of 320,786 made a donation.  That's a donation rate of 0.00029%

$2,749.07 has come in toward the $3400 needed to fund this web site and radio show for February.  This includes $45 cash which arrived via postal mail on Monday.

Now that the change-over of this web site to Secure (SSL) is done, the Bills for the new style, layout, features and Security are due -- ON TOP OF the typical monthly costs for this web site and radio shows!

I need YOUR help to keep this endeavor alive through February.   Please subscribe for $1 a week billed quarterly ($13) HERE or $5 a month HERE. We accept ALL Credit Cards thru "STRIPE" or you can use Paypal.  (If you are having trouble with your subscription since the changeover of this site, please email This email address is being protected from spambots. You need JavaScript enabled to view it. )

If you cannot or do not use online financial transactions, you can still subscribe: When you get to the part about Payment Method, just select OFFLINE PAYMENT.  This will create your account but put it on HOLD until your payment arrives.   You can send cash, check or money order to:

HAROLD TURNER
1906 Paterson Plank Road
North Bergen, NJ  07047
USA


Please use the link or the BUTTON below it to donate via Credit Card (as a Guest) or by using your Paypal Account:    https://paypal.me/HalTurnerShow