Trading of the stock in Credit Suisse was HALTED overnight after another 15% plunge in its stock value.  Commerzbank dropped 11%. In the USA, Federal Republic dropped another 66%, with Western Alliance Bancorp down 52% and PacWest down 37% in pre-market trading.
Despite a staggering loosening of credit available to banks from the Federal Reserve over the weekend, Investor confidence is still plummeting for most of the same banks that saw this trouble late last week.
Whether these banks can avail themselves of the new, loosened credit resources and possibly save themselves today, remains to be seen.
During the weekend, a major bank started making headlines, when Depositors at Wells Fargo reported problems with account balances and funds availability had NOT been fixed by the bank.
Moreover, Depositors in Bank of America put videos on social media showing lines at some BoA branches filled with customers who could not get answers from the bank's customer service department.
Whether any of this turns into BANK RUNS today, remains to be seen.
OPINION
While many (myself included) thought the new credit availability from the federal reserve, wiped out the risk and solidified the banks over this past weekend, now, many (myself included) are not so sure.
If Investors keep selling bank shares, it __may__ prompt frightened Depositors into pulling money from the banks and at some point, very fast, that will still take out the banks.
Today seems to be fixing up to be a very wild (and dangerous) ride.   
The cartoon below seems to indicate how some people might react to Bankers not ponying-up the money:
(UPDATE 9:12 AM EST --
Look:
UPDATE 9:57 AM EST --
Looks as though Investors are ***NOT*** accepting government assurances about Banks.  Biden just came out at the White House to tell the public "the Banks are safe" but stocks now dropping for ADDITIONAL Banks:
First Republic Bank down 66%
Western Alliance Bancorp down 75%
PacWest Bancorp down 46%
Zions Bancorp down 44%
Bank of Hawaii down 42%
Customers Bancorp down 54%
East West Bancorp down 32%
Comerica down 39%
TRADING HALTED IN MULTIPLE BANK STOCKS AFTER OPENING BELL: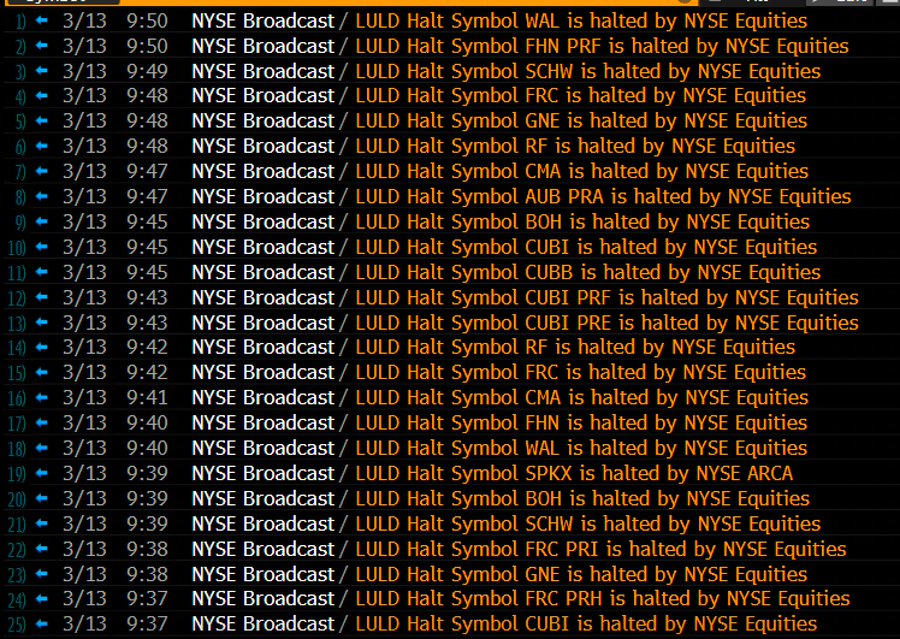 UPDATE 10:34 AM EST --
Majority of trading halts have re-opened for trading . . .  Let's see if the plunge resumes.
Big players in global finance are saying we're doomed . . . .
In my opinion the US financial sector is in terrible shape, US markets are highly manipulated, US Govt bonds are now considered a toxic asset with international demand drying up and the future outlook for the US economy couldn't be more dire. The total collapse is inevitable.

— Kim Dotcom (@KimDotcom) March 13, 2023
10:39 AM -- First Republic Bank, halted again, down 77%.
UPDATE 11:29 AM EST --
Europe is tanking too.
Large declines in the shares of EU banks:
Credit Suisse fell by 14%
UniCredit Bank fell by 9%
KbW Bank fell by 13.5%
Sabadell Bank fell by 11%
Santander Bank is down 8%
French minister tells investors to 'calm down' after banks stocks fall
France's Finance Minister Bruno Le Maire told investors on Monday to "calm down" after stocks in French banks including Societe Generale and BNP Paribas sank following the collapse of US lender Silicon Valley Bank.
"Calm down, calm down, and just have a look at the reality. The reality is that the French banking system is not exposed to the SVB," Le Maire told reporters in Brussels.
(Hal Turner Personal Opinion:    A lot of people are in denial of how bad it really is. SVB and Signature combined is $40B more than Washington Mutual was that caused the 2008 Great Financial Crisis. And we have 30 more banks in the red huge. This is a fucking bad situation; one I don't think anyone alive has ever faced to this point. 1929 bad.)