The Chinese government has begun moving troops across the Shenzhen Qianhai Guangshen Coastal Expressway Bridge into Hong Kong minutes ago, in a military operation to put down protests against the government of Beijing.
Hundreds of military trucks carrying soldiers and guns are moving at this hour across the Bridge into Hong Kong.
Enormous Columns of military trucks are entering the city:
The location of this massive troop movement is shown on the map below: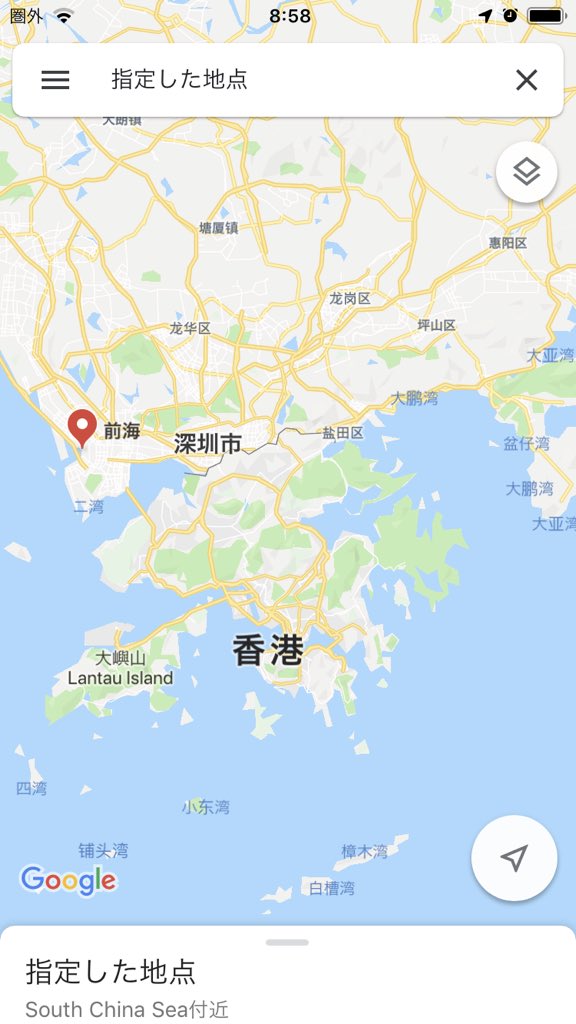 The protests have gone on for weeks as citizens of Hong Kong refused to accept a new law allowing them to be extradited to mainland China for "crimes" against the state.
Demonstrators numbered in the MILLIONS and authorities in Hong Kong and Beijing were aghast at the open defiance and public resistance.
They warned demonstrators to stop, but the protests continued.  Now, the People's Liberation Army (PLA) is moving into the city to stop the protests by force.
This is a developing story, check back for updates. . . 
UPDATE 9:24 AM EDT --
Army Columns have entered the city downtown:
Updates continue below Ad . . .
VIDEO from Downtown Hong Kong:
Covert Intel Sources are telling me these are Anti-Riot Shock Troops and that the protesters in Hong Kong are going to get their heads busted open by these troops.   Extreme force is already authorized; the government in Beijing seems to be going Full Mao.
 Additional updates to follow . . . check back
UPDATE 10:06 AM EDT --
Hong Kong is supposed to have self rule until 2047 under terms of transfer from Britain to China.  Looks like that agreement is being forcibly thrown away today . . .
COVERT INTELLIGENCE
I have been briefed on what is ACTUALLY behind this situation and the world is entering an "End Game" right now.  Very severe implications.   Because this is COVERT INTELLIGENCE from my former colleagues with the FBI Joint Terrorism Task Force, with whom I worked on National Security Intelligence from 2003-2008, this particular information is for my SUBSCRIBERS ONLY. Additional Public Updates will appear below this content . . .
PREMIUM CONTENT:  
This section of the article is only available for Subscribers who support this web site with $1 a week billed either Quarterly ($13) or monthly ($5).
This is necessary because this is a CLOUD-BASED web site.  The way it works is YOU READ . . . I GET BILLED for "Data Transfer."
Despite being politely asked for voluntary donations, few people ever bothered to donate. Then, despite being asked to click an ad within a story to generate ad revenue for this site, the majority of the general public couldn't be bothered with that, either. So there's no reason to give the general public free news anymore; they don't pull their own weight.
With tens-of-thousands of people reading stories here every day, the costs nearly drove the site out of business.
In order to be able to continue providing cutting-edge news, often hours or even DAYS before Drudge and most of the "mass-media" -- if they even cover it at all -- I need to be able to sustain this effort. To do that, I rely on folks like YOU contributing a pittance of about $1 a week;  which is chump-change that you won't even miss!  Yet that small amount makes all the difference in the world to the continued existence of this web site.
In the final analysis, knowledge is power.  Getting information first, or info that other sources simply don't report, is usually well worth a few bucks in the long run.
Please click here to choose a subscription plan in order to view this part of the article.
Subscribers LOGIN to see the story.  
*** If you are having trouble logging-in, email: This email address is being protected from spambots. You need JavaScript enabled to view it.
YOU MUST SET YOUR WEB BROWSER TO "ACCEPT COOKIES" FROM THIS SITE IN ORDER TO LOGIN OR ELSE YOU WILL NOT BE ABLE TO SEE PREMIUM CONTENT.
Additional updates will appear here as news develops . . .
 UPDATE 11:46 AM EDT --
Hong Kong has fallen into violence amid the 10th straight week of protests, as police fire tear gas on thousands of demonstrators donning yellow helmets and black clothing.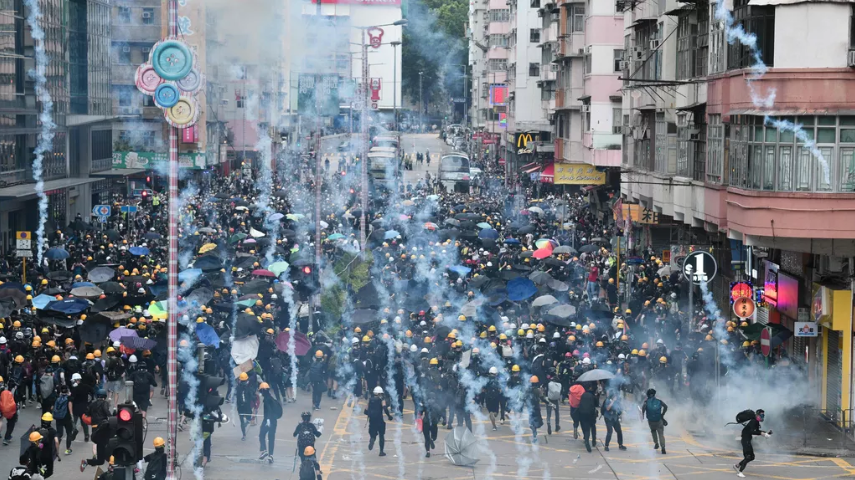 The protests were sparked by outrage over a controversial extradition bill which would have allowed suspects to be transferred to mainland China to face trial. In response, the government shelved the bill - however much like France's Yellow Vest movement, Hong Kong's demonstrators have expanded their cause into a general anti-government protest despite Beijing's dire warnings that a nearby military contingent will use deadlier measures to control the situation. 
UPDATE MONDAY, AUGUST 12 - 10:52 AM EDT --
Armored vehicles are now deploying from Shenzen toward Hong Kong.  Pics and story HERE
REMINDER: YOU can keep this web site FREE to the General Public by clicking one or more of the 12 ads below which generates Advertiser revenue of two to three cents per click - no purchase necessary by you -- and helps offset operating costs for this web site.