The "Vice-Admiral Kulakov," an Udalay-class Destroyer of the Russian Navy has arrived in Cuba for an official visit for the first time in a long time, and there is dangerous news for the United States . . .
Shortly before the Russian navy warship arrived, talks were held between the leaders of Cuba and Russia and their defense ministries. The result is statements to strengthen not only economic cooperation, but also military-technical cooperation.

According to American military experts, this could mean the return of Russia to Cuba with all the resulting consequences: the deployment of Russian troops and long-range missiles.

This will be a decisive Russian response to the threats posed by the expansion of NATO's presence in Northern Europe and Japan.

Earlier, Cuban leader Miguel Díaz-Canel strongly condemned the entry into NATO of new members bordering Russia. "In light of hostile actions by the (NATO) alliance, Cuba is ready to place Russian missiles on its territory, again."
COVERT INTEL INDICATES CARGO SHIPS IN RUSSIA, "WITH A PRE-FILED TRANSIT ROUTE TO CUBA, "SEEM TO BE" IN PROCESS OF BEING LOADED WITH COMPONENTS FROM RUSSIAN MISSILE MANUFACTURING FACTORIES" 
Readers should note that back in 1962, the then-Soviet Union placed Medium Range and Intermediate Range nuclear missiles in Cuba with a five minute flight time to Washington, DC.  This resulted in the "Cuban Missile Crisis" wherein then U.S. President John F. Kennedy, imposed a naval blockade of Cuba and began massing U.S. troops in Florida for an invasion of Cuba to destroy those missiles.
For the 13 days when the crisis erupted, the world stood on the precipice of actual nuclear war.  The US had blockaded Cuba and was massing troops.  The Soviets faced a choice with the missiles: USE THEM or LOSE THEM.
This brief compilation of scenes from the Hollywood Movie "13 Days" briefly lays out how things went back then:
Of course, the movie is a dramatization. Compressing Thirteen Days into 145 minutes necessitates distortion of many specific historical facts. But the central themes of the movie and the principal "takeaways" are essentially faithful to what happened when JFK and Khrushchev stood "eyeball to eyeball" in 1962.
Back then, Soviet leader Nikita Khrushchev agreed to dismantle and remove those missiles, and the US agreed to remove its "Jupiter" missiles from deployment in Turkey, where they were aimed at the Soviet Union.
Today, the U.S. wants to bring Ukraine into NATO . . . to place US missiles on Ukraine soil . . . with a five minute flight time to Moscow.   Same situation as the Cuban Missile Crisis, but in reverse!
Russia told Ukraine "no."  Ukraine ignored Russia.  The Russian Army went in and is now smashing Ukraine.
The US and NATO are supplying Ukraine with weapons to kill Russians, so the Russians are now sending naval vessels to Cuba and Cuba says it is willing to accept Russian missiles.
Same type of crisis as in 1962, only this time, it was the US and NATO that started it by trying to bring Ukraine into NATO, so as to put US missiles in Ukraine.
This time, the prospect for actual nuclear war is very much greater because the fighting has already begun in Ukraine.
FOR ALL THE LATEST DETAILS, TUNE-IN TO TONIGHT'S HAL TURNER RADIO SHOW. Set a REMINDER or an ALARM in your cell phone to remind you to tune-in!!!!!
The show can be heard, worldwide, as follows:
Global High Frequency Radio Stations:
WBCQ on frequencies 7490  and  6160
WRMI on frequency 5950
WWCR on frequency 7520
Here in the Internet using this link:  http://stream.halturnerradioshow.com:8000/ then click "LISTEN" when you get to this page.  NOTE: This link DOES NOT GO ACTIVE until about one hour before showtime.   During that hour, it streams commercial-free music until the show starts.
FUND RAISING FOR AUGUST:
At the end of each calendar month, this site reaches out to Readers and Listeners like YOU to keep the lights on.  Carried to almost 100 countries around the world by Global, High-Frequency Shortwave Radio Stations WBCQ, WRMI, and WWCR, it is an expensive proposition to do this show five nights a week.
---
In addition to radio air time costs, there are six inbound telephone lines for folks to call-in and get on the air to tell the world what they think.  There is software licensing fees, pre-show music fees, Studio Fiber Optic Connections at the Metro New York City location with Cellular back-up.  At the "Bug-Out" location in Pennsylvania, all that has to be duplicated, but without Fiber Optics.  So in PA, there's a Cable modem as the primary feed distribution, cellular back-up, and TWO satellite Uplinks, along with battery back-ups and generator in case the rural electric goes down.
All this costs money to have, to operate, and to maintain.
THIS WEB SITE is also expensive, with monthly data transfer charges and hosting fees by Amazon Web Services, between about $2500 and $4600 per month, depending on how many of you come here to read stories.
You see, this is a cloud-based site.  It may be free for YOU to come read, but it is not free for ME;  I have to pay for the data transfer to YOUR web browsers!   And the online streaming audio is a BIG data transfer every night.  You listen, I pay.
Below is the FORECAST cost for this site, this month: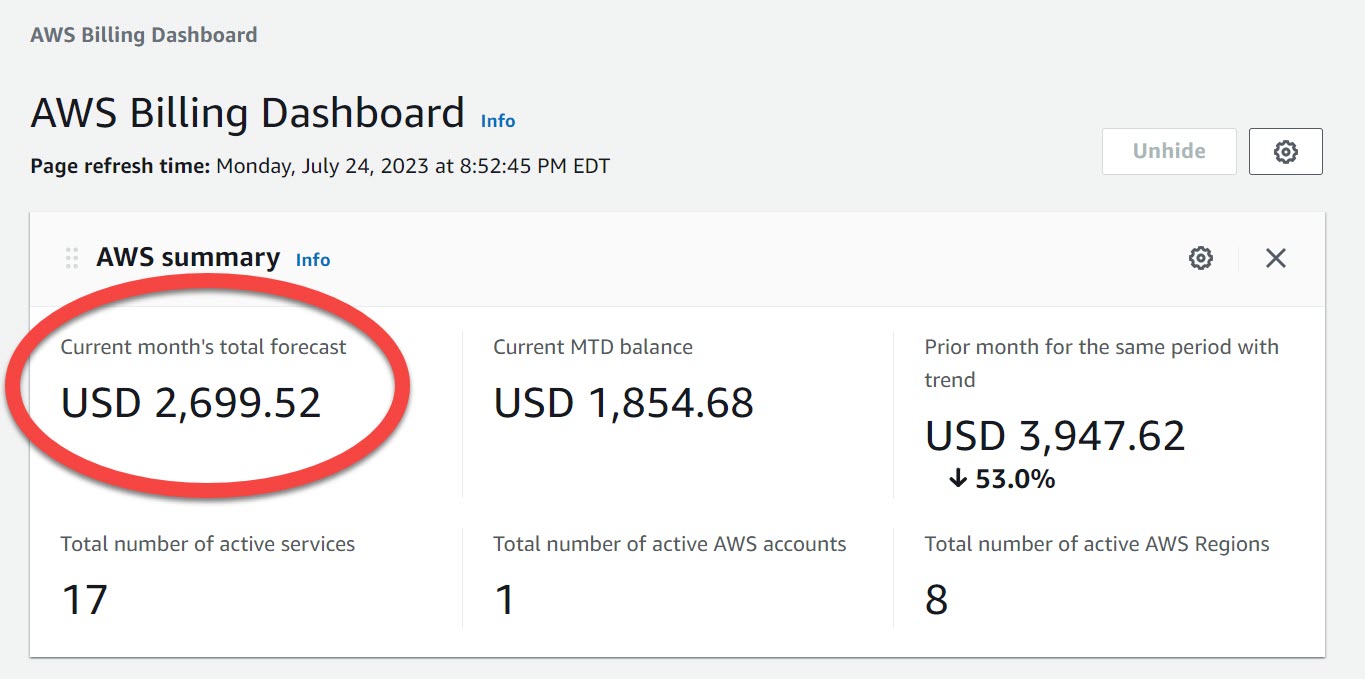 So each month, I ask those of you who enjoy the real free speech and cutting-edge news found here, to chip-in and help out.
Please use your Credit or Debit Card with the SECURE form below, to make a donation.   Without YOU, there is no Hal Turner Radio Show or Web site.
Those of you who cannot or will not use ONLINE financial transactions, can mail Cash, Check, or Money Order payable to:
HAROLD TURNER
Post Office Box 421
North Bergen, NJ  07047
USA