2:04 PM EDT Sunday, September 11, 2022 -- Within the past three hours, Russia has launched (and continues to launch) a massive barrage of cruise missiles against Ukraine. For the first time, they are hitting Electric Generating Stations.  Blackouts are now reported in many areas of Ukraine.
Sources inside the war zone caught video of Russian naval vessels, surface and submarine, launching "Kalibr" cruise missiles in almost every direction!
Updates coming within minutes . . .  check back
VIDEOS
Below showing the launches coming from naval vessels, being fired in MANY DIFFERENT Directions!
Next, a video showing some IMPACTS:
UPDATE 2:27 PM EDT --
Power stations hit, multiple western Ukrainian cities lost power.

Poltava, Sumy, Kremenchug and Kharkov lost power as well
UPDATE 2:29 PM EDT --
Reports coming from Ukrainian sources that, IN ADDITION TO THE CITIES LISTED ABOVE, Dnepropetrovsk, AND THE ENTIRE OBLAST OF ZAPOROZHYE have also been hit with total electrical blackouts.
This targeting of electric generating plants is a major change from how Russia has conducted itself for the prior 6+ months.
(HT REMARK: This . . . this right here . . .  is going to turn the Ukrainian people against the Kiev regime.  I suspect it will do so, fast.)
UPDATE 2:33 PM EDT --
Images are beginning to come in showing burning power plants.  Below, the Zmiev power plant burning at the very bottom of the image, after being hit by Russian Navy:
MORE:
Kharkiv Combined Heat-and-Power Plant (CHPP) No. 5 (Kharkiv CHPP-5), one of the most powerful CHP-plants in Ukraine— located near the village of Podvirky; was also hit .
MORE:
Dergachev city administration reports missile attacks on critical infrastructure.

Heating and power out
UPDATE 2:38 PM EDT --
The high voltage transmission lines have been knocked down in the Sumy region - the head of the OVA Dmytro Zhyvitsky has announced.  He says "Russia's Navy is obliterating Ukrainian infrastructure."
(HT REMARK: For 6 months critical infrastructure was not obliterated, broadcasting systems were not shut down. Even major transportation hubs were not destroyed. It looks like the gloves came off...)
BULLETIN
2:45 PM EDT --
Public water supplies in Kharkov and in Dnepropetrovsk are now OFFLINE.   No running water.
UPDATE 3:00 PM EDT --
Ukrainian residents ordered to disconnect devices from the ELECTRICAL GRID as power equalization efforts begins amid Ukraine's struggle with remaining reserves. 
Power Plants Bombed/Exploding/On-Fire:
(Working to verify which is which as images coming in fast and furious)
Another one:
And a THIRD:
And a fourth:
UPDATE 3:07 PM EDT --
Electric trains stop across ALL Ukraine as power goes out amid hits on critical infrastructure.
Ukraine's air raid alarm map warning system . .  HAS STOPPED WORKING
SATELLITE VIEW OF UKRAINE BLACKOUT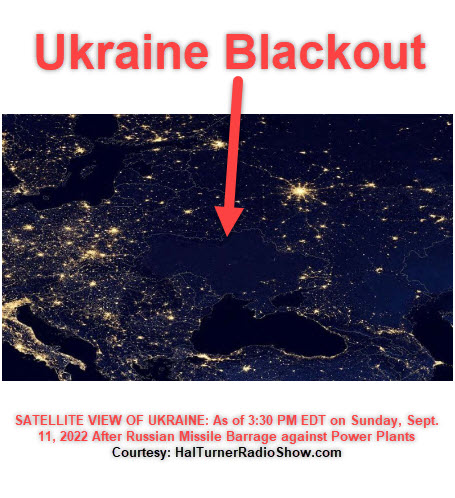 MAP OF DESTROYED POWER PLANTS 
Ones marked in color RED
I have received an **initial** report saying the power plants showing in RED below are either offline or destroyed:
CONFIRMATION: TRAINS ALL STOPPED
Video below from a train tunnel in eastern Ukraine confirms Train Service is now OUT in Ukraine:
UPDATE 6:01 PM EDT --
In addition to Multiple major power outages there are major water stoppages being reported, by Ukraine, In Kharkov, Kyiv, Kremenchug, Pavlograd, Poltava, Dnepropetrovsk & Sumy regions
POWER PLANT FIRE UPDATE - 6:05 PM EDT
In the UPDATE 2:33 PM shown above, we reported that Combined Heat and Power plant (CHPP) Number 5 in Kharkiv had been hit by a cruise missile and was on fire.  We now have video from that very scene:
UPDATE 10:15 PM EDT --
Power outages have now spread to the neighboring countries of Moldova at the southwest of Ukraine and to . . .  Poland at the northwest of Ukraine.  Border crossing areas at the Poland Border appear to have no electricity.
In addition, INTERNET CONNECTIVITY has plummeted throughout Ukraine as shown on the chart below:
COVERT INTEL - "STARLINK"
This content is for Subscribers Only. General updates will resume below the green shaded area.
PREMIUM CONTENT:  
This section of the article is only available for Subscribers who support this web site with $1 a week billed either Quarterly ($13) or monthly ($5).
This is necessary because this is a CLOUD-BASED web site.  The way it works is YOU READ . . . I GET BILLED for "Data Transfer."
Despite being politely asked for voluntary donations, few people ever bothered to donate. Then, despite being asked to click an ad within a story to generate ad revenue for this site, the majority of the general public couldn't be bothered with that, either. So there's no reason to give the general public free news anymore; they don't pull their own weight.
With tens-of-thousands of people reading stories here every day, the costs nearly drove the site out of business.
In order to be able to continue providing cutting-edge news, often hours or even DAYS before Drudge and most of the "mass-media" -- if they even cover it at all -- I need to be able to sustain this effort. To do that, I rely on folks like YOU contributing a pittance of about $1 a week;  which is chump-change that you won't even miss!  Yet that small amount makes all the difference in the world to the continued existence of this web site.
In the final analysis, knowledge is power.  Getting information first, or info that other sources simply don't report, is usually well worth a few bucks in the long run.
Please click here to choose a subscription plan in order to view this part of the article.
Subscribers LOGIN to see the story.  
*** If you are having trouble logging-in, email: This email address is being protected from spambots. You need JavaScript enabled to view it.
YOU MUST SET YOUR WEB BROWSER TO "ACCEPT COOKIES" FROM THIS SITE IN ORDER TO LOGIN OR ELSE YOU WILL NOT BE ABLE TO SEE PREMIUM CONTENT.