UPDATED 12:23 PM EDT --
10:13 AM EDT -- A Turkish F-16 from Ganja airbase has shot down an Armenia Air Force Su-25 fighter jet. Pilot killed. (Photo above)
This formally brings Turkey into the war between Azerbaijan and Armenia.  
This is a massive escalation in the conflict and will very likely be the impetus for other nations to now come into the fray.
Folks with investments in Turkey or in the Turkish currency would do well to DUMP those investments and currency as fast as possible.  Turkey will be worthless within hours.
Developing, check back for updates below.
UPDATE 10:56 AM EDT --
Turkey denies Yerevan's claims that it shot down an SU-25 belonging to Armenian military, Communications Director Altun says . . .
However the Armenian spokesperson from the Ministry of Defense is adamant:
During this period, the air defense units of the RA AF carried out SAM missile fire. While the F-16 was performing a combat mission during anti-aircraft fire and the ensuing air battles, the Turkish fighter shot down a Su-25 fighter of the RA Air Force in the airspace of the RA.

— Shushan Stepanyan (@ShStepanyan) September 29, 2020
UPDATE 11:20 AM EDT --
Here is a regional map showing the conflict as it stands today:
UPDATE 11:44 AM EDT --
MoD of Armenia: "Azerbaijan's actions leave no other choice but to switch to the use of long-range missile strike systems."
Azerbaijan targeted and destroyed a CIVILIAN BUS in Armenia: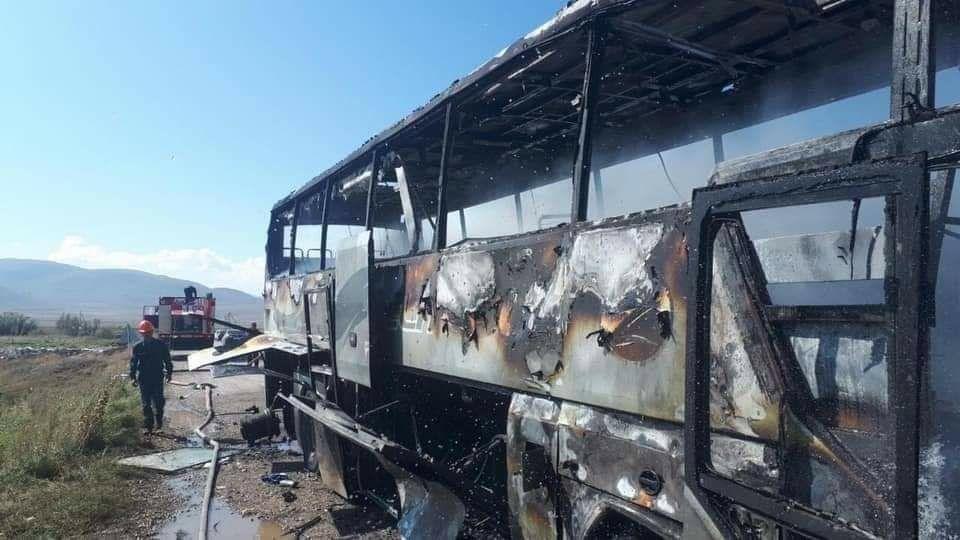 ***** BULLETIN *****
UPDATE 11:53 AM EDT --
Iran is now deploying troops and armor to its border with Azerbaijan.
Images taken minutes ago show deployment of T-72S main battle tanks & D-30 Howitzers of 216th Armoured Brigade of Iran Army on their ways to the border to counter any threat caused by Azerbaijan Army.
MORE . . .
Turkey is ready to help Azerbaijan "fully take back its occupied lands" of Nagorno-Karabakh from Armenia, says senior Erdogan administration official
UPDATES FOR THE GENERAL PUBLIC WILL CONTINUE BELOW THE SUBSCRIBER-ONLY COVERT INTEL . . .
COVERT INTEL
 SUBSCRIBERS ONLY
PREMIUM CONTENT:  
This section of the article is only available for Subscribers who support this web site with $1 a week billed either Quarterly ($13) or monthly ($5).
This is necessary because this is a CLOUD-BASED web site.  The way it works is YOU READ . . . I GET BILLED for "Data Transfer."
Despite being politely asked for voluntary donations, few people ever bothered to donate. Then, despite being asked to click an ad within a story to generate ad revenue for this site, the majority of the general public couldn't be bothered with that, either. So there's no reason to give the general public free news anymore; they don't pull their own weight.
With tens-of-thousands of people reading stories here every day, the costs nearly drove the site out of business.
In order to be able to continue providing cutting-edge news, often hours or even DAYS before Drudge and most of the "mass-media" -- if they even cover it at all -- I need to be able to sustain this effort. To do that, I rely on folks like YOU contributing a pittance of about $1 a week;  which is chump-change that you won't even miss!  Yet that small amount makes all the difference in the world to the continued existence of this web site.
In the final analysis, knowledge is power.  Getting information first, or info that other sources simply don't report, is usually well worth a few bucks in the long run.
Please click here to choose a subscription plan in order to view this part of the article.
Subscribers LOGIN to see the story.  
*** If you are having trouble logging-in, email: This email address is being protected from spambots. You need JavaScript enabled to view it.
YOU MUST SET YOUR WEB BROWSER TO "ACCEPT COOKIES" FROM THIS SITE IN ORDER TO LOGIN OR ELSE YOU WILL NOT BE ABLE TO SEE PREMIUM CONTENT.
UPDATE 12:23 PM EDT --
Armenia is now relocating some of its S-300 air defense systems from the Capital region of Yerevan and into the combat area closer to Azerbaijan.  
The Azerbaijani Defense Ministry threatened on Tuesday, to destroy Armenia's S-300 missile systems, which are being transported towards Karabakh.

"According to our information, the S-300 anti-aircraft missile systems that protect the airspace of Yerevan have been removed from combat service and are heading towards the occupied territories," Azerbaijani Defense Ministry spokesman Waqif Darkahli said at a press conference .

He added, "We announce that it will face the fate of the Armenian army's military equipment that was destroyed in Karabakh … The recent battles show once again that the legend of the invincible Armenian army is not based on any basis."

The Armenian Ministry of Defense said on Tuesday that it will not hesitate to use its powerful weapons if Turkey and Azerbaijan continue their aggression.
UPDATE 12:56 PM EDT --
Armenia has moved their Iskander missile launchers into place.
RELATED STORIES
Now that you have read this story, please COVER THE COST for what your visit cost this site by clicking one or more of the ads below the comments which generates Advertiser revenue of two to three cents per click - no purchase necessary by you -- and helps offset operating costs for this web site.
When YOU read a story here, the web hosting company charges us for "data transfer / Bandwidth" to convey the material to you.  Without your help by clicking an ad below, this web site would be in danger of shut down from the data transfer charges.  Please click any ad below to offset the cost of bringing this news to you