The attack by Azerbaijan against Armenia is already escalating very severely.  That attack commenced on Tuesday.  Yesterday, Iran began mobilizing troops to protect its border with Armenia and told Azerbaijan they will "not tolerate a change in Armenia geography."  Today, Turkey began moving 45,000 Reserve troops because they support Azerbaijan, and Iran upped the ante by commencing movement of heavy armor to back-up its troops.
Within days, the world could see the outbreak of yet another war; this on the south side of Russia . . . which is precisely what NATO. the EU and the USA want, so as to create havoc and require Russia to fight two wars on two fronts.
This all due to Russia entering Ukraine to de-Nazify it.
UKRAINE NAZI STATUS
Those claiming Ukraine is "not Nazi" and further claiming that "it is only propaganda," would do well to analyze CNN video from today. 
Here is a still image from a CNN report celebrating Ukraine's counter-offensive which recaptured some territory previously conquered by Russia.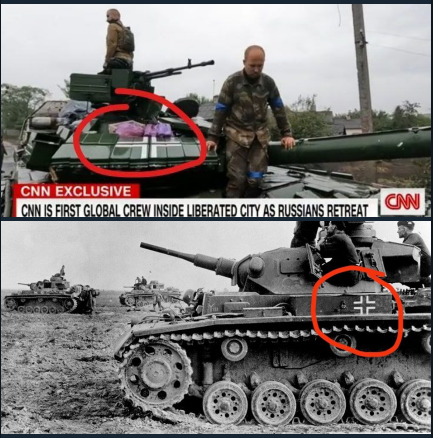 Note the white Cross painted on the front of the Ukrainian tank . . . and then note the image below from World War 2, showing what is on the side of the NAZI tanks from World War 2 . . . the exact same logo as the Ukrainians are using today on their tanks.
Ukraine has, in fact, gone NAZI.   By aiding and abetting Ukraine, the United States and the European Union are, in fact, NAZI Collaborators. 
REPORTS OF NATO ACTIVITIES IN MOLDOVA & GEORGIA
Four months ago, in April 2022, AFTER Russia had entered Ukraine, NATO began making overtures to the countries of Moldova, and Georgia. Below is video of NATO Chief Stoltenberg with the leaders of both those countries:
Here we are, just 5 short months later, in the country of Georgia, the political leadership moved to hold a public referendum on re-starting the war they had with Russia back in 2008, in which Georgia lost a land area known as South Ossetia. The map below shows the area:
Starting a second front would, it is thought, provide relief to Ukraine by forcing Russia to fight on two fronts.
In addition, REPORTS (unverified) are coming out of Moldova today indicating NATO Armor may be moving into Moldova from Romania.  Awaiting verification of those reports. 
We CAN VERIFY that the United States/NATO has mustered a very significant number of HIMARS Multiple Launch Rocket Systems on the Romania border with Moldova.  Video below, taken today, September 16, 2022, shows the HIMARS on the roads inside Romania AT the border of Moldova.   
From this position, these HIMARS can completely cross over the territory of Moldova and enter southwestern Ukraine, hitting (Russian) targets there.
HAL TURNER ANALYSIS AND EDITORIAL OPINION
We are now clearly seeing actual evidence of World War 3 preparations.  OUR GOVERNMENT in the USA, conspiring with governments in Europe, are literally moving troops and armor into position to fight a war against Russia, which WILL lead to nuclear war.
Russia has told the world from the beginning that if NATO comes against Russia, "it will be a war that no one will win."  Those were the precise words of Russian President Vladimir Putin.   
As most readers know all-to-well, the only "war that no one will win" is a nuclear war.
Yet our government is preparing to take actions that will result in exactly that.