The United States has suddenly REMOVED -- ALL -- of it's forward-deployed B-52 Bombers from Guam.  The official stated reason is one thing; but my former colleagues in the Intelligence Community tell me something FAR different, and it is not good.
The U.S. Air Force has ended its uninterrupted rotations of bombers to Andersen Air Force Base on Guam, which have been ongoing since 2004, as it shifts to a less predictable concept of operations. 
Five B-52H Stratofortresses left yesterday with no replacement aircraft in place, bringing an end to what the service had called the Continuous Bomber Presence Mission.
This notably came just days after the bombers took part in a massive "elephant walk" readiness drill that also involved six KC-135R aerial refueling tankers, an RQ-4B Global Hawk drone, as well as a U.S. Navy MQ-4C Triton drone, and an MH-60S Sea Hawk helicopter, which was seen as a significant statement of American resolve aimed China.
RADAR TRACK
USAF B-52Hs SEEYA01, 02, 03, 04 & 05 departed Andersen AFB, Guam en route home to Minot AFB, North Dakota.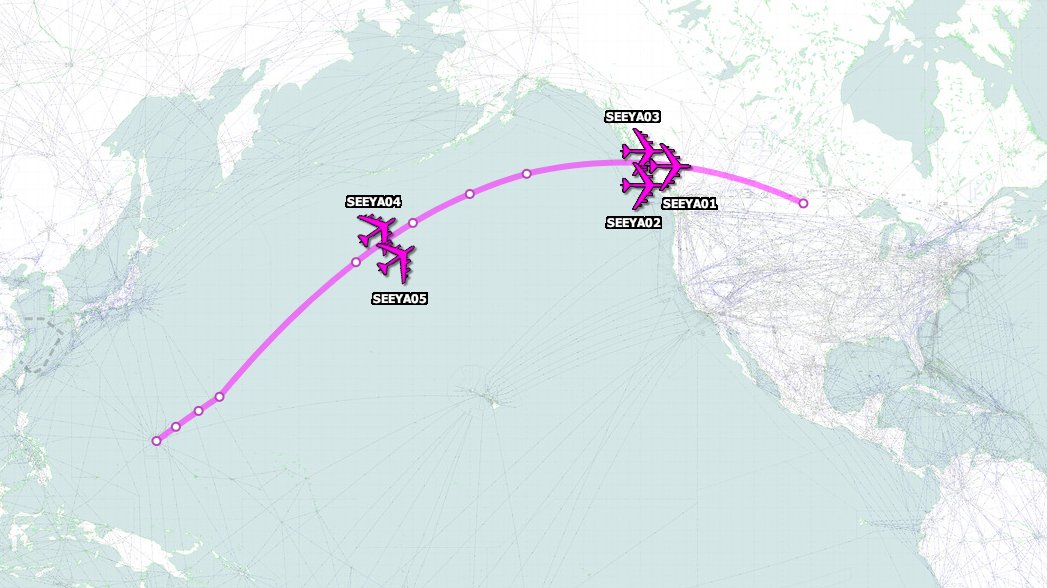 The Official explanation offered by the Department of Defense is as follows:
"In line with the National Defense Strategy, the United States has transitioned to an approach that enables strategic bombers to operate forward in the Indo-Pacific region from a broader array of overseas locations, when required, and with greater operational resilience, while these bombers are permanently based in the United States," U.S. Air Force Major Kate Atanasoff, a U.S. Strategic Command (STRATCOM) spokesperson, confirmed. "U.S. strategic bombers will continue to operate in the Indo-Pacific, to include Guam, at the timing and tempo of our choosing."
The SUDDEN removal of these aircraft, did not make sense one day after putting on the display below, aimed at China:
Turns out, what the public was TOLD about the move, is NOT the real reason.
Most of my readers and listeners know that, for about 15 years, I worked with the FBI.  My final five years, from 2003 thru 2008, with its Joint Terrorism Task Force (JTTF).  It all came out at a federal trial in Brooklyn federal court in December, 2009, when I was betrayed by the Obama regime and charged with "Threatening" federal officials over an Editorial I published on this radio show web site.
At trial, then Assistant Special Agent in Charge (ASAC) Amy Pickett, of the FBI's New York City Division, testified under oath, in open court, that I was "national security."  She testified that people like me handled "National Security, Terrorism, and Foreign Counter-Intelligence."  Part of the court records prove that, at that time, the FBI allocated $100,000 a year for my services, and had already paid me tens-of-thousands of dollars.
While that trial was going on, Alex Jones covered it.   The first 90 seconds of the video below is what Alex Jones broadcast about me to his TV audience:
Evidence at trial proved I was one of the very few FBI assets granted "Extra-Territorial" operational authority by the Office of Intelligence at FBI Headquarters in Washington, DC.  I was able to be tasked to operate OUTSIDE the United States.  When I did that, my activities were coordinated with other agencies, like the CIA, but I did NOT work for the CIA.
In my role, I was able to work with others in the Intelligence Community around the world; in  Law enforcement, military, and outright Intelligence.  To this very day, I still maintain contact with some of those people and they feed me information that the mass-media never gets near.
What you are about to read is directly from those active Intelligence colleagues:
INTEL
According to well-placed sources in the United States military, the REAL reason these strategic bombers were suddenly removed from Guam, is far worse. 
The precise explanation provided to me is as follows:
"This was a force preservation measure.
They wanted them farther away from China because China can launch short or medium range ballistic missiles and destroy the base before the aircraft can launch."
UPDATE 11:48 PM EDT --
At 11:15 PM Eastern US Time Tonight, I got a communication via SECURE methods informing me of the following (VERBATIM):
"Valhalla, (my former FBI Code Name)  things are very bad and getting worse.  Listen closely . . .
COG (Continuity of Government) has already gone to Cheyenne mountain.
DHS (Department of Homeland Security) goes to PN mountain.
Reservists are called up (1 million).
Expats are called home.
People are told to "stay put at home and get masks."
Long standing military patterns are suddenly changed.
War rhetoric against China is at a TOP PEAK

What comes next?"
I respond with my personal assessment by saying "We are going to war with China."
His response to my personal assessment was as follows (VERBATIM):
"Look, China has been caught hacking our infrastructure during the entire time of the outbreak.  They are clearly trying to determine what we know about where this virus originated.  This would indicate the Virus outbreak was not an accident . When they find out that we have found out, we believe they will launch a first strike because they know we will strike them over a bio-weapon attack."
Hew went on: "It was definitely a man made virus. It did come from the Wuhan Virology Lab.  (I Reported this to you on February 22 HERE)
China then covered it up and purposely allowed people from Wuhan to travel all over the world. It was not a mistake that they let it spread.
Those B-52's were moved because the Pentagon does not leave strategic assets in any place they know will soon be a theater of battle."
IT GETS WORSE
The following information is so severe, it is restricted to Subscribers only so as not to cause public panic.
PREMIUM CONTENT:  
This section of the article is only available for Subscribers who support this web site with $1 a week billed either Quarterly ($13) or monthly ($5).
This is necessary because this is a CLOUD-BASED web site.  The way it works is YOU READ . . . I GET BILLED for "Data Transfer."
Despite being politely asked for voluntary donations, few people ever bothered to donate. Then, despite being asked to click an ad within a story to generate ad revenue for this site, the majority of the general public couldn't be bothered with that, either. So there's no reason to give the general public free news anymore; they don't pull their own weight.
With tens-of-thousands of people reading stories here every day, the costs nearly drove the site out of business.
In order to be able to continue providing cutting-edge news, often hours or even DAYS before Drudge and most of the "mass-media" -- if they even cover it at all -- I need to be able to sustain this effort. To do that, I rely on folks like YOU contributing a pittance of about $1 a week;  which is chump-change that you won't even miss!  Yet that small amount makes all the difference in the world to the continued existence of this web site.
In the final analysis, knowledge is power.  Getting information first, or info that other sources simply don't report, is usually well worth a few bucks in the long run.
Please click here to choose a subscription plan in order to view this part of the article.
Subscribers LOGIN to see the story.  
*** If you are having trouble logging-in, email: This email address is being protected from spambots. You need JavaScript enabled to view it.
YOU MUST SET YOUR WEB BROWSER TO "ACCEPT COOKIES" FROM THIS SITE IN ORDER TO LOGIN OR ELSE YOU WILL NOT BE ABLE TO SEE PREMIUM CONTENT.
Now that you have read this story, please COVER THE COST for what your visit cost this site by clicking one or more of the ads below which generates Advertiser revenue of two to three cents per click - no purchase necessary by you -- and helps offset operating costs for this web site.
When YOU read a story here, the web hosting company charges us for "data transfer / Bandwidth" to convey the material to you.  Without your help by clicking an ad below, this web site would be in danger of shut down from the data transfer charges.  Please click any ad below to offset the cost of bringing this news to you.