A British Oil Tanker   UPDATE 3:02 PM EDT --     NOW TWO British Oil Tankers have been seized by the Iranian Revolutionary Guard Corps in the Persian Gulf.  This is confirmed!   UPDATE 3:59  PM EDT -- IRAN POSSIBLY GRABBING THIRD AND FOURTH OIL TANKERS . . . .
Updates to follow . . .
Maritime Radar monitoring services show the tanker veered suddenly off course and away from its intended destination, signalling something dramatic had taken place . . .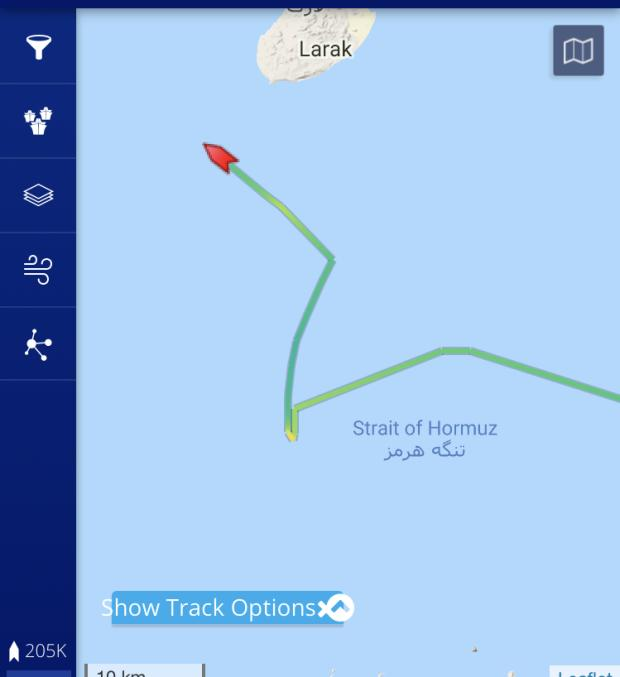 This comes after the British government confirmed that the Iranian oil tanker seized by Britain a couple weeks ago, has now been ordered DETAINED for another 30 days.
 British/UK Ministry of Defense are aware of the tanker's movement towards Iran but are unable to comment at this time.
Registration ifo for this vessel is as follows:
Owner: Stena Bulk XIII Cyprus Limited
Lloyds Register Operator: NORTHERN MARINE MANAGEMENT LIMITED."
NOTE: based on past ports it's possible British crew are on board...
UPDATE 2:17 PM EDT --
It's official the Automated Information System (AIS) signal stopped updating...
UPDATE 2:21 PM EDT --
The video below shows the radar tracking route of this vessel as it was seized:
GREAT PROVOCATION
To give readers a sense of how big a deal this is, consider the following:
This is a very expensive ship that is 1 year old, almost just out of dry-dock.

The ship is British and it carries up to 30,000 Tons. 

If this ship was full of Brent Crude Oil (I am not sure if it is) but it would be worth:

$13,286,400 or roughly 13 million at 64 dollars a barrel.

The ship itself is probably worth $35-50 million itself. Not to mention the crew's lives.
UPDATE 2:37 PM EDT --
The British are already calling this "An act of Piracy."
From a British Intelligence source: " the UK-flagged product tanker STENA IMPERO was forced to move into Iranian waters while transiting Strait of Hormuz en route to Al Jubayl Saudi Arabia, Persian Gulf. Tanker turned hard a starboard at around 1527 UTC Jul 19, and moved straight into Iranian waters, as of 1620 UTC tanker continued sailing in Iranian waters, south of Bandar Abbas, at some 13.5 knots speed.
It does look like a hijack on high seas, and if it is so, it's an act of piracy, absolutely unlawful seizure of a foreign tanker in international waters, by a rogue State military."
UPDATE 2:47 PM EDT --
Sources confirm there is now a Cabinet Office Briefing Room "A" (COBRA) meeting taking place with the British Prime Minister and Military officers.
IRGC CONFIRMS SEIZURE OF THE BRITISH VESSEL  [SAYS IRANIAN TV]
***** FLASH *****
UPDATE 3:02 PM EDT
A SECOND British Oil Tanker has also now been seized by Iran; the vessel "Mesdar" is now CONFIRMED to have been taken at gunpoint by Iranian Revolutionary Guard Corps maritime units.
Maritime Radar tracking confirms vessel underwent rapid slow-down, then sharp turn toward Iranian territory.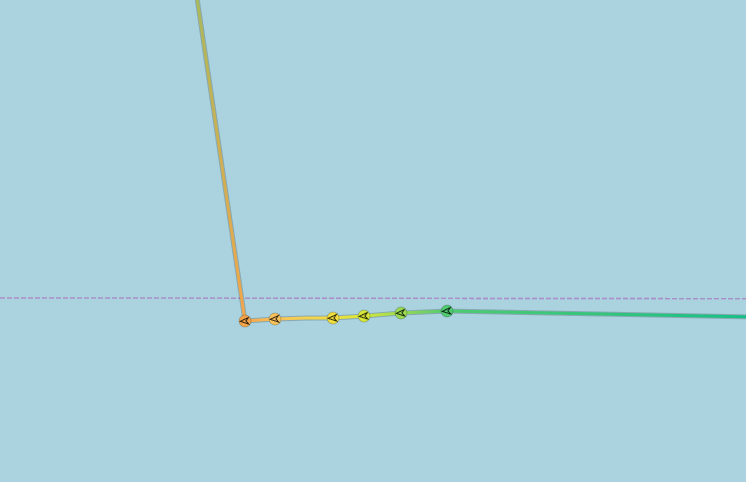 PLEASE NOTE: While this content is FREE for you to read, it is not free for us to create and host.  We pay for "data transfer" to convey the info to YOUR computer each time you read.  PLEASE either make a small Donation using the Yellow DONATE button in the right column above, or click one of the Ads below so we can earn two or three cents per click (no purchase necessary)  from advertisers.  Only with YOUR HELP can this web site be funded and continue operation.
***** BULLETIN *****
UPDATED 3:16 PM EDT -
My former colleagues in the Intelligence Community are telling me directly "This is escalating massively right now toward a very swift and very big military confrontation."
PENTAGON BRIEFING THE PRESS WITH CONFIRMATION OF SECOND SHIP SEIZURE
UH OH -- From the UK:  
MINISTERIAL COBRA IN 2 HOURS 
(Britain does this prior to engaging in . . . battle)
The first meeting was officials meeting the military etc.

It has now escalated to the point that government ministers have been recalled to London for a much higher level meeting in 2 hours. It means that they are calling out the highest levels of government from wherever they are.
***** FLASH *****
UPDATED 3:47 PM EDT --
THIRD oil tanker now decelerated and showing sharp deviation of course toward Iranian territorial waters. POSSIBLY THIRD SHIP BEING SEIZED BY IRAN.  (Vessel is "LR2 Poseidon")
 ***** FLASH *****
UPDATED 3:59 PM EDT --
FOURTH oil tanker now decelerated and showing sharp deviation of course . . .  POSSIBLY FOURTH SHIP BEING SEIZED . . .. (Vessel is named "Osprey Star")
COVERT INTEL
4:21 PM EDT --
Subscribers Only - SERIOUS . . .
PREMIUM CONTENT:  
This section of the article is only available for Subscribers who support this web site with $1 a week billed either Quarterly ($13) or monthly ($5).
This is necessary because this is a CLOUD-BASED web site.  The way it works is YOU READ . . . I GET BILLED for "Data Transfer."
Despite being politely asked for voluntary donations, few people ever bothered to donate. Then, despite being asked to click an ad within a story to generate ad revenue for this site, the majority of the general public couldn't be bothered with that, either. So there's no reason to give the general public free news anymore; they don't pull their own weight.
With tens-of-thousands of people reading stories here every day, the costs nearly drove the site out of business.
In order to be able to continue providing cutting-edge news, often hours or even DAYS before Drudge and most of the "mass-media" -- if they even cover it at all -- I need to be able to sustain this effort. To do that, I rely on folks like YOU contributing a pittance of about $1 a week;  which is chump-change that you won't even miss!  Yet that small amount makes all the difference in the world to the continued existence of this web site.
In the final analysis, knowledge is power.  Getting information first, or info that other sources simply don't report, is usually well worth a few bucks in the long run.
Please click here to choose a subscription plan in order to view this part of the article.
Subscribers LOGIN to see the story.  
*** If you are having trouble logging-in, email: This email address is being protected from spambots. You need JavaScript enabled to view it.
YOU MUST SET YOUR WEB BROWSER TO "ACCEPT COOKIES" FROM THIS SITE IN ORDER TO LOGIN OR ELSE YOU WILL NOT BE ABLE TO SEE PREMIUM CONTENT.
Additional Updates for the General Public will continue to appear below . . . 
UPDATE 4:58 PM EDT --
State media of Iran's Islamic Regime claims that the #IRGC Navy has released the UK owned Mesdar Oil Tanker which had been stopped in #PersianGulf."
UPDATE 5:10 PM EDT --
The United States has sortied heavily armed fighter jets to fly over all USA Vessels transiting the Persian Gulf to assure no hostile forces attempt to engage any USA vessel.   
UPDATE 6:09 PM EDT --
U.S. military says that unarmed surveillance aircraft, like the P-3 and P-8, are monitoring the situation in the Strait of Hormuz and the U.S. military has been in contact with ships in the area to "ensure their safety."
***** FLASH *****
British Foreign Secretary warns Iran of dire consequences if British tanker is not released
Follow-up . . .
6:12 PM EDT - - 30 minutes into the UK Ministerial COBRA meeting, appears to still be ongoing.
UPDATE 8:27 PM EDT -- 
Britain's foreign minister: "London will respond with a calculated but hard/harsh response to seizing of tanker by Iran."
INCIDENTALLY, COBRA meetings are still ONGOING . . . 
FROM U.S. CENTRAL COMMAND:
"U.S. Central Command is developing a multinational maritime effort, Operation Sentinel, to increase surveillance of and security in key waterways in the Middle East to ensure freedom of navigation in light of recent events in the Arabian Gulf region. 

The goal of Operation Sentinel is to promote maritime stability, ensure safe passage, and de-escalate tensions in international waters throughout the Arabian Gulf, Strait of Hormuz, the Bab el-Mandeb Strait (BAM) and the Gulf of Oman. 

This maritime security framework will enable nations to provide escort to their flagged vessels while taking advantage of the cooperation of participating nations for coordination and enhanced maritime domain awareness and surveillance.

While the United States has committed to supporting this initiative, contributions and leadership from regional and international partners will be required to succeed. 

U.S. officials continue to coordinate with allies and partners in Europe, Asia, and the Middle East on the details and capabilities required for Operation Sentinel to enable freedom of navigation in the region and protect vital shipping lanes."
UPDATE 8:35 PM EDT --
Britain advises all UK shipping to stay away from Strait of Hormuz for an "interim period." UK also says its response to seizure of British-flagged tanker by Iran will be "considered and robust". There will be "serious consequences" if situation is not resolved.