This content was previously for Subscribers only but is now UNLOCKED for the general public.
It may interest you to know that subscribers to this web site got this information 18 full hours before YOU.
Subscribers get this type of  URGENT public safety information before the general public so Subscribers can take action before the "masses."  If you want to be informed, Subscribe for $1 a week HERE
As of 7:00 AM Moscow time TODAY (Thursday), the Russian Ministry of Emergencies published information on their web site instructing Russian citizens to prepare for a NATO Retaliatory NUCLEAR Attack this Sunday, 24 April 2022.
As any thinking person is aware, the only way NATO would make a "RETALIATORY" nuclear strike, is if Russia launched a First Strike.  So what does that tell you about this coming weekend?  
The official notice placed on the Russian Ministry of Emergencies web site, is shown below:
Here is the original Russian:
Translation
They mention the upcoming Russian Orthodox Easter on April 24 as a specific date ! ! ! ! !
This is the photo-translation-by-automated-translator result: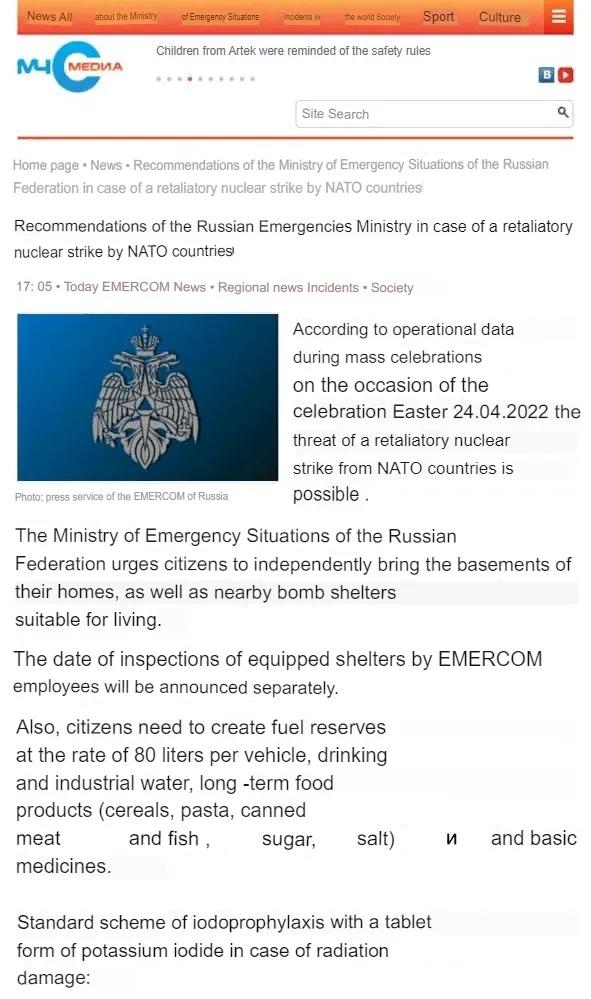 UPDATE --
Russia's Ministry of Emergencies is now saying their web site was hacked and that the information posted "does not correspond with reality."
Hal Turner Remarks
Web site hacked ???? My ass.   
I think they let slip what they are planning.  Clearly they would want THEIR people prepared for what will come as a result of a Russian first-strike.
Adding to my belief this is factual, the Russian news agency PRAVDA reported the "story" on their web site  (HERE), and fully reproduced what the Russian Ministry of Emergencies claim was a computer hack.  Why fully re-publish the information . . . . unless they really ARE trying to get the word out to their people to actually prepare for this weekend.
You draw your own conclusion.  I've drawn mine.
I got a couple new fuel cans, Red for Gasoline, Blue for Kerosene and Yellow for Diesel.  I bought two more 20 pound bags of rice; 28 more Hormel "Compleat" shelf-stable, microwavable meals, another 12, one-pound boxes of various pasta, tuna fish cans, canned chicken breast, canned beef.  Flour. Sugar. Salt. 
This is on top of whatever supplies are already at the house.  The supplies we have accumulated are not much, but probably more than most folks in the country have on-hand. 
Meanwhile, Americans and Europeans remain blissfully unaware that our Governments, and their NATO partners, are doing everything they can to draw Russia into a shooting war with NATO over Ukraine.
If the missiles fly this weekend, the overwhelming majority of Americans will have no idea at all that it is OUR GOVERNMENT that did this; and did it on purpose.  We are in the wrong.
I am still at my mom's old residence in northeastern Pennsylvania.  Been here all week.  And after the Sunday night snowstorm which knocked out electricity, I STILL HAVE NO ELECTRIC.  Still running on generator power.
But prepare I must.   You should too.  Immediately.  Don't wait.   If you wait, you will find yourself among the masses of totally panicking people, all trying to get food and supplies.   It will be far too late for all of them.
NOTE:
I will be discussing this fully on my Global talk-radio show tonight beginning at 9:00 PM eastern US time.   Folks around the world can tune-in, FREE, as follows:
WBCQ shortwave 7.490 or 6.160
WRMI Shortwave 5.950
KYAH  540-AM Utah
Or right here in the Internet at this link:   http://stream.halturnerradioshow.com:8000/  (Click PLAY Button or Click LISTEN) 
PLEASE NOTE: The link above DOES NOT GO ACTIVE until about 1 hour before the show.  During that hour, it streams commerical-free music until the show begins.