As of 5:30 PM eastern US time Friday, January 24, 2020, about 46 MILLION people in 16 cities in China, are under LOCKDOWN Quarantine, as a new virus spreads like wildfire, killing HUNDREDS OF THOUSANDS.  No one can enter or leave the cities involved.
The Chinese Army has deployed 50,000 troops to surround Wuhan, with orders "SHOOT TO KILL" anyone trying to escape as hundreds are trying to flee the cities-- ON FOOT -- because there is NO FOOD.
Armored Vehicles are on the streets as more and more videos emerge of infected citizens dropping-dead as they walk!
Never before in the modern history of human existence, have 46 Million people been Quarantined; yet that is exactly what is taking place in China today.
Officially, people in the following cities are "LOCKED-DOWN" -- No one can enter, and anyone in these cities is forbidden from leaving:
CITY    : Population
Wuhan: 11mln
Huanggang: 7.5mln
Xiangyang: 6.1mln
Yichang: 4.2mln
Jingmen: 3mln
Xianning: 2.8mln
Huangshi: 2.5mln
Suizhou: 2.2mln
Xiantao: 1.6mln
Ezhou: 1mln
Qianjiang: 962k
Enshi: 780k
Xiaogan: 780k
Zhijiang: 550k
Dangyang: 560k
Chibi: 530k
Before this article continues, I wish to point out a little about my background so you understand how SENSITIVE this report is:
For 15 years, (1993-2008) I worked with the FBI.  My final five years (2003-2008) with the joint Terrorism Task Force.  My work was covert. I was granted full "Extra-territorial" operating authoruity by the Office of Intelligence at FBI HQ in Washington, DC.  That meant I could not only work in the USA, I could also go overseas.
In that role, I met and worked with people in the Intelligence Community, military and law enforcement from many countries.  I maintain relationships with some of those folks to this very day.  It is through those relationships that I gain access to information that the rest of the mass-media never gets close to. 
That all ended in 2009 when the newly minted Obama regime cleaned-house within the FBI and I - a Level 5 National Security Intelligence Asset - was closed by the Bureau.   
Six months later, in June, 2009, I published an Editorial on my radio show web site about a court decision in Chicago by the 7th US Circuit Court of Appeals, which upheld Chicago's ban on handguns.   In my editorial, I called the federal Appeals Court judges "traitors to the Constitution" for violating the Second Amendment, violating the Supremacy Clause and for disregarding the Supreme Court's decision in "Heller."   The Editorial went on to say that one of our Founding Fathers, Thomas Jefferson, told us what we should do with such men.  In his "Tree of Liberty Letter" Jefferson wrote, "The tree of Liberty must be replenished from time to time with the blood of tyrants and of Patriots."  I concluded by saying "Let me be the first to say this plainly, these judges deserve to be killed."
Twenty-two days later, 15 FBI people came through my front door.   They showed me printouts of my Editorial and asked "Is this your web site?"   Yes.   Did you write this?   Yes.
Then they said "Mr. Turner, the US Attorney in Chicago says this is a threat" and he pointed out the sentence where I opined "These judges deserve to be killed."   I replied, that's an OPINION not a threat.   To which the FBI Agent responded "The US Attorney says it's a threat,  you're under arrest."
I went on trial in Brooklyn federal court (after a change of venue out of Chicago) in December, 2009.  The trial ended with a hung jury, nine voting NOT guilty.   The government tried me a second time in March, 2010.   They brought the three judges in to testify against me.  ANOTHER hung jury!   
At this point, having been held without bail for 119 days, and then released on $500,000 bail, but kept under house arrest and off the radio, I was Bankrupt.   I filed Bankruptcy and was appointed a public defender.
The government put me on trial an astonishing THIRD TIME in August, 2010.   I was convicted.  I was immediately remanded to jail, and in December, 2010, was formally sentenced to 33 months in federal prison.   They put me in the Terrorist Unit at The Federal Correctional Complex in Terre Haute, Indiana.
I got out in October, 2012 but was banned from radio and the Internet for 36 months Probation, which ended on October 5, 2015.   I went back on radio (WBCQ) two days later and have been on ever since.
As I said earlier, I get info from former colleagues in the Intelligence community.  Some of it I can share.  Much of it I cannot.
What you are about to read is from Intelligence service sources among other sources, some public.
The fact that China has locked down 16 large cities, affecting about forty-six million people, is astonishing. The sheer magnitude of it has never been done anywhere in modern history.
Yet according to China, there are only about 900 people infected with this new "novel coronavirus" and there have been only about 27 deaths.
This makes NO SENSE to any rational person.  No government would undertake THIS MAGNITUDE of action for such a small number of infected and dead.
The simple reality is that China is withholding the truth.  China's official reports are not accurate. 
Whether that's by design to save-face, or to conceal the horror, really doesn't matter at this point.
Yesterday, 23 January, I was able to report from Intel Sources that the actual numbers were:
2.8 Million Infected.
112,000 DEAD (so far)
That story is HERE
Now, I can report the following:
46 MILLION PEOPLE UNDER QUARANTINE
The number of infected people has risen to slightly over three million and the death toll now stands at a MINIMUM of 156,000.
90,000 DEAD IN WUHAN ALONE!
The video below is from a Medical Professional in the infection zone.  She reports ninety-thousand DEAD in Wuhan alone:
Hospitals have exhausted their supplies of many medicines and life-support equipment.  They have little-to-nothing they can use to help anyone.
This communication from a hospital worker tells part of the story (Translation below):
TRANSLATION:
Current status of our medical staffs: afraid of changing protective clothings, from noon to 9PM, everyone is scared of eating, drinking, or use the bathroom in fear of taking off protective gears, everyone is wearing their last set of protective gear, resources are very scarce and almost depleted! Medical personnel are protecting Wuhan! Whom will protect the medical personnel!


Below, another medical worker conveys a heart-wrenching account of people KNEELING and BEGGING for help:
Translation:

We are on the verge of collapsing, outpatient department filled with patients, some kneeled down on the floor and begging us to save them, but right now there is no special medication to treat this virus, individual can only survive with fighting with his/her own immune system, our protective gears have been completed depleted, protective cloth, face mask, hat, glove, full face mask, goggle have all been depleted.


Below, this medical worker reports no supplies, Doctor's THREATENED with loss of medical license and worse:
Translation:

Hospital has no high up in charge, not enough medical supplies, haven't eaten all day, many people died and no one is collecting/removing corpses, no internet nor call signal, any doctors tried to quit will have medical license revoked, what kind of fucking human would do this!(implying doctor would lose license as punishment I think?) Right now, my wife, sister, and coworkers are all at the verge of collapsing/giving up/don't know what to do, only doctors allowed going home for Chinese New Year are emergency room doctors, Fifth municipal hospital of Wuhan! Understand that everyone is celebrating Chinese New Year, don't want to bother you all, but, this situation matters to every one, we don't need people's encouragement/condolences, we need the whole country to know what's really going on in Wuhan!


Below, yet another hospital worker tells of patients ATTACKING STAFF to get help:
Translation:

To all fighting colleagues, the current social order in Wuhan is on the verge of collapsing, some infected patients have started attacking hospital staffs in desperation, if anyone has any way to informed/contact higher up, my suggestion is to send in military to maintain hospital and social orders. 
Please help.  I will take responsibility for the information I am sharing.


Below, a gut-wrenching plea for help by another medical family:
TRANSLATION:
I am begging everyone to please help citizens of Wuhan! I am a nurse, my husband has been infected, what has been reported by news is completely different from what's really happening!!! My husband has had fever for 8 days without improvement, CT scan is showing noticeable infection of lungs! In the past 8 days, I've tried every possible connections I have across all Wuhan hospitals' colleagues, but no one will admit my husband! Higher up informed all doctors to deny acceptance of patient into hospital! Denied testing for the virus! Denied confirmation of patients whom have been infected! And asked all medical staffs to sign Non-disclosure Agreement! I have suffered massive emotional drain in the past 8 days. Hospital won't admit husband and too afraid to go home, going from hospital to hospital in hope anyone would admit my husband! No one would admit that he's infected with the virus! I am almost on the verge of giving up myself, fear that I won't be able to handle it any longer! Going from hospital to hospital, no open bed, medical staffs overworked and still not enough, finally was able to get into emergency department, but there is no bed/available staff or beds! Still more patients are being transported in, sick or not sick all congregated at the same place, everyone will be infected, if this continue, everyone will die!!!!


Last in this segment is the utterly shocking account below:
TRANSLATION:
Wuhan cronoavirus# my aunt's was placed on a bed in Hankou hospital since yesterday noon, hospital is not letting anyone into the hospital morgue, relatives have to contact funeral services and disinfect themselves.
After passing last night at 1030PM, we've contacted funeral services, it is 1PM today and they still have not came to transport her body, because there is only one available that's going around the whole city collecting the deceased!! Because this is the only one that has the capacity to disinfect !! Yesterday alone transported 50 corpses !! Going from hospital to hospital to collect bodies!! My heart is so broken, infected collapses and died and there is no one removing them, hospital refusing to let anyone into the morgue, when can we give them a proper burial. I am really scared myself too, dead bodies just left on beds, temperature inside the hospital is high, more people will be infected, this situation is definitely not just my aunt's family, hospital is the biggest infected place!!!!!! Us little citizens are the most pitiful, no body will take us in, and have no idea what to do!!!!!

Reply to op from someone below: Just received news that my aunt jumped off a building and killed herself, just happened now. She contracted the coronavirus, but no hospital would admit her because there's no bed, just prescribed her some medications and come back to check later, but she's having serve breathing problem..........


Doctors and nurses are succumbing to the sickness and keeling-over, some of them dead.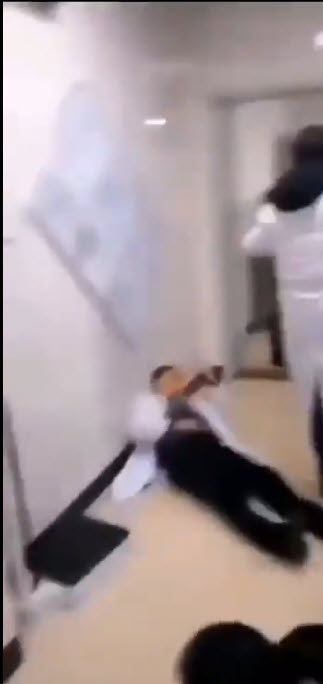 HOSPITALS ARE NO LONGER TAKING PATIENTS - EVEN CRITICALLY ILL PATIENTS.   All persons are being sent home and told to recover at home.
Those unable to leave the hospital, are being taken by military members into waiting trucks.  No one says where they're going.  Families have not yet seen any such patients return.
Many people who decline to go with the military, leave the hospital . . . and simply DROP DEAD on the street.
The videos below show it happen:
This man, just standing quietly on the street, falls FLAT ON HIS FACE, DEAD:
This woman dropped dead in a hotel lobby:
This person dropped dead on a hospital floor:
 This person dropped dead in the hospital too:
Below, among the utter chaos in this hospital, THREE DEAD BODIES are simply covered-up and left on the floor!
Video after video of similar things happening in MANY PLACES IN CHINA, are literally FLOODING-IN.   
The situation is getting so bad, so fast, that food has run out in many places:
The video below shows more empty store shelves and one cannot escape the irony of a man saying "Being rich is useless":
All medical professionals, patients, and their family members are being strongly warned against giving out any information to anyone else, including via the Internet.  They are told in the NOTICE below, they face severe punishment for doing so: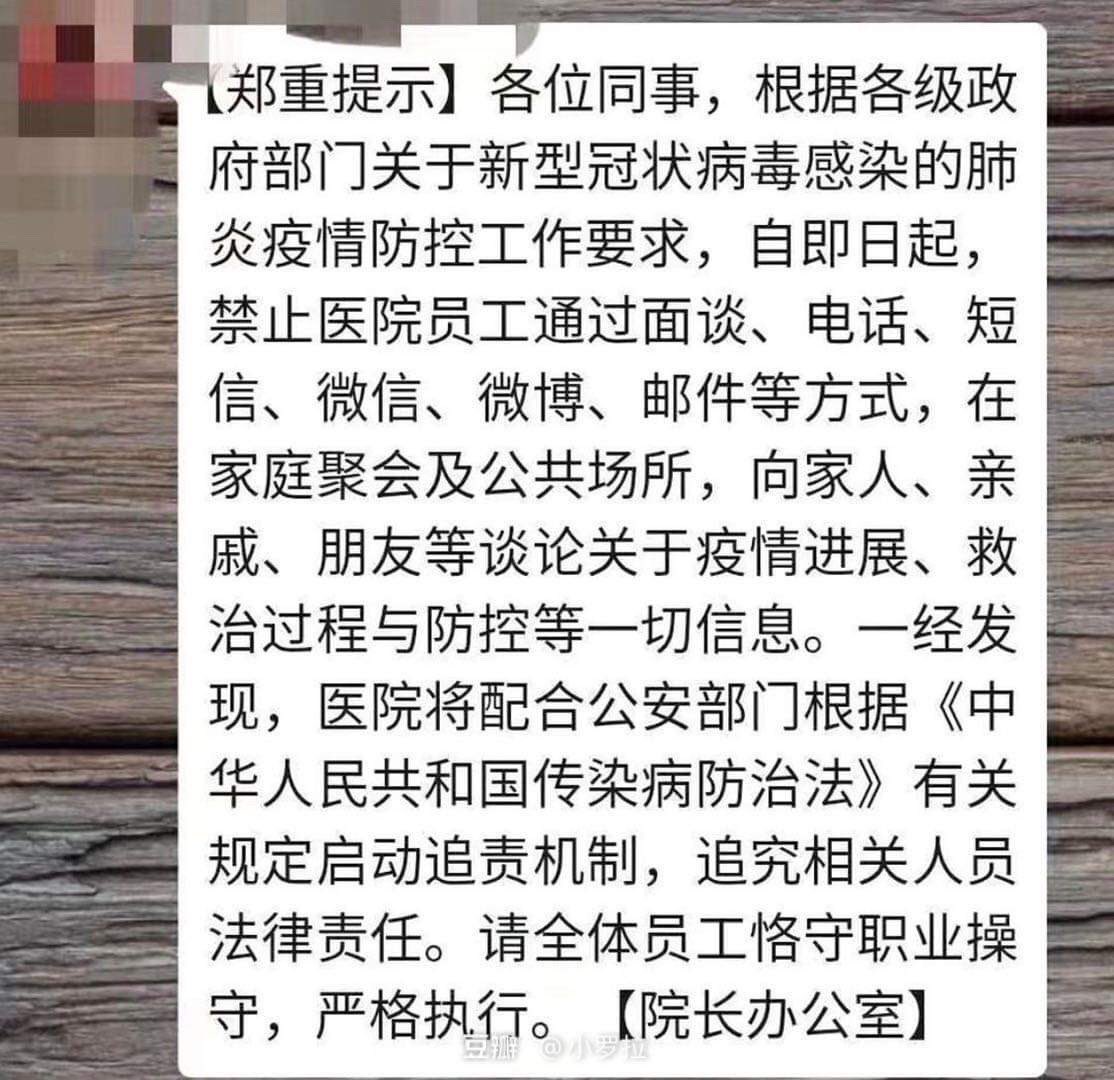 BLOCKADING INFECTED CITIES
China has begun using bulldozers, bucket loaders and dump trucks to BLOCKADE the roads in to, and out of, cities to KEEP PEOPLE TRAPPED INSIDE!
The images below show the fact that China is now dumping large loads of dirt onto major roads, to create physical barriers to prevent vehicles from leaving or entering infected places:
Even small "back roads" are being barricaded: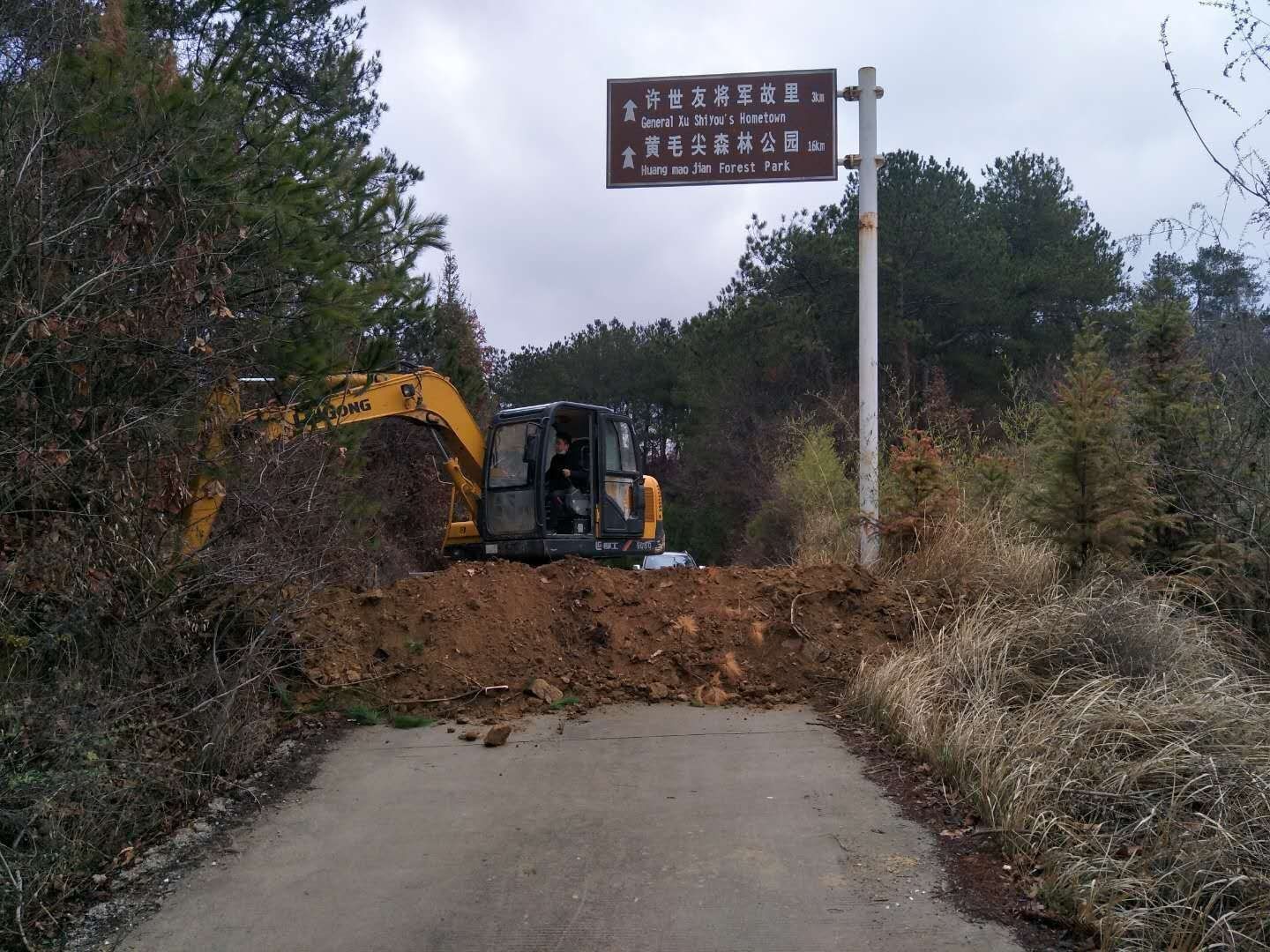 No road is being left un-blocked:
And until the heavy equipment arrives to physically block a road, Police block it: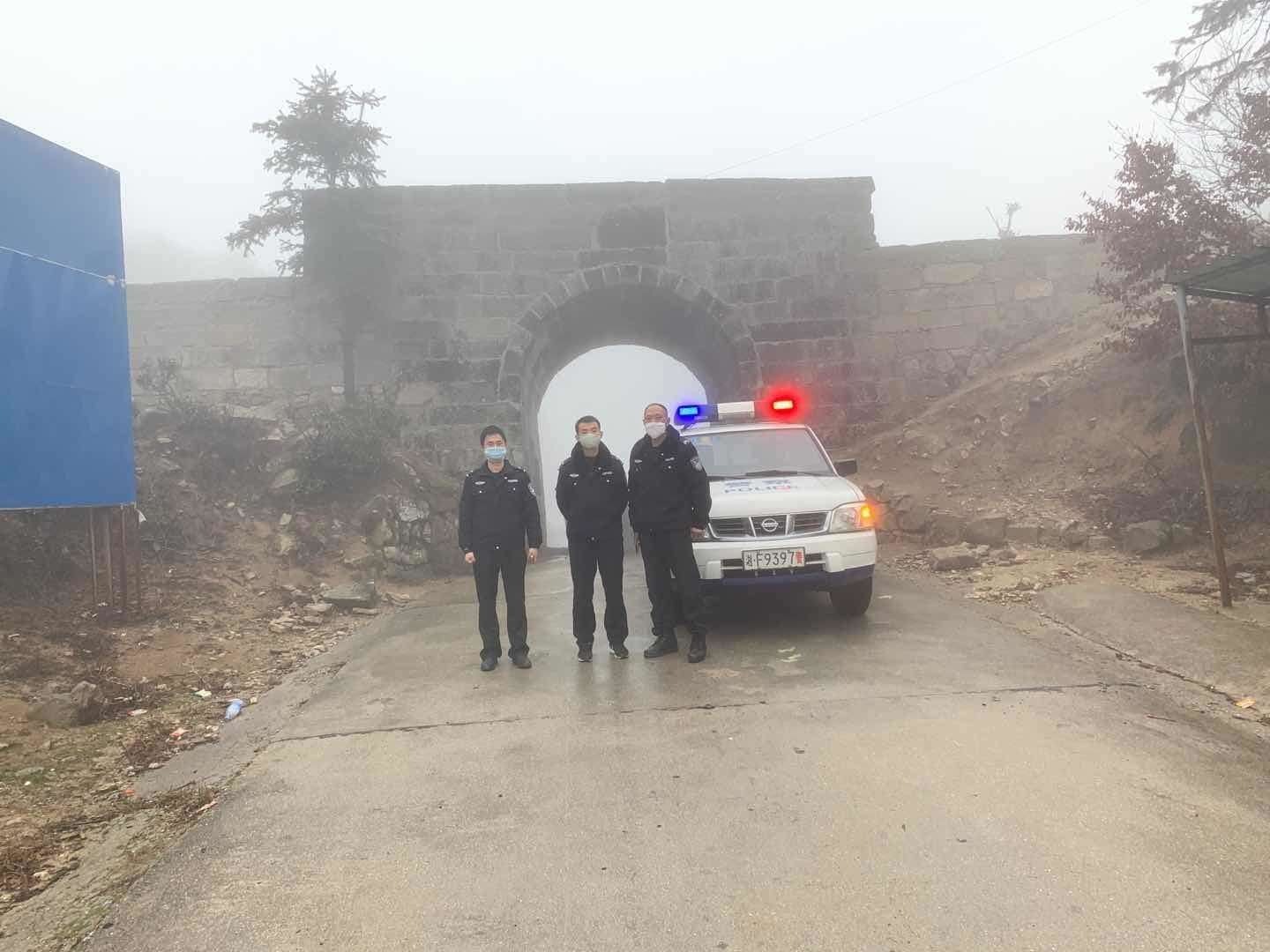 People are so desperate to get out of the Quarantined areas, they are paying truck drivers to SMUGGLE THEM OUT in the backs of trucks!
Terrified people inside the cities are now trying to also flee ON FOOT:
China has deployed 50,000 Troops around Wuhan:
Some troops and armor have actually entered the city:
ARMOR IS ROLLING DOWN THE CITY STREETS!
On Friday, Covert Intelligence sources inside China confirmed that the troops have been given orders to "SHOOT TO KILL" anyone trying to escape a Quarantine area!
Now ask yourself a question: If this outbreak was merely a "novel coronavirus" why would 46 Million people be under Quarantine, blockaded in by mounds of dirt, surrounded by troops with orders to shoot to kill?
Maybe this isn't what China says it is.   Maybe China knows EXACTLY what this is and they know they HAVE to do these things to prevent this "sickness" from going any farther.
What if this is not a "novel coronavirus" but a Bio-Weapon that got out by mistake?
The world needs to start asking.
Because in countries OUTSIDE of China, THIS is how the late-stages of the disease are presenting:
 THIS is not normal.   THIS is not just being sick.  This is something very, very, much worse.
For SUBSCRIBERS who support this web site with $1 a week, billed Quarterly ($13), I will now provide the utterly TERRIFYING information from absolutely COVERT INTELLIGENCE regarding why I am raising the specter of a Biological Weapon.  
BEGIN COVERT INTEL
PREMIUM CONTENT:  
This section of the article is only available for Subscribers who support this web site with $1 a week billed either Quarterly ($13) or monthly ($5).
This is necessary because this is a CLOUD-BASED web site.  The way it works is YOU READ . . . I GET BILLED for "Data Transfer."
Despite being politely asked for voluntary donations, few people ever bothered to donate. Then, despite being asked to click an ad within a story to generate ad revenue for this site, the majority of the general public couldn't be bothered with that, either. So there's no reason to give the general public free news anymore; they don't pull their own weight.
With tens-of-thousands of people reading stories here every day, the costs nearly drove the site out of business.
In order to be able to continue providing cutting-edge news, often hours or even DAYS before Drudge and most of the "mass-media" -- if they even cover it at all -- I need to be able to sustain this effort. To do that, I rely on folks like YOU contributing a pittance of about $1 a week;  which is chump-change that you won't even miss!  Yet that small amount makes all the difference in the world to the continued existence of this web site.
In the final analysis, knowledge is power.  Getting information first, or info that other sources simply don't report, is usually well worth a few bucks in the long run.
Please click here to choose a subscription plan in order to view this part of the article.
Subscribers LOGIN to see the story.  
*** If you are having trouble logging-in, email: This email address is being protected from spambots. You need JavaScript enabled to view it.
YOU MUST SET YOUR WEB BROWSER TO "ACCEPT COOKIES" FROM THIS SITE IN ORDER TO LOGIN OR ELSE YOU WILL NOT BE ABLE TO SEE PREMIUM CONTENT.
As of Saturday morning, January 25, no other media outlet in the world is showing you the images and videos you found here.  It takes enormous resources and time to do this.
Today is Saturday, January 25 and that means I have six days to raise the $4200+ needed to fund this web site and radio show for the month of February.

The radio show has NO COMMERCIAL ADVERTISERS by design.  Advertisers don't like controversy and when a show like mine airs blunt truth or politically-incorrect views, radical lefties start advertiser boycotts.   If the show depends on that revenue, the advertisers get to have Editorial control.  They are able to say "Shut up or shut down."

Here, we celebrate free speech, no matter who doesn't like it.  In order to do that, there has to be a way to fund the endeavor which does NOT rely on ads.  That's YOU!

It takes a LOT of money to run this cloud-based web site; I get charged "Bandwidth/Data Transfer" for each site visitor, for the transmission of content to them.  This charge also applies to the Internet audio feeds during the live shows.
Put simply, YOU read or listen, I GET BILLED!

Moreover, there are other significant costs:
The radio stations (WBCQ, WRMI and KYAH), the listener call-in phone lines, Music licensing fees to use bumper music, Fiber optic lines to carry the show to the net and to the radio stations, studio costs, equipment maintenance and replacement and so on.

All totaled, it takes about $4200 a month to keep this endeavor alive.

For that, YOU get the latest breaking news that matters.  You get free speech radio 5 nights a week, with solid information the mass-media simply doesn't cover, or fails to cover thoroughly.

I NEED YOUR HELP to keep this going for February.

Please click the yellow DONATE button below to make a contribution of $10, $20, $35, $50 or more.  Every little bit helps.

Please don't think "someone else will do it" because they don't.  YOU are the "someone else."  

The clock is ticking and the calendar is set.  I have until Feb 1.  Please donate now!


 If you cannot or will not use online financial transactions, please mail cash, check or money order Payable to:

HAROLD TURNER
1906 Paterson Plank Road
1-A
North Bergen, NJ   07047-1902
USA

Those in foreign countries can mail cash from their country and I will have it converted to US Dollars once it arrives.
Thanks!
RELATED: 
Now that you have read this story, please COVER THE COST for what your visit cost this site by clicking one or more of the ads below which generates Advertiser revenue of two to three cents per click - no purchase necessary by you -- and helps offset operating costs for this web site.
When YOU read a story here, the web hosting company charges us for "data transfer / Bandwidth" to convey the material to you.  Without your help by clicking an ad below, this web site would be in danger of shut down from the data transfer charges.  Please click any ad below to offset the cost of bringing this news to you.