Last Updated 10:55 PM EST -- The People's leader Xi Jinping has not been seen in public for the last 5 days.  He is also missing from page one of the China Daily paper.
Did he get sick with "Coronavirus?"
Did he die?
Did he blame the military and get taken out of power?
No one knows, or, if they do know, they're not saying  . . .
海风:从视频中看到,习近平不断在咳嗽。习是否也染上了武汉肺炎? pic.twitter.com/WaYHUbCCs4

— 新高地官推 官网:https://www.newhighlandvision.com/ (@5xyxh) January 30, 2020
In the meantime Look at the reaction - this virus is not just a flu. China's response alone should be enough to alarm us all. Layer that with the world's response and subsequent actions - and this pandemic is just beginning.

The list below is just what I can recall off the top of my mind. There are many, many, more examples.

- China: quarantined cities totally 50+ million
- China: public transportation halted in several cities
- China: requiring cremation only, no burials
- China: those who die go straight to the crematorium
- China: multiple videos of people dying on the street
- China: extended national holiday
- China: masks required for public
- China: some cities only allowing one family member to leave homes
- China: Family homes being forcibly boarded up to keep people from leaving
- China: Communications are being locked down and "rumor spreading" is punished
- China: large companies closing businesses for extended period
- China: drones spraying disinfectant
- China: building new hospitals (two known) in days
- China: HK severs all rail links to mainland

- US: NYC using ALL resources for contract tracing..etc.
- US: 7 US airports handling health screenings for flights from China
- US: Facebook has stated it will delete posts that it deems untrue or dangerous as it relates to nCov
US:
- Russia: closes border with China
- Australia: closes entry to all travels who had visited China
-
- Mongolia: closes border to China until March 2nd
- North Korea: closes border with China
- Indonesia: closes border with China
- Singapore closes borders to all foreign travelers from China
- Turkey: performing insane decontamination on plane and tarmac for repatriated citizens: [link to twitter.com (secure)]
- Israel: all flights from China suspended.
- Israel: bars land, sea entry to foreigners
- World: masks are sold out in many countries
- World: goggles are starting to report as being in limited supply in some locations

- Virus: aerosol and contact (surface) spreading
- Virus: R0 is reported to range from 2.0 - 4.0. Spread is exponential
9th US case confirmed in California.
The ninth U.S. case of the new coronavirus that originated in central China was confirmed in California, the Centers for Disease Control reported Sunday.

The case was the second found in Santa Clara County, but health officials said this is not related to the first.
Another person under investigation for coronavirus in New York City
A second person in New York has been identified for testing for the novel coronavirus, officials said Sunday night.
The person, who is over 60 years old, was recently in China and presented with a fever and a cough, officials said. The person has been hospitalized and testing will be done to determine if it is the coronavirus.
This is an overall update on the virus using "Official" numbers: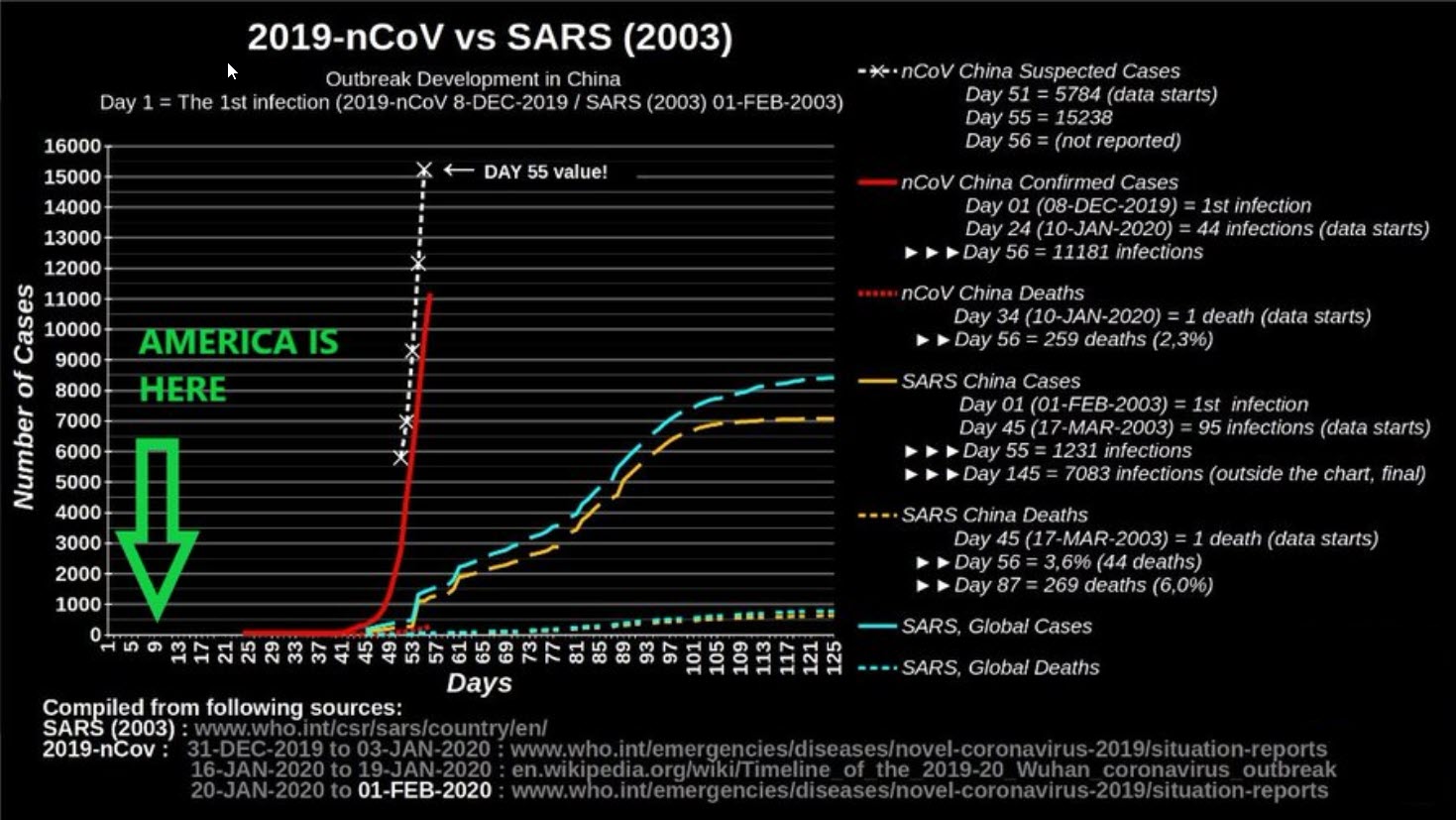 UPDATE 10:55 PM EST --
San Benito County, California, reports 2 more cases of coronavirus, raising U.S. total to 11