Multiple reports are coming in saying there is a train with fuel cars ON FIRE on the Crimea Bridge.  One image, shown above, depicts multiple fuel tanker cars ablaze.  The flames are impinging upon the structure of the bridge.
More info as I get it . . . Check back.
UPDATE 7:25 AM EDT --
The Crimea Bridge, connecting mainland Russia with Crimea, has been attacked by Ukraine!
The magnificent structure has three sections of roadway now collapsed into the sea, and a train on the adjacent railroad track portion of the bridge, is on fire.
Image from the passenger vehicle roadway of the bridge itself: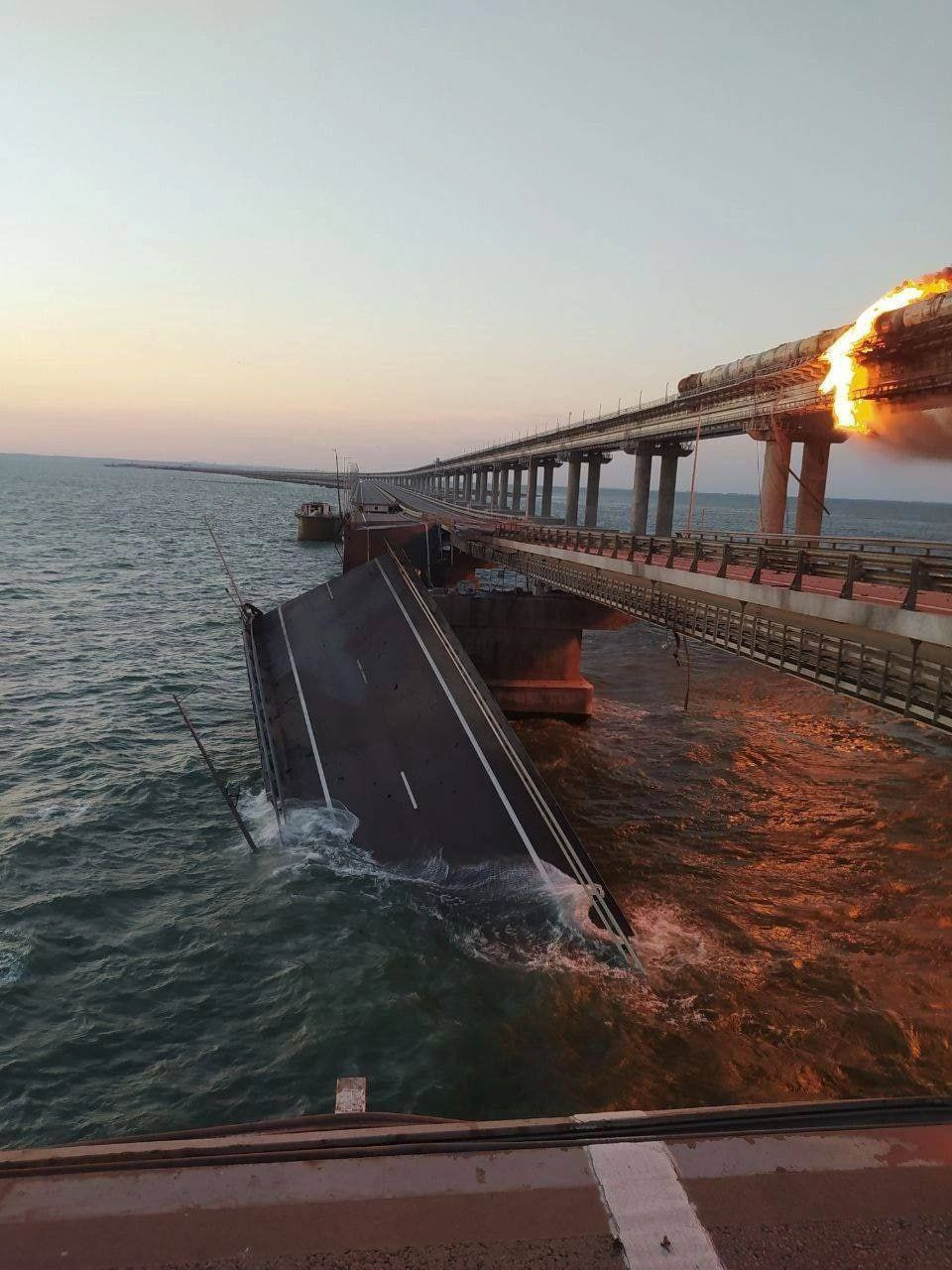 MORE: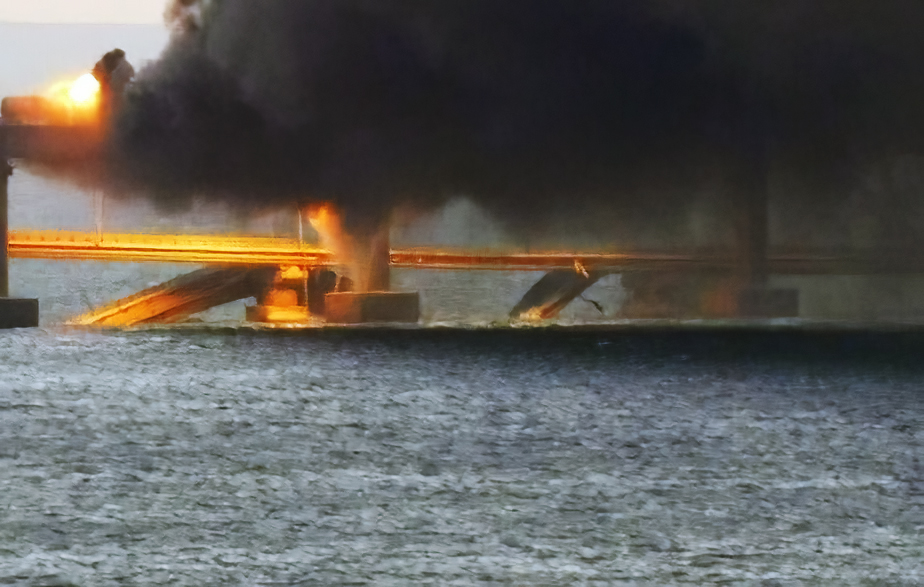 And still more: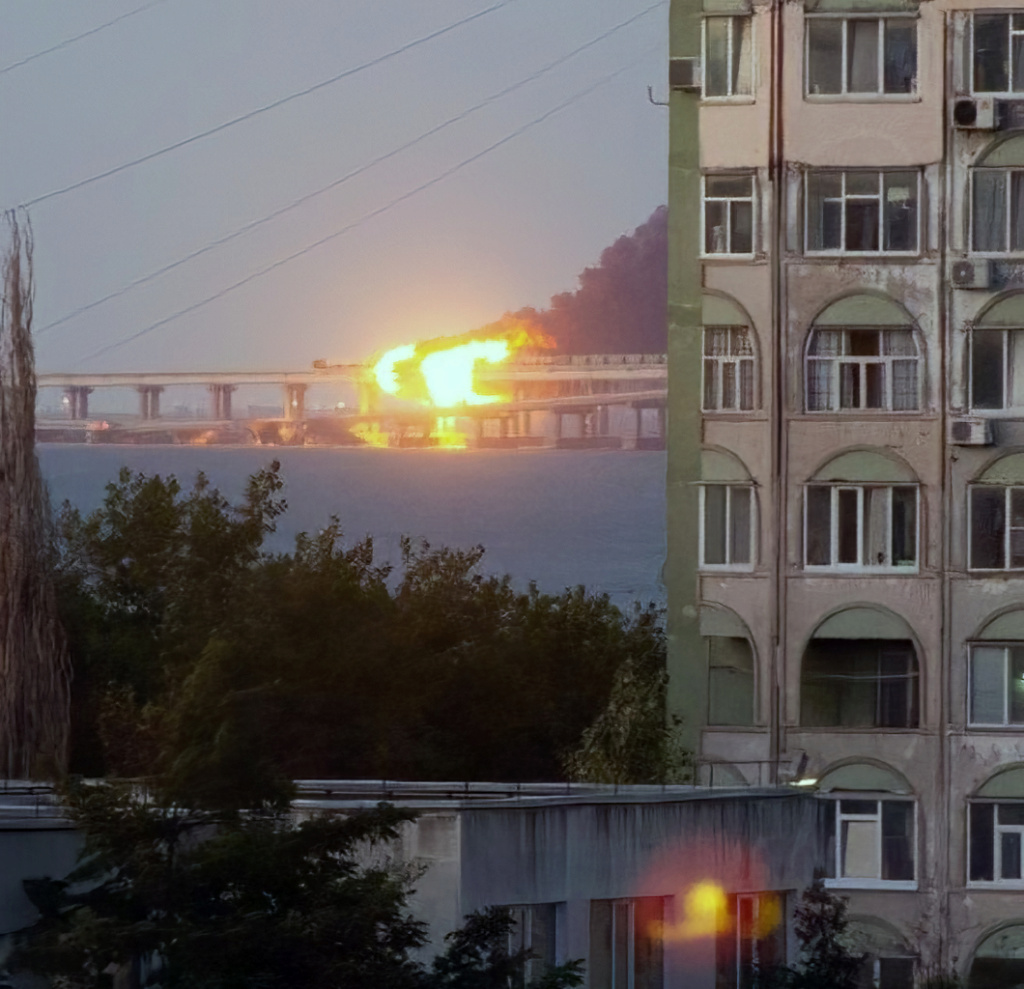 VIDEO from Bridge Security Camera
UKRAINE CLAIMS CREDIT FOR ATTACK
Ukraine admits responsibility for the terrorist attack on the Crimean bridge.
Zelensky's office advisor Podolyak has admitted Ukraine's responsibility for the terrorist attack on the Crimean bridge.
"Crimea, the bridge, the beginning. Everything illegal must be destroyed, everything stolen must be returned to Ukraine, everything occupied by Russia must be destroyed," Podolyak said. 
FEROCIOUS REACTION IN RUSSIA
"This is no longer just a challenge, this is a declaration of war without rules" - State Duma deputy Morozov about the terrorist attack on the Crimean bridge.
Russian Senator Alexander Bashkin says Moscow will answer Crimean Bridge attack with a "possibly asymmetric response." 
Deputy Speaker of the State Duma: The terrorist act that targeted the Crimean bridge was a declaration of war.
POLICE INVESTIGATION SO FAR . . .
Police say a Suicide bomber was driving this truck that exploded on the Crimean bridge, presumably, coming from Krasnodar, stuffed with explosives:
He passed through the traffic Police post and detonated on the bridge. The mileage of the truck is 870,000 km.
Truck that exploded on Crimean bridge was not taken for X-ray, and its driver had all the documents in order, according to Mash, citing traffic police officers.  He entered the bridge from Russian mainland. There is no x-ray gate to detect explosives as it's on Crimean site.
Sources report that the driver of the truck has been identified. According to our sources, he could be Biji al-Kamurji, a native of Syria.
UPDATE 9:27 AM EDT --
According to preliminary data, three people were killed as a result of an explosion on the Crimean Bridge, the Investigative Committee of the Russian Federation reports. Passengers of a car driving next to an exploding truck were killed, the bodies of a man and a woman were lifted out of the water.
According to the investigation, the owner of the truck blown up on the Crimean Bridge is a resident of the Krasnodar Territory.
Investigative actions have been launched at his place of residence
At this hour, the rail car fires on the railroad track span of the bridge, are being doused by helicopters dumping water from fire-fighting buckets: