A document allegedly sent by the defense department of Ukraine to the head of the state border service of the country, orders Border Guards to ensure the passage of the joint Lithuanian-Polish "peacekeeping contingent" from Poland.
The document says that from May 22 to 24,  four (4) battalions, including 9,500 military personnel and 279 units of military equipment, must cross the border.
Given the level of intense propaganda coming out of the Russia-Ukraine conflict, we CANNOT RULE OUT the published document could be a fake, but such an order fits perfectly into the plan allegedly adopted by Western countries to enter the war.
People in Ukraine are theorizing that this is an effort to seize and plunder Ukraine.   But keen observers in the west say it fits perfectly into the West effort to enter the war, get attacked by Russia, then go to direct war with Russia.
Rumors of a joint Polish-Lithuanian military entry into Ukraine have been circulating for over a week.  The Hal Turner Radio Show has not previously published those claims because they could not be verified.
Now, however, with what appears to be an official document to Ukraine's Border Guards ordering them to allow such entry, and the providing of specific dates, the issue needs to be reported.
This is where things can get really dicey.
Russia has flatly and repeatedly warned that anyone interfering with what Russia is doing in Ukraine, will suffer consequences like they have never seen before.  Would the entry of such "peacekeepers" be viewed by Russia as "interfering?"
Mark your calendars: May 22 seems to be THE date.
Below is the full view of the document: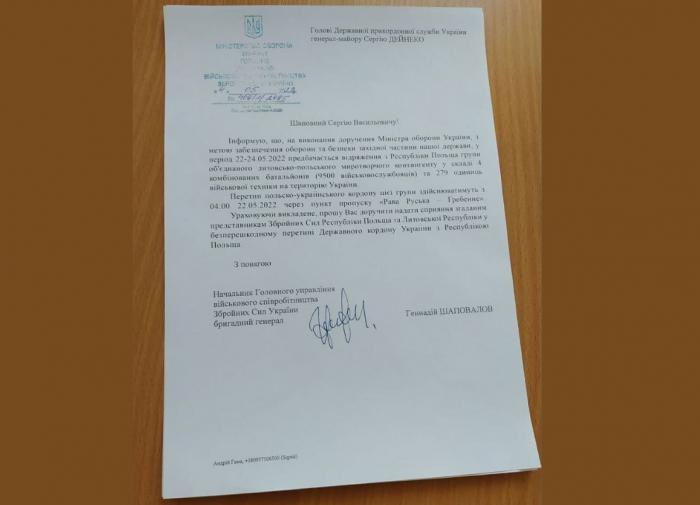 *****BULLETIN *****
UPDATE 3:41 PM EDT --
President of Belarus Alexander Lukashencko stated publicly today "Belarus will enter the war if Polish troops enter Ukraine."