Two "Rivet Joint" Intelligence-gathering aircraft overflew almost all of Finland today, gathering data from Russia.  These flights were very VERY unusual.
The aircraft involved were from the U.S. and from the U.K..  One was a Boeing RC-135W Rivet Joint, Call sign JAKE11 (UK), and the other was a Boeing RC-135W Rivet Joint RRR7223 (USA)
Here's a radar plot showing the flight(s).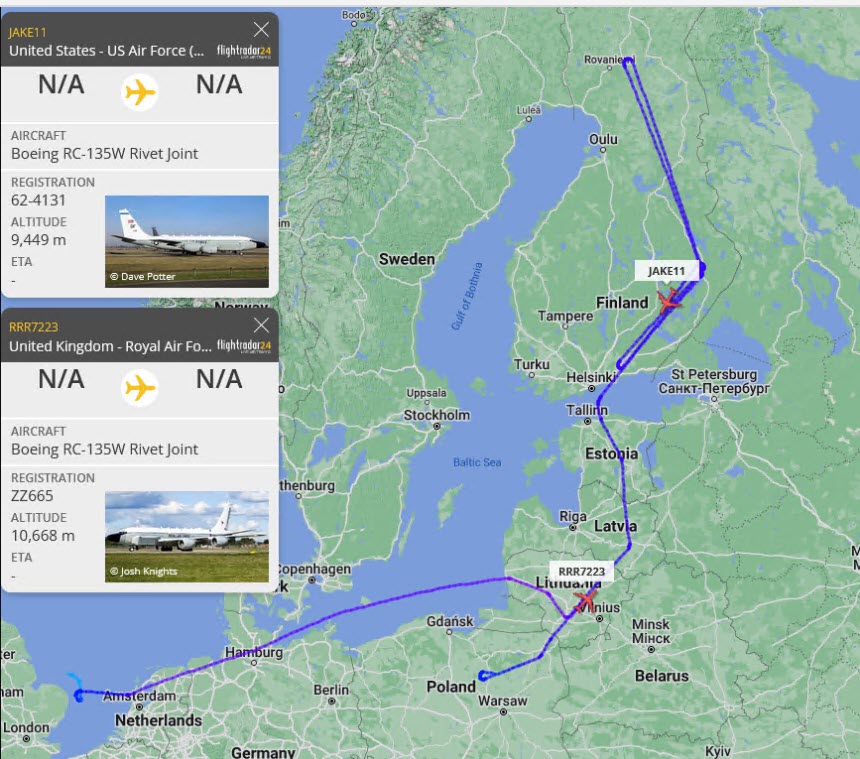 These flights came on the very same day that Finland officials revealed their entry into NATO might be completed "within weeks."
Why does this matter?   Well, it matters because of this little "gem" of a development:
Ukraine has sent Finland an official request for the supply of F/A-18 Hornet fighter jets. Ukraine is asking for trilateral talks between Finland, USA and Ukraine.
UPDATE 7:33 PM EDT --
About six hours AFTER this story was published, The U.S. Air Force alongside the Finnish Military announced that "beginning today they will be conducting Surveillance Flights along the Russian Border inside Finnish Airspace; these Flights began today with RC-135V Rivet Joint "JAKE11" which is a Signal-Intelligence Platform."