Five Russian "Doomsday" aircraft are in the air over Russia or have landed after shutting off transponders near the Ural Mountains, including Aircraft PA-96024, ID  RSD309, which is the Presidential plane.
While no one can be sure who - if anyone - is actually on these government evacuation aircraft which took off out of Moscow, and having shut their transponders off, we cannot know the exact landing site, it is very disconcerting to see this type of military aircraft activity inside Russia at this ungodly hour.
In particular, the Presidential aircraft shut its transponder off after crossing over the Ural Mountains.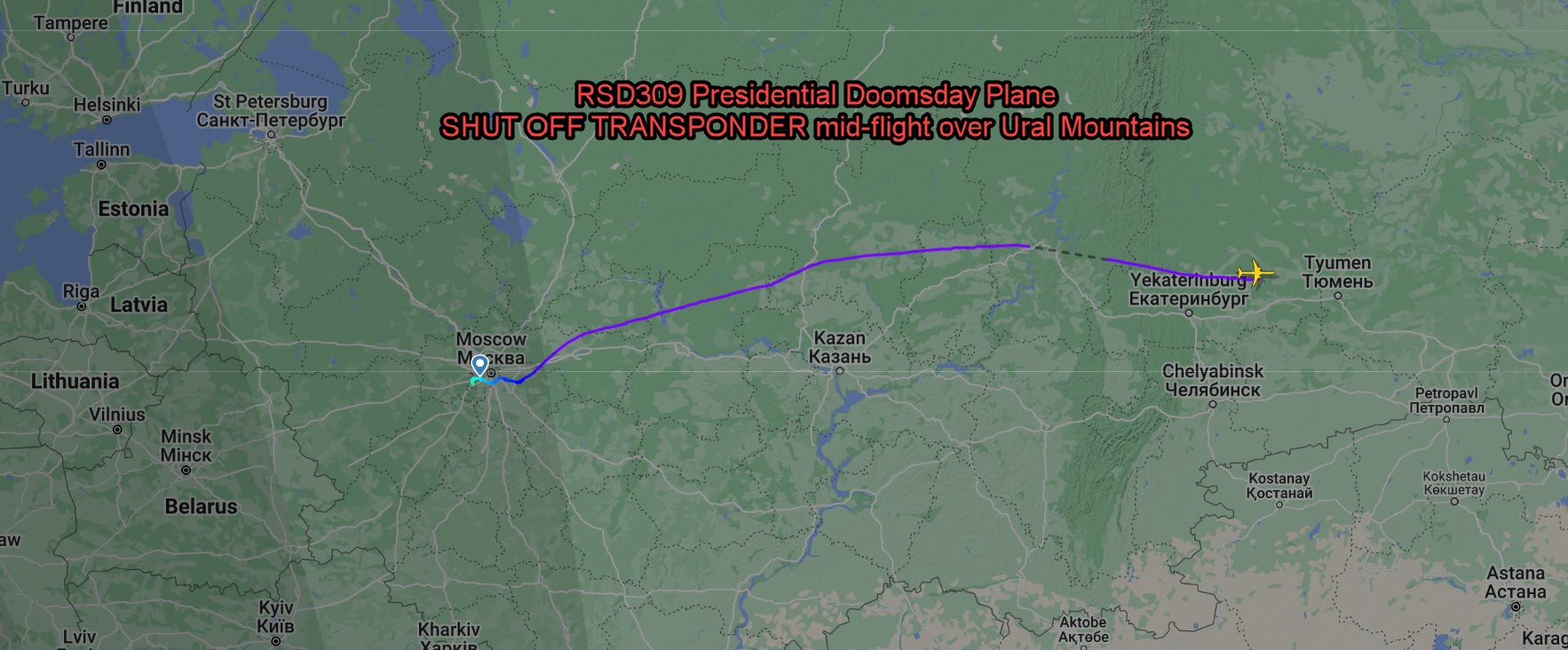 Did they then make a U-turn to land at Mount Yamantau?
MOUNT YAMANTAU
Mount Yamantau, along with Kosvinsky Mountain (600 km to the north), are claimed by the United States of being home to a large secret nuclear facility or bunker, or both. Large excavation projects have been observed by U.S. satellite imagery after the fall of the Soviet Union, as recently as the late 1990s during the government of Boris Yeltsin.
During the Soviet era two military garrisons, Beloretsk-15 and Beloretsk-16, and possibly a third, Alkino-2, were built on the site. These garrisons were unified into the closed town of Mezhgorye (Russian: Межгорье) in 1995, and the garrisons are said to house 30,000 workers each, served by large rail lines.
Repeated U.S. questions have yielded several different responses from the Russian government regarding Yamantau, including it is a mining site, a repository for Russian treasures, a food storage area, and a bunker for leaders in case of nuclear war.
The scalable map below shows the location of this mountain:
Responding to questions regarding Yamantau in 1996, Russia's Defense Ministry stated: "The practice does not exist in the Defense Ministry of Russia of informing foreign mass media about facilities, whatever they are, that are under construction in the interests of strengthening the security of Russia."
In 1997, a United States Congressional finding, related to the country's National Defense Authorization Act for 1998, stated that the Russian Federation kept up a "deception and denial policy" about the mountain complex after U.S. officials had given Cheyenne Mountain Complex tours to Russian diplomats, which the finding stated "... does not appear to be consistent with the lowering of strategic threats, openness, and cooperation that is the basis of the post-Cold War strategic partnership between the United States and Russia."
So why are these Russian military Government evacuation aircraft in the air over Russia at this strange hour?  Why have they shut off their transponders mid-flight?
MEDVEDEV MAKES OMINOUS REMARKS "Nuclear 9/11"
On Sunday, Dmitry Medvedev, Deputy Chairman of Russia's Federation Council (Senate), made a post to his official Telegram account, calling it "a few words on the eve of [9/11]." In it, he derided the U.S. for what he called its "arrogance and disgusting narcissism" among Western nations and its "universal arrogance on any issue." Near the end of the post, he also made the ominous prediction that the U.S. would suffer "another 11/09/2001-style attack, but with a nuclear or biological component," without suggesting outright that Russia would be the nation to launch the attack.